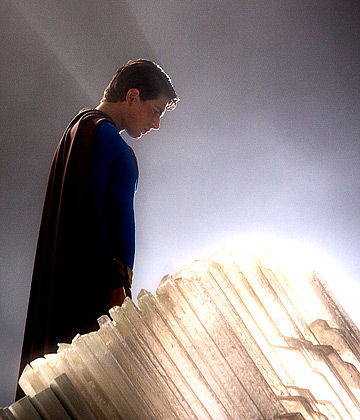 COURTESY WARNER BROS.
Doing a Super job
Four students from UH got a chance to help put together "Superman Returns"
EVEN the Man of Steel needed some help from some select Hawaii folk to soar once again on the big screen.
Help for the making of "Superman Returns," one of the most anticipated movies of the summer, came in both small and super sizes. Iolani School graduate Chris Lee temporarily left his administrative duties at the University of Hawaii's Academy for Creative Media to be the movie's executive producer. He was able to have four students -- Ronson-Penrod Akina, Chrystal Jameson, Matt Ortiz and Nelson Quan -- intern for two months last year on the movie's production sets at the Fox Studios in Sydney.
Speaking by phone yesterday from Los Angeles, Lee's mood was buoyant in anticipation of a special advance screening later that evening for cast and crew. The film opens nationwide late Tuesday.
"We're excited about it," he said. "The movie's gotten good advance reviews. It's all been great, gratifying and fun, the culmination of the year-and-a-half sprint to make this movie. I'm thrilled. I've got my family up here with me to see the movie tonight."
The summer flick opens this week on 8,000 screens in 30 countries. A 3-D Imax version will also be opening.
"I looked at the test print," Lee said, "and it's got all the elements to be quite extraordinary." (He's hoping that the 3-D version will eventually be shown at the Polynesian Cultural Center's theater in Laie.)
All of this started when director Bryan Singer pitched some ideas to his young "X-Men" screenwriters, Michael Dougherty and Dan Harris, while in Honolulu in early May 2003. They were here by Lee's invitation to participate in a forum at the UH Campus Center on "X-Men 2." (Singer is also on the Academy for Creative Media's advisory board.)
"The movie's first production meeting was actually at my house," Lee said. "Warner Bros. called me and wanted my advice for a possible director for 'Superman' since the previous one, McG, ended up not doing the movie. When I later talked to Bryan, I told him basically that unless he had something he wanted to say in the third 'X-Men' movie, I always knew he wanted to do 'Superman.' So he should take this opportunity instead."
Lee said the brainstorming session at his home went so well that "on the plane ride back to L.A., the guys pretty much wrote the whole treatment of the movie."
Fast-forward to January 2005. With Singer agreeing to take on "Superman," Lee took a leave of absence from the film school to assume everyday duties as executive producer of the $200 million-budgeted "Superman Returns."
Lee, former president for production at the now-defunct Columbia/TriStar Pictures studio, had a solid track record that included overseeing such hits as "Jerry Maguire" and "Philadelphia." He said he was chosen "as the needed creative person who would be always there on the ground, someone Bryan and (studio chief) Jeff Robinov can trust, who has done big pictures."
While Lee will have a predominant credit in the film, four other Hawaii residents -- while they did their fair share of production work -- will unfortunately get no on-screen kudos.
Quan, Ortiz, Akina and Jameson began their internships on the movie in early June of '05, with academic accreditation through the UH Study Abroad program. Their entire trip was funded by school financiers Roy and Hilda Takeyama, with air travel sponsored by Hawaiian Airlines.
As this was to be an educational experience as well, the students were more than just go-fers.
"Before we went, we had no idea what was ahead of us," said Quan, a senior and, like Lee, an Iolani School graduate. "We arrived in Sydney on a Sunday night, went to our studio apartments, had a wake-up call at 5 the next morning, got transported to the studio and were thrown right into it."
Lee had initially asked the Hawaii interns what they were interested in learning about. Ortiz started off in the art department, Akina with the assistant directors and Jameson and Quan with the camera department. Everyone was rotated to different departments every three to four days.
But on their first day of filming, all four helped position and coordinate the movement of hundreds of extras on the huge Daily Planet newspaper building set.
It was a memorable first day for Akina, a Kaimuki High School grad who's a senior majoring in digital and narrative production. "I remember that I was working with casting, in the extras' costume department, and the two women there let me help pick out what extras would have key roles. That was pretty cool."
"We were not your average interns," said Ortiz, a Kamehameha Schools grad and a junior in the ACM who returned to Hawaii after two years studying animation at Loyola Marymount in California. "We did the meaty stuff most interns only hope they could do. I can't stress (enough) how lucky and blessed we were."
Quan said that "the neatest part of internship was, during lunch times, Chris' assistant would try to set up Q-and-A sessions with the department heads. I got to learn even about makeup and production design."
"The experience far exceeded my expectations," said Akina.
JAMESON, who went to the West Hawaii Explorations Academy on the Big Island and graduated from the UH film school in December, is actually going back to Australia next month to do her graduate work at the University of Technology, Sydney, to pursue a master's in media arts and production.
Quon, Jameson and Akina also helped out by taping behind-the-scenes footage for the movie's online blog at www.bluetights.com. Some of their footage might also be incorporated into the future DVD release of "Superman Returns" in the special-features section.
Even though the students were able to meet main actors Brandon Routh, Kevin Spacey, Sam Huntington and Kal Penn, Jameson said she "wasn't all that star-struck. I guess I was more star-struck with the professionals behind the scenes. It was so awesome, coming from an institution of learning and to meet these people who represent the epitome in the business. They were wonderful role models, generous with both time and energy."
"I've come away from this with a different view of Hollywood people," Quon said. "Their lifestyle is magical in both a good and bad way. And there's definitely a filmmaker world and a star world. With filmmakers they want to create something, and in the star world, I think they're people living in a fantasy.
"What I got from one of the producers is that there's basically no difference between a Hollywood blockbuster film or a short student film. It's just that with more money comes more risk."
BUT ALL the interns agree that the most memorable time they shared was an afternoon sit-down with director Singer that came together at the last minute with Lee's help.
The students had only asked a handful of questions when Singer invited them into an editing suite to look at footage shot before they'd come on board.
"He was talking us through certain scenes," Quon remembers, "and how he made his set-ups to make them more visually appealing."
With all the students back home, with new skills and confidence in working on their own and their friends' film projects, Lee is looking forward to coming back to the school as well.
"This was money well spent," he said.
"It was good to work with an old friend as Bryan, and I'm proud that the movie was initiated in Hawaii. Bryan always comes back to Hawaii to renew his creative juices, and we will be back as a team."
---
SUPERMAN RETURNS
The student interns will join the local supermanhawaii.com fan club at the 10 p.m. Tuesday screening of "Superman Returns" at the Consolidated Ward multiplex.