HONOLULU MASS TRANSIT
AFTER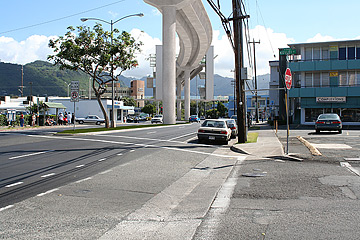 Rail line renderings ring alarm bells
>> A councilmember cries "ugly" at plans for a 70-foot-high station at H-1 and UH
>> Estimates show construction of a 23-mile rail route could cost more than $3 billion
CITY planners and engineers say the public needs to know what they are in for -- ugly or not -- when rail transit line comes through their neighborhood.
"There's no hiding of a concrete structure in the middle of the road," said Toru Hamayasu, the city's chief transportation planner.
COMMUNITY MEETINGS
The city is holding a series of meetings to update communities on the latest cost, ridership and other information on the study of transit alternatives as part of the Honolulu High Capacity Transit Corridor Project.
» Tomorrow: Kapolei Hale, 8:30 a.m.
» Monday: Honolulu Hale Mission Memorial Auditorium, 5:30 p.m.
» Wednesday: Aliamanu Middle School cafeteria, 6 p.m.
More images of what areas on Oahu would look like under a proposed rail transit system are available here online.
"Why does it have to be so ugly?" asked Councilwoman Ann Kobayashi, who represents Moiliili and Manoa and was shown a computer simulation of a 60-foot-tall rail transit structure that is being proposed to run along University Avenue to the university.
"That's one of the last photos they showed me before they ran out of my office," Kobayashi chuckled. "I was just shocked when I saw it."
That photo will be one of several shown to the public in a series of meetings that will give a status report of where the city is in studying the different mass transit alternatives as part of the Honolulu High-Capacity Transit Corridor Project. The first meeting is at 8:30 tomorrow morning at Kapolei Hale.
The four alternatives include the no-build option, an enhanced bus system, rail transit and two managed-lane options that will include a two-lane reversible toll highway also known as HOT, or high occupancy.
BEFORE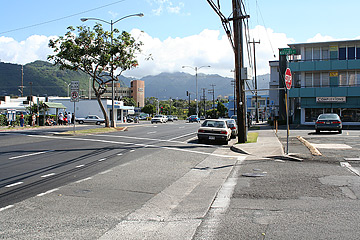 "There will be a lot more visual information than we provided before," said Mark Scheibe, project manager with transportation engineering consultant Parsons Brinckerhoff Quade & Douglas, which is preparing the $10 million analysis so that the City Council can pick a transit system by the end of the year.
Preliminary estimates show that construction of the proposed 23-mile rail transit line between Kapolei and the University of Hawaii at Manoa will cost more than $3 billion, and initial ridership figures show that such a system could attract 120,000 to 150,000 riders per day. But the city warns that those numbers could change as more precise numbers are crunched and such things as environmental, economical, social and other cost impacts are factored in.
Engineers had hoped to complete cost and ridership projections for both the rail and the managed lanes before the meetings but were still working on them yesterday.
"We're just not comfortable with the final numbers at the moment," Hamayasu said.
BEFORE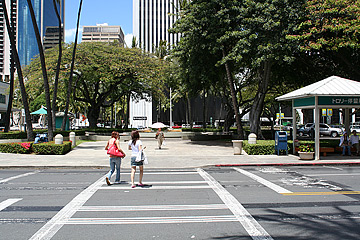 AFTER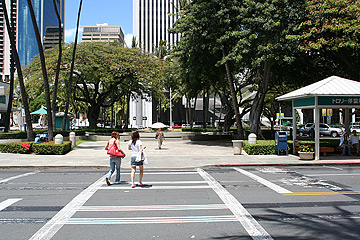 Kobayashi, the Council budget chairwoman, said the $3 billion price tag scares her, considering that some of the early construction figures were closer to $2 billion.
"It sure does -- especially if no one rides it. It is a worry," she said.
Hamayasu and Scheibe said the figure includes the cost to construct the rail line and the stations, but it does not include things like the cost of the rail cars and acquisition of rights of way.
Construction costs also take into account the distance of the route -- which is divided into five sections -- and engineering difficulties such as construction of underground sections of the route.
For example, the study is also showing that constructing tunnels is much more cost-effective than it was 15 years ago because the technology has improved.
BEFORE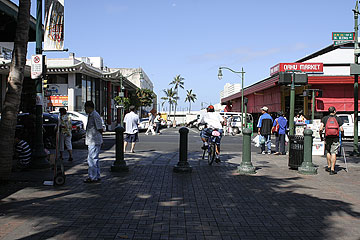 AFTER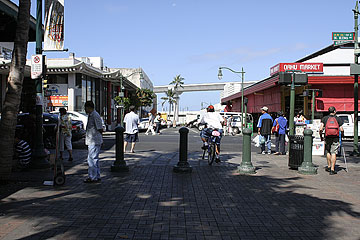 "We were -- what's the right word -- surprised, excited," Hamayasu said. "Tunnels seem to be doable."
Visuals of what a rail system will look like in different parts of Honolulu will be shown at the meetings. The one that could cause concern will be how to get the line up and over the H-1 freeway to UH-Manoa along University Avenue.
"So we end up being 70 feet in the air to get over H-1, and this station which is just on the makai side of the freeway essentially has to be at that height as well. It'll be visible," said Scheibe.
He said it is difficult to go underground in Moiliili because of the caverns, water and the blind fish in the area. Plus, to go from underground back up to an aerial alignment could block traffic.
Hamayasu said it is good the public sees this early so they will not be caught off guard at the end.
"So we're not going to hide it. This is the size, and that's one of the things that we have to do with the alternatives analysis. This isn't the sales brochure. You've got to show people what this is going to do -- benefits as well as impacts," Hamayasu said.
BEFORE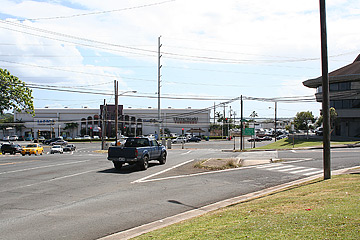 AFTER