| | |
| --- | --- |
| | Newswatch |
---
Navy ship picks up injured man from vessel
The Pearl Harbor-based destroyer USS Chafee picked up a seriously ill 61-year-old civilian mariner from a fishing vessel 440 miles northeast of the island yesterday.
He was treated by medical staff and flown to Honolulu last night.
The Chafee was heading home to Pearl Harbor from Alaska after participating in the joint training exercise Northern Edge when the Coast Guard alerted it to the medical emergency aboard the Honolulu-based fishing vessel Jane.
The ship changed its course to rendezvous with the civilian vessel and picked up the man with one of its rigid-hull inflatable boats.
The mariner is an employee of Northwest Observers Inc., contracted to do work for the National Oceanic and Atmospheric Administration observer program. A Coast Guard C-130 Hercules airplane from Barbers Point dropped medical supplies to the fishing vessel, helping stabilize the man, who had a potentially life-threatening arm injury.
SENIORS GET HIP, HAWAIIAN STYLE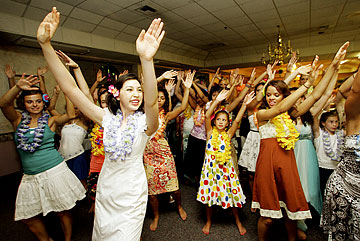 Less license hassle for soldiers
Members of the armed forces will be able to renew their driver's licenses within 90 days of returning from active duty outside Hawaii, under a bill signed into law yesterday by Gov. Linda Lingle.
Lawmakers said the law will help the state's soldiers returning from deployment in the Middle East.
Lab School donations at more than $34,000
The University of Hawaii Foundation had received $34,120 in donations as of Tuesday for its UH Laboratory School's fire recovery fund.
The small public charter school lost a wooden building that housed classrooms and offices for physical education, drama and music programs in a huge fire June 13 found to be deliberately set.
Computers, musical instruments, athletic equipment and uniforms as well as decades of memorabilia were also lost.
Contributions can be made through the UH Foundation in three ways:
» Online at www.uhf.hawaii. edu. Select College of Education/University Laboratory School Fire Recovery Fund.
» Call 956-8849.
» Send donations marked "Fire Recovery Fund" to the University of Hawaii Foundation, P.O. Box 11270, Honolulu 96828-0270.
Raping of child gets Kauai man 10 years
LIHUE » A Kauai man born in Mexico was sentenced yesterday to 10 years in prison for the sexual assault of a 12-year-old girl at a Kilauea playground.
Prosecutors said Israel Perez, 25, of Kilauea met the girl last November while watching his child at the playground at Kilauea Park. He took her to a more secluded place in the area and then raped her.
Police were alerted by educators at her school and arrested Perez as he tried to board a plane using his brother's identification, officials said. The defendant, a construction worker, argued the girl was a willing participant, prosecutors said.
Prosecutor Craig De Costa said the original charge of first-degree sexual assault was dropped to second-degree assault in a plea deal in March to spare the victim the trauma of testifying at trial.
---
What's inside your Star-Bulletin this weekend:
SATURDAY
keeping faith
Ready to dance
Volunteers readied the Honpa Hongwanji Hawaii Betsuin for its annual bon dance festival, which starts tonight and ends tomorrow.
SUNDAY
BUSINESS
Motivated sellers
Staging homes for sale, which can include even putting a bottom of champagne in the master bedroom, fetches an average of about $17,000 more for the properties, a research firm says.
Pricey vacations
Room rates at high-end resorts are expected to rise as much as 15 percent this summer with the U.S. industry hitting a record number of 3.277 million occupied rooms a night during the season, a study by PricewaterhouseCoopers says.
TODAY
Super job
Chris Lee temporarily left his duties at the University of Hawaii's Academy for Creative Media to be executive producer for "Superman Returns," taking along with him four lucky students.
TRAVEL
Unhappy camper
Bob Jones reviews camping facilities on the Big Island.
| | |
| --- | --- |
| | Police, Fire, Courts |
---
HONOLULU
Man is charged in purse snatching
Police charged a 48-year-old homeless man with second-degree robbery yesterday after he allegedly stole an acquaintance's purse from her car in Honolulu in April.
Wes-Paul Vannatta was arrested Wednesday after a confrontation with a 41-year-old woman he is acquainted with, police said.
Vannatta allegedly demanded she pay him money she allegedly owed him. During a struggle, he reached inside her car and grabbed her purse, police said.
Vannatta was charged for the April 22 robbery and is being held in lieu of $20,000 bail.
WEST OAHU
3 teens arrested in robbery attempt
A group of teens allegedly dragged a Japanese visitor in Waikele yesterday while trying to snatch her purse, but the 50-year-old woman refused to let go.
Police said the teens, two males, ages 15 and 18, and a 16-year-old girl tried to grab the woman's purse as she walked to a bus stop in front of the Waikele Shopping Center at about 2:45 p.m.
When the woman refused, they grabbed her purse and dragged her, police said.
The woman received abrasions to her knees, police said.
Police said the three were arrested on suspicion of second-degree robbery.