WEEKEND: JUNE 23 / 24 / 25
She's cookin'!
The O Lounge's Liz Watanabe will show her stuff at Taste of Honolulu
Nightclubs and bars are rarely associated with good food. Even so, Liz Watanabe was shocked when someone asked her what her club, the O Lounge, could offer at this year's Taste of Honolulu benefit for Easter Seals.
A Taste of Honolulu
Main Stage
Friday
» 5:30 p.m.: Blessing
» 5:35 p.m.: The Krush
» 7 p.m.: "Hot Hawaiian Nights" featuring Raiatea Helm
» 8 p.m.: Rolando Sanchez and Salsa Hawaii
» 9 p.m.: Touch of Gold

Saturday
» Noon: Shining Star
» 1 p.m.: Bluzilla
» 2 p.m.: Sunset
» 3 p.m.: Maila Gibson
» 4 p.m.: Keahiwai
» 5 p.m.: Jeff Peterson
» 6 p.m.: Beyond the Groove
» 7 p.m.: Ka'ala Boys
» 8 p.m.: King Pins
» 9 p.m.: Cecilio & Kompany

Sunday
» Noon: Countryside Band
» 1 p.m.: Dita Holield & Red Handed
» 2 p.m.: Beyond the Groove
» 3 p.m.: Pacific Fleet Band
» 4 p.m.: Kapena
» 5 p.m.: Touch of Gold
» 6 p.m.: Maunalua
Family Stage
Saturday
» Noon: Okame Daiko & Lucky Daiko
» 1 p.m.: Honolulu Theatre for Youth
» 3 p.m.: The Movement Center
» 4 p.m.: Jomel Sumira
» 5 p.m.: A Class Act
» 6 p.m.: Karaoke Kids and Hawaii Youth Chorus

Sunday
» Noon: Country Dancers
» 1 p.m.: Honolulu Theatre for Youth
» 3 p.m.: 24-VII Dance Force
» 4 p.m.: Ryukyukoku Matsuri Daiko, Hawaii
» 5 p.m.: Sewa Fare' traditional African music and dance
» 6 p.m.: Brazilian Show with Capoeria Hawaii and Friends
"One of the women at a (planning) meeting said that her son comes to the O Lounge all the time and he demanded an answer as to why the O Lounge was participating ... He didn't know we serve food (at all), and he's someone who frequents the O Lounge all the time," Watanabe said.
Anyone who thinks of late-night club food as little more than salted nuts and hard-boiled eggs will be in for a big surprise at the O Lounge booth this weekend. Watanabe and her chefs are competing in several categories with a list of items that includes tomato and basil vegetarian quesadillas, vegetable spring rolls, pork won ton, shrimp skewers, deep fried oysters and yakitori chicken sticks.
"I've always wanted to go into the food industry, and I've always wanted a restaurant," Watanabe said. "Food is my passion. ... Unfortunately, I opened up the O Lounge thinking that I would entice everyone because of the fabulous food that I had, but it became more of a trendy hangout spot, and the food was just there as a convenience for people."
Taste of Honolulu is a way to get the word out about the food at her lounge -- while supporting a good cause.
The O Lounge occupies the cavernous space that long-time Honolulu residents still recall as China House, and Watanabe has been successful in developing the expansive main room as a place of fashion shows, video presentations, concerts by "tracks acts," celebrity meet-and-greets, and as the home of a successful "Jazz Night" promotion, as well as for more conventional club-oriented events on weekends.
A smaller room and other semi-private spaces can serve private parties and small groups.
Food has been part of the game plan since the club opened in 2004, but Watanabe says late-night clubbers tend to eat before they get there or stop somewhere afterward. It's those who come to early evening events that make more use of the menu, and appreciate food items that are more upscale than standard bar grinds.
"That's the market clientele I want to reach, especially for private parties and corporate functions and fundraisers," Watanabe said.
Watanabe was born in Mexico, and returned there for several years in her late teens, conducting cooking classes while attending a Mexican university. She speaks fluent Spanish.
"They're quite shocked," Watanabe says, describing the reaction of many Hawaii residents when she meets another expatriate and switches from English to Spanish.
Watanabe frequently donates proceeds of special events to the coffers of local charities, and enjoys presenting events that give Oahu's hard-pressed working people a bit of break in dealing with the high cost of living.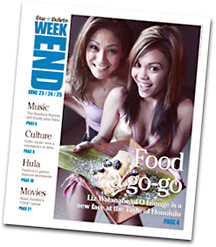 A "Women's Closet" event, offering steep discounts on fashions, was such a hit earlier this year that she's holding another on July 30. Watanabe plans to build on the original idea with a "Children's Closet," combining a kids' fashions show with the collection of "gently used" items for donation to homeless families.
"I'm trying to make it a fun event. I've got Lil' Miss Trend-E, who's going to do mini-makeovers for the girls -- the hair and the make up -- and I'm going to bring down a ton of toys for the kids to play around with."
Long-term, Watanabe says, she hopes to "transition" perceptions of the O Lounge away from a basic late-night meat market to a "non-conventional event location" with greater emphasis on private events and special occasions.
"People are learning (about what we can do), but a lot of people still don't know."