---
FAST FACTS HAWAII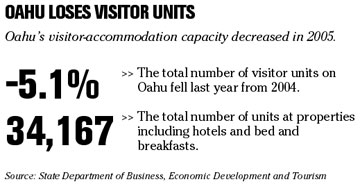 ---
HAWAII
Oahu loses hotel rooms but state gains overall
Hawaii's inventory of visitors accommodations is growing slightly and moving upscale, despite a trend toward converting some hotels into condotels and timeshares
The total number of visitor accommodation units in Hawaii upticked 0.4 percent to 72,889 in 2005 from 2004, according to data released yesterday by the state Department of Business, Economic Development and Tourism.
The number of luxury hotel rooms in Hawaii increased by 2.2 percent while standard units decreased by 3.5 percent.
Compared with 2004, Oahu timeshare units increased 25.9 percent and condo/hotel units rose 11 percent while hotel units decreased 8.5 percent. Statewide, a total of 6,839 timeshare units were in operation, up 15.5 percent compared to 2004.
The Big Island reported the largest growth in visitor units, up 13.1 percent, followed by Maui County with a 4.4 percent increase. Inventory on Kauai decreased 0.3 percent and Oahu's inventory dropped 5.1 percent to 34,167 units.
[HAWAII INC.]
PROMOTIONS
»
Star Markets Ltd.
has appointed
Christopher Borden
operations director. He previously served as the company's Honokawai store manager. He began his career at Star Markets Kihei as a management trainee.
» Hilton Hawaiian Village has promoted Starland "Star" Candilasa to banquet manager and appointed Frank Hudson parking services manager. Candilasa will oversee the entire banquet wait help and banquet porters for the hotel. He previously served as the hotel's assistant banquet manager for more than 15 years. Hudson will assist in overseeing the parking valets and managing 1,700 parking stalls at the hotel. He previously served as Aston Waikiki Beach Hotel front-services director.
» Hilton Waikoloa Village has appointed Thomas Fullington assistant finance director and promoted Owana Wilcox to manager of the Lagoon Grill. Fullington will monitor the daily operations of the finance department. He most recently served as assistant controller at the Xanterra South Rim at the Grand Canyon National Park. Wilcox will be responsible for coordinating the activities of the restaurant staff and relief manager as well as delivering quality product and service to the restaurant. She originally joined the hotel's food and beverage management team in 2000 as an intern.
» AIG Hawaii Insurance Co. has promoted Raymond "Buzz" Joao to Hawaii Insurance Consultants senior vice president, Lisa Halvorson to vice president and appointed Jackie Ingamells to vice president. Joao will manage the operations of Hawaii Insurance Consultants. He most recently served as the company's agency sales and service director. Halvorson be continue to oversee and manage the company's customer, community and public relations. Ingamells will oversee the development and implementation of programs to improve productivity and production throughout the company. She previously served as CTA Solutions' sales and marketing vice president.
» Fluor Corp. has promoted Alan Mockler to project director of the Ford Island Master Development Project. He also will be responsible for overseeing all of the company's Hawaii and Pacific Region projects. He has more than 35 years of experience in the power industry.
» Marriott Vacation Club International has appointed three general managers on the islands of Maui and Kauai. Bill Countryman has been appointed the Kauai Beach Club general manager. He has 30 years of hospitality experience. He succeeds Simon Jongert, who has retired. Edgar Gum has been appointed the Maui Marriott and Resort general manager. He previously served as resident manager of the JW Marriott Ihilani Resort & Spa in Ko Olina. Tony Pedroni has been promoted to general manager of the Waiohai Beach Club on Kauai. He previously served as the Le Meridien Hotel Kuwait's operations director.
On vacation
Erika Engle is on vacation. The Buzz will return on Tuesday.
---
NATION
30-year mortgage rates increase
WASHINGTON » Mortgage rates rose this week with 30-year mortgages climbing to the highest level in more than four years on investor fears about inflation.
Freddie Mac, the mortgage company, reported yesterday that rates on 30-year, fixed-rate mortgages rose to a nationwide average of 6.71 percent, up from 6.63 percent last week.
Rates on 15-year, fixed-rate mortgages, a popular choice for refinancing, increased this week to 6.36 percent, up from 6.25 percent last week.
Rates on one-year adjustable rate mortgages rose to 5.75 percent, up from 5.66 percent last week and the highest level since one-year ARMs averaged 5.77 percent the week of Aug. 3, 2001.
A year ago, 30-year mortgages averaged 5.57 percent, 15-year mortgages stood at 5.16 percent, one-year ARMs were at 4.23 percent and five-year ARMs averaged 5.05 percent.
Special fuels not to blame for high prices
WASHINGTON » "Boutique" gasoline blends to help states meet clean air rules are not a factor in higher prices as President Bush has suggested, says a draft of a study ordered by the White House.
Although often cited as a reason for volatile gasoline prices, so-called "boutique fuels" have not caused unusual distribution problems or contributed to price increases, the report concludes. The review was conducted by a task force headed by the Environmental Protection Agency and involving representatives from the 50 states as well as the Energy and Agriculture departments.
Facing growing public outrage over soaring gasoline prices, Bush ordered the study on April 25 in a speech in which he attributed high gas prices in part to the growth of special fuels. According to a late draft, obtained yesterday by The Associated Press, the task force concludes that suggestions of a connection between boutique fuels and supply or price concerns cannot be supported.
WORLD
Prosecutors indict fund manager
TOKYO » Prosecutors today indicted Yoshiaki Murakami, Japan's best-known fund manager, and his investment fund on insider trading charges.
The Tokyo Prosecutors Office indicted Murakami and MAC Asset Management after the country's security watchdog filed a criminal complaint, the prosecutor's office said in a statement. Murakami, 46, was arrested earlier this month on charges he acquired about 1.93 million shares in a radio station, Nippon Broadcasting System Inc., based on knowledge that Internet firm Livedoor Co. would try to buy a large stake in the broadcaster.
---
BUSINESS PULSE