---
FAST FACTS HAWAII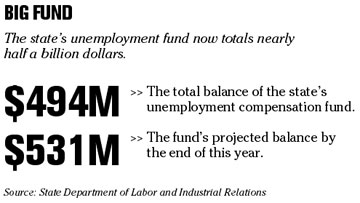 ---
HAWAII
Hospitality Advisors is No. 11 hotel consulting firm in U.S.
Hospitality Advisors LLC
has been ranked the nation's 11th largest independent hotel consulting firm by the industry trade publication Hotel & Motel Management.
Joseph Toy, president of Hospitality Advisors, also has joined the International Society of Hospitality Consultants. Membership in the ISHC is by invitation only and candidates are only admitted after a formal vetting process.
Hospitality Advisors, which generated revenues in excess of $1 million in 2005, provides services for Starwood Capital, Host Marriott, Hilton Hotels Corp., Outrigger Hotels & Resorts, the Hawaii Tourism Authority and Goldman Sachs.
Hospitality Advisors maintains formal strategic alliances with Smith Travel Research and publishes the monthly Hawaii Hotel Flash Report, which is the state's largest hotel survey.
On vacation
Erika Engle is on vacation. TheBuzz will return on Tuesday.
NATION
Only 39% have emergency funds
NEW YORK » Despite repeated recommendations that people set up emergency funds to weather difficult financial times, fewer than four in 10 have done so, according to a survey.
A poll done for Bankrate.com, an online financial information service based in North Palm Beach, Fla., found that just 39 percent of respondents have emergency funds, defined as checking or savings accounts with the equivalent of three months' living expenses. Some 55 percent of respondents don't have such accounts, and the rest did not answer the question.
As might be expected, wealthier people and older people were more likely to have emergency accounts than others.
The study found that more than 60 percent of those earning more than $75,000 a year said they had emergency funds, while just 20 percent of those earning less than $20,000 a year had them. One in two adults 65 and older have one, but just one in five of those aged 18 to 24 do.
Officials sour on Ford comeback
Ford Motor Co.
may fail to meet its goal of returning to profit in North America by 2008 because of declining sales of sport-utility vehicles, according to officials at the world's third-largest automaker.
The officials, who declined to be identified because they aren't authorized to speak for Ford, said a jump in gasoline prices is hurting demand for SUVs. Competition from General Motors Corp. and Toyota Motor Corp. also may erode sales of Ford's pickup trucks, the officials said.
SBA nominee moves closer to confirmation
WASHINGTON » President Bush's nominee to run the Small Business Administration moved closer to confirmation yesterday after he promised to reinvigorate the agency, which has come under fire for its delayed response in processing disaster loans after the Gulf hurricanes.
The nominee, Steven C. Preston, is a former executive vice president at ServiceMaster, which owns several large companies including Terminix. He told members of the Senate Committee on Small Business and Entrepreneurship that his first task would be to fix problems in the disaster loan program, which provides money to homeowners and businesses affected by natural disasters.
News mergers need scrutiny, report says
OTTAWA » Mergers of Canadian news organizations should be given closer scrutiny under competition laws, a report by a committee of Canada's Senate urged yesterday.
The report, which came after three years of hearings, also recommended that the government-owned Canadian Broadcasting Corp. end commercials on its TV networks and stop sports programming.
Yukos official gives sober outlook
MOSCOW » The chairman of
Yukos
yesterday offered an unusually frank -- and glum -- assessment of the future of his oil company, comparing its prospects to those of Europe the day before the start of World War II.
"Everybody felt fine, and nobody could imagine that on the following morning there would be war," Viktor V. Gerashchenko told Yukos shareholders in response to a question about the company's future. "In the same way, I am unable to tell you what will happen to Yukos."
WORLD
Stringer tries to reassure investors
TOKYO » Howard Stringer, the first foreigner to head
Sony
, tried to allay investor worries about the future of the Japanese electronics and entertainment company today by pointing to a budding recovery in its core electronics business.
Stringer, whose appointment as chief executive was approved by shareholders a year ago, was facing shareholders for the first time as top management of the Tokyo-based manufacturer at an annual meeting.
Speaking at a Tokyo hotel packed with thousands of shareholders, Stringer stood with his Japanese partner, Sony President Ryoji Chubachi, and assured stockholders Sony Corp. was "on track" for a turnaround.
---
BUSINESS PULSE