---
FAST FACTS HAWAII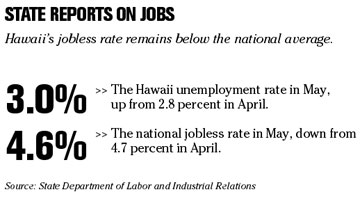 ---
HAWAII
Maui Divers enters new retail alliance
Honolulu-headquartered
Maui Divers Jewelry
, which operates 53 retail centers in Hawaii, California, Nevada and Florida, is entering an exclusive partnership that will allow it to operate Columbian Emeralds International stores in Hawaii.
Maui Divers will open its first Columbian Emeralds store on Friday at the Anchor Cove Shopping Center on Kauai. Columbian Emeralds, a unit of Dutyfree Holdings Inc., sells emeralds, diamonds and other jewelry through 60 duty-free jewelry stores in the Bahamas and the Caribbean.
As part of the new agreement, Maui Divers Jewelry will be sold in Columbian Emeralds' Bahamas and Caribbean stores.
Established in 1959, Maui Divers owns and operates Maui Divers Jewelry, Island Pearls and Pick-A-Pearl stores.
Planning agency OKs Maui project
The Maui County Planning Commission has voted 7-2 to approve Pulelehua, an affordable project in West Maui.
Pulelehua, which has been in planning for more than two years, is designed to be a pedestrian-friendly neighborhood. About 17 percent of the 882 total units are expected to be "gap homes" -- homes priced somewhere between the affordable range and market rates.
At the commission's recommendation, more than half of the total units -- or 467 homes -- are expected to be affordable and gap homes.
The Maui County Council's next step is to schedule a public hearing for Pulelehua before the council's Land Use Committee.
Beach Village called family friendly
The Beach Village, which encompasses 65,000 acres on Molokai Ranch, has been named a top family-friendly campground by a lifestyle magazine.
Cookie, a Conde Nast Publications magazine for parents, will name the top family-friendly campgrounds around the country in its July/August issue due out on newsstands next week.
The Beach Village, which is classified as an eco-adventure resort, fronts Kaupoa Beach and is located at the site of a former Hawaiian fishing village. Guest accommodations include 40 two-bedroom canvas tents set on platforms.
On vacation
Erika Engle is on vacation. TheBuzz will return on Tuesday.
---
[HAWAII INC.]
NEW JOBS
»
Ohana Hotels & Resorts
has appointed
Marisa Sakamoto
marketing projects manager. She will be responsible for the production and coordination of all marketing project. She previously worked as an account coordinator for
Stryker Weiner & Yokota Public Relations
.
» Hanahauoli School has appointed Darlene N. Blakeney finance and operations director. She previously worked for Bank of Hawaii. She replaces Jane Carney, who is moving to the mainland.
» PacifiCap Management Inc. has hired Dew-Anne Langcaon as chief operating officer. She will be responsible for management and oversight of operations, financial, accounting and tax matters for various PacifiCap-managed venture funds and affiliates. She previously served as Hawaii Pacific Health's executive vice president and chief strategic officer.
» Rider Hunt Levett & Bailey has appointed Anas Nasr senior project manager for the company and Cathy Handen marketing coordinator for the company's Honolulu office. Nasr has 20 years of project management and project controls experience. Handen will be responsible for creating marketing materials and coordinating all aspects of marketing and client development. She has five years of sales and marketing experience.
>> Castle & Cooke has hired Sesilia Castro as a customer service representative for the Wehilani Project at Waikoloa on the Big Island. She most recently served as an administrative assistant with Western Overhead Doors.
» Waikiki Beach Marriott Resort & Spa has appointed Nicole Nagashima leisure sales manager. She will be responsible for conducting training sessions for wholesale and retail travel agents, as well as day-to-day business. She previously served as a Mandara Spa concierge shift supervisor.
---
World's millionaires could fill New York
The ranks of millionaires swelled to 8.7 million worldwide last year, exceeding the population of New York City, according to
Capgemini SA
and
Merrill Lynch & Co.
The biggest increase was in the Asia-Pacific region, followed by Africa, the Middle East and Latin America, as oil prices more than doubled in the past two years and emerging stock markets appreciated by almost a third, Capgemini and Merrill said in a report.
The world's millionaires had a total of $33.3 trillion in assets, triple the value of the 500 largest publicly traded U.S. companies, or an average of about $3.8 million each. The number of people with more than $1 million to invest, not including the value of their homes and consumable goods, climbed 6.5 percent, the survey found.
GM's debt rating gets cut even further
Two major rating agencies cut the debt rating of
General Motors
further into junk status yesterday after the company announced a plan to improve its liquidity by refinancing $5.6 billion in loans.
GM, which plans to eliminate 30,000 jobs and close 12 factories, said it would offer banks collateral and more favorable terms to extend its credit package through 2011. The company's existing loans are scheduled to mature in 2008.
Gina Proia, a GM spokeswoman in New York, said refinancing the loans was "a positive action toward additional financial flexibility for GM."
Although the proposal would remove uncertainty about GM's ability to obtain capital during the overhaul, analysts said that unsecured bondholders would be less likely to recover their investments in the event of a bankruptcy.
Standard & Poor's reduced its rating of GM's senior unsecured debt to B minus from B; and Moody's Investor Service dropped its rating to Caa1 from B3.