Farmers say tougher laws will not stop crop thieves
Farmers and law enforcement officials are skeptical about a new state law designed to combat theft and property damage that cost Hawaii farmers about $11.4 million in 2004.
Criminal Property Damage
Effective July 1, a new law relating to agriculture and aquaculture will lower the minimum amount of damage required for a criminal property charge and include the value of future crops damaged in the estimate.

» First degree: Class B felony; maximum 10-year sentence for damage of $1,500 or higher. (Previous minimum was $20,000 damage or higher.)

» Second degree: Class C felony; maximum five-year sentence for damage from $500 to $1,499. (Previous range was $1,500 to $19,999.)

» Third degree: Misdemeanor; maximum one-year sentence; damage from $100 to $499. (Previous range was $500 to $1,499.)

Source: House Bill 2772
The law, signed last month by Gov. Linda Lingle, makes it easier to prosecute thieves for felony offenses by lowering the minimum amount of damage required for felony criminal property charges. The law, which goes into effect July 1, also would allow the full market value of the crop to be considered in assessing damage.
"I don't think this will help at all," said Lt. Eric Brown, of the Kailua police station, which sees a majority of these types of cases. "Most crooks are druggies and don't care if they are committing a misdemeanor or a felony."
Brown noted that most judges give thieves probation due to overcrowded prisons that they feel would better serve the community by holding criminals who pose a threat to people, not property.
"Judges put everyone on probation or parole," Brown said. "We catch 'em and the judges let 'em go."
Although police are not too optimistic about the law, they acknowledge it has good intentions and was not considered a panacea.
In 2004, according to a survey by the Farm Bureau, farmers lost about $4 million in crops or damaged property and had to spend $7.4 million for security.
Farmers said they see repeat offenders whose main motivation is to feed their drug addiction.
"A lot of the thieves are well known, so there's a lot of frustration on our part as well as the police," said Dean Okimoto, president of the Hawaii Farm Bureau and owner of Nalo Farms.
Detective John McCarthy of the Kailua police station estimated as much as 90 percent of agricultural theft cases go unreported every year.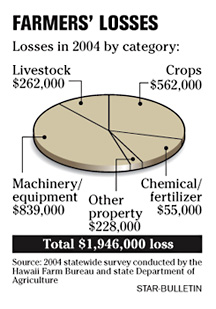 According to the Hawaii Farm Bureau survey and state Department of Agriculture, about 3 percent of the nearly 40,000 trespassing incidents in 2004 were reported to police. This resulted in 119 arrests and 34 convictions.
"When you have a problem, the first steps have to come from you. ... It has to start with the people," said Brown, who thinks the farmers should take their own protective measures. "They (the thieves) are going to pick the easiest (properties) to get in and out of."
Okimoto said, "If we don't protect our property, we're just as much at fault. The problem is, it costs money -- money we don't have."
McCarthy noted that farmers on average reap a 2-3 percent profit.
"They work very hard and don't get much in return, so when others steal what little they have, they really suffer a loss," he said.
June Kaneshiro, whose 12 acres of banana patches off Likelike Highway were raided repeatedly earlier this year, said security cameras are out of the question since they are expensive and her property does not have access to electricity.
"After all the expenses are accounted for, we're left with very little profit," Kaneshiro said. "Why should I spend $2,000 of what little profit we have to build a gate on land that I lease when a thief is going to ram it down anyway?"
Although Okimoto hopes the new law will help remedy the situation, he thinks the government should design legislation to help farmers pay for equipment to protect their property.
McCarthy said, "The land space is so immense it's hard to secure, and normally they (the thieves) strike remote areas where they have less chance of being seen."
McCarthy noted that unlike other items that are stolen, it is difficult to track agricultural products because they are perishable.
Even if police catch the thieves, most of the damage is already done. Brown said the thieves' method of harvesting the fruit often kills the tree, bush or plant.
"The other problem is they (the farmers) can't sell their goods once it's recovered, because the product has been out of their control," Brown said.