---
FAST FACTS HAWAII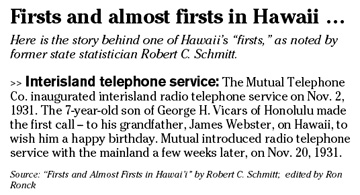 ---
NATION
Be careful about being a jokester
Using humor in the workplace may sometimes help to advance a career, but overdoing it is anything but funny, says one comedian-turned-chief-executive.
Ron Shaw, president and CEO of Pilot Pen, draws on his former life as a comedian to help him in the office. Besides using a few jokes to open speeches, Shaw also uses humor to diffuse tense meeting situations to avoid nasty confrontations.
But Shaw recommends using humor sparingly. "There's nothing wrong with using humor at the right time, but some people go too far," he said. "Humor should be used to get someone's attention or to keep things lively."
Otherwise, too many bad jokes will fall flat and make most tellers seem annoying. Shaw suggests using humor only if it fits your personality. Don't try to be funny if you aren't.
"I'm one of the klutziest dancers that you've ever seen. So, can you imagine me trying to do some of today's moves? I would look jerky and awkward. I wish more people would feel the same way about telling jokes," he said.
All is not lost for non-jokers. Shaw recommends corporate coaches to help fine-tune joke telling and other skills like television interviewing and dressing for success.
Shaw offers other career and life advice in his book "Pilot Your Life: Comedian Turned CEO Helps you Start Your Career."
Don't, like, use slang at interviews
So slang may have been cool in college, but words such as "dude," "like" and "totally" leave employers unimpressed, according to one expert.
Young workers are finding that their style of speech doesn't jibe in interviews and in the workplace, and may cost them that plum promotion, said Paula Hill Strasser of the Cox School of Business at Southern Methodist University.
Strasser offers these tips to make the transition from college-speak to professional parlance:
» Make eye contact and use proper grammar and pronunciation to avoid confusion when speaking to an employer.
"If there is no eye contact, the grammar is inappropriate, or diction isn't clear, there can be some issues," Strasser said. "Perception in the workplace is reality."
» Determine what errors you make by carefully listening to your speech. You may want to ask a friend to help. Once you figure out your most common mistakes, you can work toward eliminating these "verbal viruses."
» Avoid weak words like "sort of" and "maybe," which can send mixed signals to employers. Instead, choose words that convey confidence, power and intelligence.