---
FAST FACTS HAWAII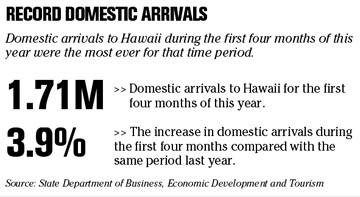 ---
HAWAII
FAA gives go! go-ahead for operating terminal
A Federal Aviation Administration review has determined that
Mesa Air Group
's go! operations at Honolulu Airport's commuter terminal can be conducted safely.
Interisland carrier Pacific Wings has been fighting a state decision to place go! at the commuter terminal instead of the larger interisland terminal, saying that the state Department of Transportation needed FAA approval.
Mark A. McClardy, manager of the airports division in the Western-Pacific Region, in a letter dated June 8, the day before go! began interisland service, said, "The FAA evaluation of HDOT recommendations has determined that the HNL commuter ramp operations can be conducted in a safe manner with the proposed plan and operating procedures."
Greg Kahlstorf, president of Pacific Wings, is unsatisfied with FAA letter.
"We never lodged a flight standard complaint," said Kahlstorf yesterday. "The question is whether the airport is appropriate."
Kahlstorf, in turn, responded with an 8-page letter to the FAA dated June 13, seeking clarification. The letter goes on to say that there were conflicting and false statements in documents provided to the federal government, and urges the FAA to re-examine the facts.
Jonathan Ornstein, chairman and CEO of go!, could not be reached for comment.
Hawaii's unemployment hits 3%
Hawaii's seasonally adjusted jobless rate increased in May for the fourth straight month, reaching 3 percent for the first time since January 2005, the state said yesterday.
May's rate was up from 2.8 percent in April and represented a 0.6 percent increase from January's 15-year record low of 2.4 percent, according to the state Department of Labor and Industrial Relations.
Despite the increase, the state still had one of the lowest unemployment rates in the nation, tying for second with Vermont and Virginia. South Dakota had the lowest unemployment rate at 2.9 percent.
The national seasonally adjusted unemployment rate dipped to 4.6 percent in May from 4.7 percent in April.
James Hardway, spokesman for the Hawaii labor department, said most of the job losses were caused by thousands of Schofield Barracks soldiers leaving the state for training, the elimination of 271 positions with the closure of Kapalua Bay Hotel and the cooling residential real estate market.
"In the realm of things, 2.8 to 3 percent is not that big of a difference," he said.
NATION
Crocs settles patent lawsuit
NIWOT, Colo. »
Crocs Inc.
, the maker of the popular, colorful cloglike shoes announced yesterday it has settled a patent infringement claim against one of 11 companies it says have infringed on its patents.
In a statement, the company said Shaka Holdings Inc. of Kailua-Kona, Hawaii, agreed to stop infringing on Crocs' patents in exchange for release from liability and Crocs' dropping its lawsuit against the company filed in U.S. District Court and a complaint filed with the U.S. International Trade Commission. Shaka Holdings representatives could not be reached for comment.
Earlier this month, Crocs announced it settled its claim with Honolulu-based Acme EX-IM.
Crocs claims its holds four patents and has applied for others covering the utility and design aspects of its shoes. While Crocs retail for about $30, similarly styled shoes are available for as little as $10 at discount retailers and on the Internet. Crocs filed its lawsuits and complaints against 11 companies in April.