WEEKEND: JUNE 16/17/18
An honest man
Talib Kweli says being true to himself artistically allows him to develop his craft
Regarded as one of the most prominent emcees ever to pick up a microphone, Talib Kweli is coming back to Hawaii. The last time the Brooklyn-born lyricist performed in Hawaii was March 2002. He did two shows, both at venues that have since closed, Waikiki's All-Star Cafe and Chinatown's Garden of Saigon.
Rumors swirled among Hawaii fans that he left the 808 state with a distaste for the islands. Last week, Kweli provided some perspective on his last visit, insight on his forthcoming album "Eardrum," and why he never makes music to please fans.
Talib Kweli
With local openers The Usual

» Where: Pipeline Cafe, 805 Pohukaina St.

» When: 9 p.m. Saturday

» Tickets: $35

» Call: 946-8620
Question:
What was your experience like the last time you were in Hawaii?
Answer: The last time I was out in Hawaii, I throughly enjoyed the island. I loved the energy from the people. The promoters, I don't know who they were, but they obviously had no clue on what they were doing. They had us booked to perform at a restaurant, like a TGI Fridays or something. They were talking like they were going to clear it out, put the tables together and make a stage. I don't remember if we actually performed there that night -- I kind of blocked it out. The next day they had us performing at an even smaller restaurant. Why would you put a show in that kind of venue and think it would be fly?
Q: Do you remember getting heckled during the first show?
A: I really don't remember it that well. I do know that (at this) point in my career, it doesn't happen that much anymore. At that point ... people would get belligerent at shows and want to challenge me. I feel like if you're going to come and see a show and you come to be disrespectful, come to make a spectacle of yourself, all that's going to do is make my show more interesting. So if you really want to come to the show, yell and step to me onstage, (then) I'm going to make you a part of the show.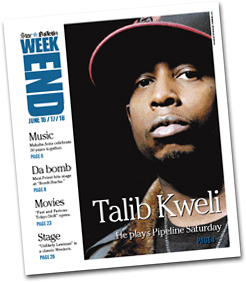 Q: Did you have a chance to learn about the culture of Hawaii?
A: I didn't learn anything about Hawaiian culture, per se. The promoters had me at some ... real touristy hotel, and when I went out to try to find some food, there was a McDonald's and restaurants (that) catered to a beach crowd. We drove around the North Shore, went to the natural reserve where they filmed "Jurassic Park" (and) rode some ATVs around. I don't really feel like I got the chance to visit Hawaii (though). I feel like I came out there and worked.
Q: Your new album, "Eardrum," will be out soon. Talk about that and your new record label.
A: My new situation is at Warner Bros. ... called Blacksmith. It's a label I started with my business partner and manager, (and) the acts we've signed so far are myself, Jean Grae and Strong Arm Steady. We look forward to bringing a lot of hot music out this year. Everybody has created their own niche, you know, their own flavor. I think everyone is talented and bringing something special to the table. I (also) got my project, "Eardrum," which I've been working very hard on. I got UGK, Norah Jones, Sizzla and Jean Grae. There are all types of interesting and wonderful songs on there.
Q: You once said you never make music for the fans. What do you mean by that?
A: The artists that you feel care about the music are the ones who are making it for themselves. The ones that go in and out with the trends, and every year they sound like something different and have a hit record that you can dance to, but don't really connect with them as an artist? Those are the ones making it for the fans. I'm not that type of artist.
My experience tells me that it's better for me to be honest with my craft and honest with myself. When I think of my favorite artists, whether it's Lauryn Hill or the RZA or Dr. Dre or Common or Andre 3000 or Kanye West ... they're not making music to please you. They could care less what you think about it. They're making it from their heart.
Now once you put a bar code on it and put it for sale, it belongs to everybody. (But if) you're selling it, people have the right to criticize it however they want. People should never get it twisted and think it was made for them. They gave you money, (and) they bought the product. It was an even exchange, (and) nobody owes anybody anything.
Q: Your true fans will stick with you regardless, right?
A: I truly believe that. Here's the thing, when you make music for yourself and you constantly grow, that's what the fans appreciate. You're going to have fans that aren't real fans that want you to stay stagnant, but you're (also) going to have fans that appreciate your growth, that appreciate you trying different things. When you don't challenge yourself, or you just give them what you think they want ... that's when you got to realize they're not loyal to you, you know what I'm saying? You got to make music for you and hopefully people like it. If they don't, (forget) it.
Q:
One of your recent MySpace blogs talked about how touring with the Roots taught you a lot about performing live. What did you learn?
A: Not just the Roots, (but also) Mos Def, De La Soul, Common (and) even (Jay-Z's) "Hard Knock Life" tour. I'm a student of the game. I study my craft, I excel on stage. That's why people should come out to the show, because that's where my craft really shines. That's how any emcees craft should shine.
The Roots ... as a band, you can't question. It's unquestionable how dope they are. I learned stage etiquette, stage presence, how to give a long, proper show. I always bring them up because they have such a great following. They gave me the opportunity to tour with them, (and) it helped me develop my following ... on the road. That's something many rap artists don't have.
Q: Do you think your fans and critics expect too much sometimes?
A: Yeah. I think fans have a relationship with an artist that the artist doesn't necessarily have with them. You associate music with times in your life ... with something you were going through. So when that artist does something different than what you associated them with, you kind of feel betrayed. It's an understandable feeling, but it's not fair to the artist, because the artists never made the music for you or what you were going through. If you can relate to it, that's great ... (but) I think people get it twisted and expect the artist to leave them something. I want people to support me, (and) the only way I can get people to continue to support me is if I'm honest.
Q: With technology like Myspace, do you think it's easier for artists to get exposure compared to back-in-the-day?
A: Sure, definitely. I mean, I used to have to get on a Greyhound bus with a DAT machine, you know what I'm saying, and an MPC and go out to Cincinnati to see Hi-Tek. And then we had to go out and take the DAT and go to New York to take your stuff to labels, (since) there wasn't no e-mailing songs or getting instrumentals off Limewire or getting fans from Myspace, none of that.
Q: Are the technological advancements a good thing?
A: It's great. It's putting the music back in the hands of the fans and allowing the musician to bypass the industry, which is one big, annoying middleman. The musicians can get directly to the fans. In order to have a project (before), you had to record, and in order to record, you had to get signed, because that's the only way a major label will give you the money to record.
Now anybody can (do it). It's great, the music I can hear on MySpace when I do check people's stuff out. It really sounds good.
Q: What advice would you give to someone trying to break into the music scene?
A: I would say do it yourself and don't depend on nobody for the hookup or for a handout. You have access yourself, if you're ambitious enough to go to school (and) get a job. If you're ambitious enough to write lyrics and lay it to a beat, you're ambitious enough to run a record label. Just put it out and do it.