---
FAST FACTS HAWAII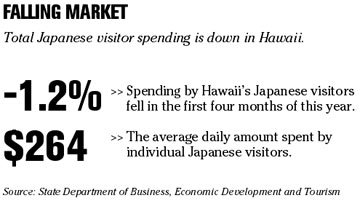 ---
HAWAII
KHNL to go high-definition on Oceanic Time Warner
Subscribers to
Oceanic Time Warner Cable
's high-definition TV package received phone calls yesterday with news that KHNL-TV's high-definition signal is available on digital channel 938.
The offering is temporary, but also a sign of more to come.
"Much like (with) the Olympics, (viewers) will have KHNL on 938 for U.S. Open Golf coverage," said John Fink, vice president and general manager of KHNL.
The KHNL high-definition signal will go away when the tournament ends. However, Fink expects to have high-definition carriage agreements with Oceanic in place for both KHNL and KFVE-TV "in the next 30 days."
Fink also noted that both KHNL and KFVE are available over the air in high-definition format for those who have tuners capable of receiving the signals.
KFVE currently receives programming from the WB network in high-definition format. As of Sept. 5, the WB will cease to exist and KFVE will become a MyNetworkTV affiliate. MyNetworkTV will also broadcast in HD, Fink said.
Boeing lays off 30 people on Maui
WAILUKU »
Boeing Co.
has laid off 30 of its 240 employees on Maui as a result of a cut in defense spending.
Maria McCullough, a spokeswoman for Boeing Missile Defense Systems in Washington, said some of the effected employees may be offered positions elsewhere in the company.
She said the layoffs included various departments at all levels.
Boeing has offices in Kahului and in Kihei with employees also stationed at the Maui Space Surveillance Site at the summit of Haleakala.
"We are not eliminating any of our functions on Maui," said Rich Garcia, a spokesman for the Air Force Directed Energy Directorate at Kirtland Air Force Base, N.M., which governs the Air Force contract with Boeing. "What we will be doing is examining our practices and procedures to identify ways to improve efficiencies."
[HAWAII INC.]
NEW JOBS
»
Faye Yorck
has been appointed KHNL NBC 8 and KFVE marketing director. She most recently served as marketing communications manager for the Honolulu Advertiser.
» Courtyard by Marriott Kauai at Waipouli Beach has appointed Rafael Camarillo executive chef. He will be responsible for overseeing the resort's culinary operations as well as training and motivating a department of 30 associates. He previously served as executive chef at the Grand Hyatt Kauai Resort and Spa.
» General Growth Properties Inc. has appointed Corinne Reyes Arquero general manager of Whalers Village Fine Shops & Restaurants on Maui. She will oversee the daily operations at the shopping center, including managing marketing, operations, specialty leasing and tourism efforts. She most recently served as general manager of MHDC Partners, a partnership between the McDonald's Corp. and the M.J. Sullivan family.
» The Gas Co. has hired Thomas Wellman as vice president, chief financial officer and treasurer. He formerly served as vice president, treasurer and controller of Alexander & Baldwin.
» Bank of Hawaii has appointed Richard B. "Rick" Murphy and Luke W.T. Yeh senior vice presidents. Murphy has been appointed senior vice president and manager of retail credit. He will be responsible for managing risk in the company's retail loan portfolios in concert with the retail business manager. Yeh has been promoted to senior vice president and corporate banking deputy manager. He will assist in the management of all commercial credit activities and sales for the corporate banking division.
» Fairfield Hawaii at Waikiki Beach Walk has appointed Gary Mano general manager. He most recently served as general manager of the Fairfield Kona Hawaiian Village Resort on the Big Island. He has over 20 years of experience with the Ritz-Carlton and Sheraton chains.
---
WORLD
Nikkei jumps 3 percent in intraday
TOKYO » Japan's benchmark Nikkei 225 stock index rose more than 3 percent in intraday trade today, buoyed by broad buying following a robust rally for U.S. shares.
The Nikkei added 482.08 points, or 3.33 percent, to 14,952.84 on the Tokyo Stock Exchange at one point after the start of afternoon trade Friday.
Today's surge in Tokyo came after Wall Street rallied for a second session yesterday as investors brushed aside inflation fears. The Nikkei plummeted 19 percent from a near six-year high on April 7 to a six-month low on Tuesday, joining in a global rout in equities, on concern rising U.S. interest rates and slower economic growth around the world will stifle corporate profits.