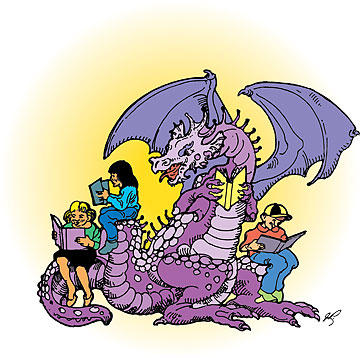 ILLUSTRATION BY JERRY PINKNEY
Diving into kids' books
A three-day conference on children's literature has sessions for anyone interested in the genre
LITERATURE for children stimulates. It inspires. It unleashes the imagination. It gives one command of the language, it develops cognitive and critical thinking, it creates focus and sparks style. It's fun.
And that's just what it does for adults. Imagine what it does for kids!
The title itself is a page-turner, but the "Thirteenth Biennial Conference on Literature and Hawai'i's Children by Children's Literature Hawai'i and the University of Hawai'i at Manoa: Imagining Other Lives, Other Times, Other Places" -- college folk being emotionally incapable of hanging a simple title on anything -- kicks off on Thursday, with events for teachers, parents, students and authors and artists, both working and wannabes.
As usual, there are three "strands": interpreting children's' literature, how to best use the medium, and how-tos and workshops for creating it. The Hawaii event has drawn some heavy hitters in the past, and this year's star attractions are author Karen Hesse and artist Jerry Pinkney.
LITERATURE AND HAWAI'I'S CHILDREN
13th biennial conference, "Imagining Other Lives, Other Times, Other Places," with featured guests Karen Hesse and Jerry Pinkney:
Place: University of Hawaii at Manoa Campus Center
When: Opening-night family festivities 6:30 to 9 p.m. Thursday (free); with presentations, workshops and discussions 8 a.m. to 5 p.m. Friday and Saturday
Cost: Per-session rates are $20 for members, $25 for nonmembers, $15 for Teen Track sessions for writers (Friday) and artists (Saturday), and $5 for children's activities.
Call: 956-7559
Note: Autograph session with special guests 4:15 to 5 p.m. Friday (two books per person limit)
Web: www.english.hawaii.edu/CLH/2006.html
On Friday, Hesse will deliver the keynote address from 8:45 to 10 a.m., conduct a teen writing workshop from 10:15 a.m. to 12:30 p.m., and discuss her book, "Out of the Dust," from 1:30 to 2:45 p.m. She'll also offer two professional sessions on "Writing Children's Literature" from 4 to 4:15 p.m. Friday, and 11:45 a.m. to 1 p.m. Saturday.
Pinkney will offer a professional session on "Illustrating Children's Literature" from 10:15 to 11:30 a.m. Saturday, and offer a teen illustration workshop from 1 to 3:15 p.m. Saturday.
The three-day event has dozens of sessions and events, too many to list here, and there are fees involved, although members of Children's Literature Hawai'i get a discount. Some students can receive academic credit for the sessions through the university's Outreach College. For more information, go to www.english.hawaii.edu/CLH/2006.html or at 956-7559.
According to conference director Nikki Hamai, the event "is for anyone who loves, or has any interest or investment in children's literature. We invite parents and children and those interested in writing or illustrating children's literature, as well as those who teach using children's or young-adult literature. What's really exciting is that teachers and librarians come and participate, and our budding artists -- the teen-track sessions can only be attended by teens to participate with our featured writer and illustrator."
Kids who assemble a portfolio can have it reviewed by Jerry Pinkney.
"Karen Hesse will workshop with writers, but the guests will address whatever the audience is interested in," said Hamai. "It may be having to do with process, or publishing -- the sessions are tailored to whoever is attending.
"Some people wind up going to all sessions, others might have families going to just the opening festivities and performances -- by Honolulu Theatre for Youth and fantastic lion dances! -- and there are fun presentations for whole families by Hesse and Pinkney. Those interested more in learning and doing may be focused on the more professional sessions."
For parents and children, it's a way of interacting with each other as well as learning to study literature on a different level.
"For librarians and teachers, you may get a better grasp of how to work with this material -- how to make it work for you in an academic setting, to enhance curricula," Hamai said. "There's a business side, of course, but in the end, it's just plain fun. Really, how often do you get to interact with award-winning authors and illustrators at this level on a very personal human basis?
"We deliberately ask the author and illustrator to design their programs to be interactive, to engage with the audiences. Hesse and Pinkney have done a number of speaking engagements, and I don't know if they've been to Hawaii before, but they've probably never done anything quite like this! I've been speaking to them quite a bit preparing for the festival, so at least they know what they're in for."
While there may be other workshop-intensive children's literature conferences, Hamai said, "I really can't think of any quite like this. There are certainly others, but they don't run as long or go into as much detail. (Ours is) certainly the longest-running, since 1982."
She added that beyond the professional academic benefits, there are personal benefits.
"For myself, working on this conference and focusing on the themes reminded me of the things I'd forgotten from childhood, the power and wonder of using your imagination to get absorbed into literature, including the illustrations. Sometimes, as an adult, you drift away from the magic."