---
FAST FACTS HAWAII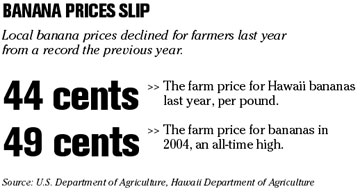 ---
HAWAII
Shipper Matson wins environmental award
The U.S. Coast Guard has awarded Matson Navigation Co. with the 2006 Rear Admiral William M. Benkert Marine Environmental Award for Excellence.
The award recognizes achievements in marine environmental protection beyond mere compliance with industrial and regulatory standards. Matson, a subsidiary of Alexander & Baldwin Inc., received the bronze medal in the large business vessel category.
Matson has had a zero-discharge policy since 1993, according to Matson officials, and has taken steps to continually improve operations by voluntarily limiting discharges from onboard oil water separators, for instance, and retrofitting vessels to reduce air emissions.
Other recipients of the 2006 award include Dow Chemical, British Petroleum, Marathon Petroleum and Todd Shipyard. A formal awards presentation will take place on June 26 in San Diego.
NATION
Gold prices fall from 26-year high
Gold fell in New York, extending the longest slump in two years, as lower oil prices reduced the metal's appeal as an inflation hedge.
Gold, down for four straight weeks, has tumbled 16 percent from a 26-year high of $732 an ounce on May 12. Crude oil fell as much as 2 percent today and has dropped more than 6 percent from a record $75.35 a barrel, the highest ever, on April 21. Record energy costs triggered inflation concerns, boosting precious metals.
"Gold is sensitive to crude," said Frank McGhee, head metals trader at Integrated Brokerage Services LLC in Chicago. "That's going to be a very key play over the next few weeks as hurricane season begins."
Gold futures for August delivery fell $1.50, or 0.2 percent, to $611.30 an ounce on the Comex division of the New York Mercantile Exchange, down for the fifth straight session. Prices touched $605, the lowest April 17.
Krispy Kreme expects a loss
Krispy Kreme Doughnuts Inc.
expects to report a first-quarter loss on a 24 percent decline in sales as its new Chief Executive Officer Daryl Brewster began taking steps to return the second-largest doughnut maker to profitability.
Revenue for the three months that ended April 30 declined to $116 million from a year earlier, Winston-Salem, N.C.-based Krispy Kreme said yesterday in a regulatory filing. It delayed filing a complete first-quarter report as it continues to work on its last annual report, which it plans to submit by July 31.
Revenue fell as Brewster shuttered U.S. stores and began building the Krispy Kreme brand internationally. The doughnut maker, which grew too fast following a public offering in 2000, ousted former CEO Scott Livengood and six other executives last year after an internal probe that found they may have inflated earnings to beat forecasts.
Northwest deal forestalls strike
Northwest Airlines
and its 8,700 active flight attendants agreed yesterday to a temporary truce -- meaning no strike by the flight attendants, and no effort by the company to set aside their contract -- until June 30. They said negotiations would resume tomorrow.
Northwest is seeking $195 million in annual pay cuts from the attendants as part of a plan to reduce costs by $1.4 billion and emerge next year from bankruptcy proceedings. Other worker groups have agreed to pay concessions, but their deals are contingent on the flight attendants also taking a big pay cut.
Mesaba seeks fast ruling on contracts
MINNEAPOLIS »
Mesaba Airlines
, which has made little progress in reaching concessionary deals with three labor unions, asked a bankruptcy judge yesterday to rule quickly on its motion to void current labor contracts.
"The unions remain adamant that they will not agree to the 19.4 percent cost reductions over a six-year term," Mesaba said in its court filing in U.S. Bankruptcy Court in Minneapolis.
"Mesaba has no choice, other than liquidation, but to seek the authority to reject its collective bargaining agreements," the carrier said. If U.S. Bankruptcy Judge Gregory Kishel approves Mesaba's motion, the airline's management could impose lower pay rates and more flexible work rules on pilots, flight attendants and mechanics. A hearing on the motion is set for June 26.
Skymark sees huge benefits in 737-800
Skymark Airlines Co.
, Japan's largest low-fare carrier, said switching to only
Boeing Co.
737-800 airplanes will help lower costs, almost tripling its profit margin by the year ending March 2011.
Eliminating six Boeing 767-300s from its fleet will help the airline boost its pretax profit margin from operations to 8 percent, from this fiscal year's forecast of 3 percent, Skymark President Shinichi Nishikubo said yesterday.
Like its bigger rivals All Nippon Airways Co. and Japan Airlines Corp., Skymark is flying fewer models of smaller planes to save costs and fill more seats. Nishikubo has opted for 737s, which burn 15 percent less fuel for every seat filled than the bigger 767 model.
"Using just one type of aircraft is the biggest cost-reduction plan we are working on," Nishikubo said in a Tokyo interview. Using smaller planes "will reduce capacity and revenue, but the cost reduction will be much bigger."
Skymark may reduce $26.3 million in annual maintenance costs by switching to a single model of planes.