PITCHER OF THE YEAR
Another win for Ishida
His statistics aren't eye-popping, but there's a reason why coaches and media voted Harrison Ishida to Star-Bulletin Pitcher of the Year honors by a comfortable margin.

The steely sophomore was simply up to the task when it mattered most. Ishida's steady performance on the mound helped Punahou capture its third state championship in as many years.
"It's not a surprise he did this well. He's a mature kid," Buffanblu coach Eric Kadooka said.
The right-hander outpointed Iolani ace Wally Marciel for the honor. Other top pitchers who received significant votes were Cody Aquino of Aiea, Kapono Chang of Kamehameha, Paul Snieder of Punahou and John Olley of Leilehua.
Ishida went 3-1 in Interscholastic League of Honolulu play with a 1.11 ERA in 38 innings pitched. At the state tourney, he was 1-0 with a 2.65 ERA and hit .300 to boot.
Those numbers are nice, but don't quite measure his value as Mr. Reliability.
"He was very consistent and threw a lot of strikes. You couldn't really take (strikes) on him because he'd get you in the hole," Iolani coach Dean Yonamine said. "If you got behind, you didn't want to have to swing at his split."
Ah yes, the splitter. Ishida, at 5-foot-10 with a Johnny Damon (pre-Yankees) 'do, brought the house against all foes. With a fastball, curve and slider in his arsenal as a freshman one year ago, Ishida added the splitter just before a preseason game with McKinley.
"We were fooling around in the pen and our pitching coach (Kevin Kondo) was showing it to me," said Ishida, who also goes by the nickname, "Jeeter," which was tagged on him as a baby.
"I used it in the game, and it came pretty naturally," he said.
"I didn't even know him from last year," said Star-Bulletin Position Player of the Year Chris Johnson of Iolani. "That nasty drop in the splitter always caught me off guard."
More than the addition of a killer pitch, Ishida's composure belied an aggressive nature that worked in his favor.
"He had good command of three pitches, and that's what made him tough, but he was also tough mentally, definitely," Yonamine added. "He threw a lot of big games for them."
Kadooka liked what he saw in Ishida during his freshman season, though Ishida barely saw the field due to a deep roster.
"He's a mature kid. He made it to the Babe Ruth World Series last year and he was one of the guys we were gonna count on," Kadooka said. "He rose to the occasion through the process of the year.
"He has command, throwing the ball down in the zone, an understanding of how to get guys out," Kadooka added. "But everything he does is competitive. He's one of the top students in his class, and he's into water polo."
A year ago, Ishida wasn't sure exactly what his role was as a freshman.
"They only reason they kept me (on varsity) was to pitch," said Ishida, who had also played outfield and catcher as a younger player. "I started to focus on pitching because we were so stacked. I had nowhere else to play."
He threw as hard as 85 mph early in the season, but lost velocity over time. The splitter, which is 7 to 8 mph slower, made him tough to gauge anyway.
And, Ishida plans to add a changeup in the offseason.
"But first I'm gonna take the summer off," he said.
POSITION PLAYER OF THE YEAR
Numbers favor Johnson
Christian Johnson is comfortable with numbers, but when his mind begins to relax, statistics are light years away.
Instead, the sting of disappointment remains. Despite hitting .363 with five home runs, 20 RBIs and a .745 slugging percentage, nothing has been able to soothe the pain of missing the state championships.
The Iolani center fielder's play in the outfield and prowess at the plate impressed coaches and media, who voted the senior as the Star-Bulletin Position Player of the Year.
"It's hard to forget the close calls in the games against Punahou and Kamehameha," said Johnson, whose homer total led the Interscholastic League of Honolulu -- the toughest baseball association in the state. "The last game, I was up there with the bases loaded, two outs. It was like a movie."
He flew out to center, ending what had been a mostly great season for the Raiders.
"I still think about it all the time," he lamented.
Johnson, who made a remarkable recovery from a posterior cruciate ligament injury suffered late in his junior season, also helped the Raiders on the mound. He won three of four decisions as Iolani came just short of the state tourney.
He edged out Punahou's power-hitting Bucky Aona.
Aona, a husky senior who also starred as a defensive tackle for the Buffanblu football team, hit .439 with three homers, 25 RBIs and 15 walks in ILH play. Playing mostly designated hitter, he also went 9-for-14 in the state tourney with seven RBIs in three games for the eventual state champions.
Other top contenders for the honor were Kaiser third baseman Colby Ho, Aiea third baseman/pitcher Derek Grace, Iolani pitcher/first baseman Wally Marciel and Waimea infielder Isaac Castillo.
Johnson's play in center field, though, was remarkable considering he had no previous experience at the position. A summer of on-the-job training in tournaments gave him little choice.
"Everywhere I went, they wanted a lefty in center," Johnson said of his summer, when his injured knee was in a brace. "It worked out for me. My arm got a lot stronger and my speed picked up."
Johnson had five assists, a whopping number for a high school season.
"He's very versatile. His greatest asset was the way he played center," Iolani coach Dean Yonamine said. "I was really surprised, but he's really worked on his speed since last summer."
This year's Pitcher of the Year, Punahou ace Harrison Ishida, paid Johnson high compliments.
"He's a great hitter. He hits the ball a long way," Ishida said.
Iolani will lose some key players, including Johnson and Marciel, who hit .438 and went 5-3 with a 2.62 ERA.
"There's still a lot to be said," Johnson said. "It's hard not to think of the pressure, the media, but they've just gotta go out there and have fun. And let go of the past.
"Our seniors aren't quite as good as our underclassmen," he promised.
COACH OF THE YEAR
Ramie kept Warriors working
Up and down, but never down and out.
The Kamehameha Warriors gave coach Vern Ramie and his staff plenty to laugh and cry about this year, but never was their ride better than it was late in the season.
The young Warriors were 14-1-1 in nonconference play, surprising their veteran coach. However, after a 3-7 start in league play, Ramie had plenty of morale-checking to do.
The former UH outfielder steered his ship through stormy seas just fine. Kamehameha won the Interscholastic League of Honolulu's postseason tourney and went on to push two-time state champion Punahou to extra innings before losing 4-3 for the state title.
For his effort, coaches and media voted Ramie as the Star-Bulletin Coach of the Year. Kamehameha wound up with a 22-13-1 mark and plenty of expectations for next season.
For now, the Warriors are taking just a little time off before summer league play starts. Ramie, administering all kinds of paperwork in between seasons, was stumped at the selection.
"We didn't win (the state title), so it's very surprising," he said. "I don't think I deserve it, but it's an honor."
Ramie and his longtime staff helped the young Warriors stay focused despite its long slump.
"At one point, the boys lost confidence. Every ball seemed to bounce the wrong way for us, and every call seemed to go against us," Ramie said. "We rededicated ourselves for the ILH tourney. The kids worked hard with so much dedication."
First team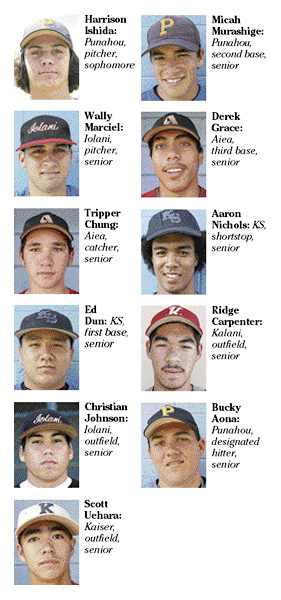 Second team
» Cody Aquino, Aiea, pitcher, junior
» John Olley, Leilehua, pitcher, senior
» Paul Snieder, Punahou, pitcher, sophomore
» Kapono Chang, Kamehameha, pitcher, junior
» Stuart Kam, Kamehameha, catcher, senior
» Mike Goodman, Radford, first base, senior
» Jensen Sato, Waiakea, first base, senior
» Peter Arakawa, Moanalua, second base/shortstop, senior
» Steven Dannaway, Punahou, third base, senior
» Waylen Sing Chow, Kamehameha, outfield, junior
» Matt Suiter, Punahou, outfield, sophomore
» Chad Takabuki, Mid-Pacific, outfield, senior
» Makana Kitamura, Kamehameha, outfield, senior
» Brian Morihara, Aiea, designated hitter, senior
Honorable Mention
Pitchers
Royce Diaz, Castle, Jr.; Carl Graves, Punahou, Sr.; Daren Takasaki, Waiakea, Sr.; Aaron Correa, Kamehameha-Hawaii, Sr.; Kalaika Kahoohalahala, Maui, Sr.; Cameron Bayne, Saint Louis, Sr.
Catchers
Lyle Kitagawa, Castle, Jr.; Kolten Wong, Kamehameha-Hawaii, So.; Ehukai Woolley, Leilehua, Jr.; Jarryd Maeda, Kaiser, Sr.; Aaron Fujiki, Mid-Pacific, So.; Kalehua Moniz, Baldwin, Sr.; Michael D'Alessio, Kailua, Sr.; Brendon Hew, Waimea, Sr. ; Ande Kuakini, Waianae, Sr.
First Basemen
Reyn Nagamine, Iolani, Fr.; Sevy Tolentino, Leilehua, Sr.; Aaron Correa, Kamehameha-Hawaii, Sr.
Second Basemen
Aaron Kunioka, Kailua, Sr.; Russell Doi, Mid-Pacific, Jr.; Markus Miyashiro, Moanalua, Sr.; Kainoa Correa, Kamehameha-Hawaii, Sr.; Dustin Kim Seu, Pearl City, Sr; Brandon Kon, Castle, Sr.; Quinton Natividad, Waimea, Sr.
Third Basemen
Colby Ho, Kaiser, Sr.; Case Miyahira, Iolani, Jr.; Scott Hiramoto, Punahou, Sr.; Kevin Seaver, Waiakea, Sr.; Parker McCready, Kamehameha, Jr.; John Estores, Moanalua, Sr.; Isaac Castillo, Waimea, Sr.; Joshua Markwith, Kalani, Sr.
Shortstop
Kalehua Moniz, Baldwin, Sr.; Casey Fujishige, Pearl City, Sr.; Mana Silva, Kamehameha-Hawaii, Sr.; Brett Hasegawa, Iolani, Sr.; John Abreu, Mililani, Jr.; Darius Fuller, Waianae, Sr.; Andy Uehara, Kaiser, Sr.; Kyle Kanaeholo, Castle, Sr.; Andrew Ontai, Leilehua, Sr.; Ryan Sasaki, Saint Louis, Sr.
Outfielders
Dustin Antolin, Mililani, So.; Ronel Trias, Pac-Five, Sr.; Corey Paredes, Castle, Jr.; Travis Nishioka, Iolani, Sr.; Jimmy Legsay, Baldwin, Sr.; Bryant Katakura, Pearl City, Sr.
Designated Hitters
David Mohika, Castle, Sr.; Nanea Baird, Kaiser, Sr.; Garrett Amaral, Waiakea, Sr.; Delbert Macanas, Leilehua, Sr.; Keahi Piiohia, Kamehameha, Sr.; Peter Kirst, Pac-Five, Sr.