JOHN KAIMIKAUA / 1958-2006
Kumu hula preserved the culture of Molokai
WAILUKU » The founder of an international hula festival on Molokai died at home in Makakilo on Wednesday. He was 47.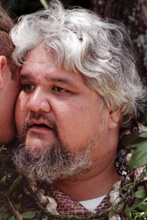 John Kaimikaua was a song composer and the kumu hula of Halau Hula O Kukunaokala, with dance groups on Molokai and Oahu.
"He was an excellent teacher," said Kekama Helm, a student of Kaimikaua's hula halau. "He helped us connect the stories of Molokai with the places. He kind of made it all come together."
Helm said Kaimikaua had the vision to found the Ka Hula Piko festival at Kaana in West Molokai. According to Molokai native dance tradition, Kaana is the birthplace of the hula.
Kaimikaua was also instrumental in organizing the annual Makahiki festival on Molokai.
"He explained the protocols, chants and what Makahiki was about," said Ron Kimball, a member of Ka Molokai Makahiki festival committee.
"He really was a good guiding force for our island."
Molokai Youth Center program director Belinda Pidot said Kaimikaua also spent time talking with young people about legends related to different parts of the island, and his Hula Piko festival drew hula halaus from around the world, including Germany and Japan.
At an early age, Kaimikaua became interested in the legends and stories of Hawaiian culture, according to an interview with him in the book "Moloka'i," by Philip Spalding III.
His grandmother and great-grandmother told him Hawaiian legends and stories.
In his youth he met Kawahinekapuheleikapokane, a Hawaiian woman who was a former resident of Molokai and taught him the hula and legends and chants of the Friendly Isle, according to Spalding's book.
"She was trying to find somebody to pass on this knowledge," recalled Kaimikaua's sister Mona Pacheco. "This lady knew my brother was the one."
Kaimikaua is survived by wife Ka'oi, mother Pualani, brother Kevin, hanai daughter Kianna Mae and sisters Mona Pacheco and Johnelle Kaimikaua.
Viewing is scheduled from 8 a.m. to noon, followed by services 1 p.m. June 19 at the Makakilo Stake Center of the Church of Jesus Christ of Latter-day Saints off Makakilo Drive and Panana Street.
Services are also scheduled on Molokai between 8 and 11 a.m., followed by services at 11 a.m. to noon June 21 at the Kaunakakai Church of Jesus Christ of Latter-day Saints.