---
FAST FACTS HAWAII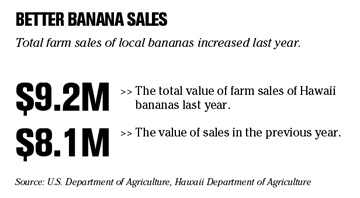 ---
HAWAII
New West Maui homes starting at $4 million
Public sales for the Residences at Kapalua Bay on Maui began this week.
The luxury residences are part of a $300 million resort development by Maui Land & Pineapple Co., Ritz-Carlton Hotel Co. and Exclusive Resorts SM LLC that is to replace the former Kapalua Bay Hotel in West Maui.
A total of 84 three- and four-bedroom homes are being built, with prices starting at about $4 million. Approximately 90 percent of first-phase homes* already have been taken, according to Jeffrey Berger, director of sales and marketing for Kapalua Bay. Exclusive Resorts will own 28 of them for its vacation program.
In addition to the Residences, the resort will offer 62 fractional ownership residences, starting at $350,000. Members of the Ritz-Carlton Club, Kapalua Bay, will own the deed to a one-twelfth fractional ownership, which equals 21 or more days per year in furnished units, along with access to Ritz-Carlton amenities and other club locations worldwide.
Contract sales for the fractional units will begin in July. Occupancy for the project is slated for 2008.
MECO invests in hydropower plant
Maui Electric Co. Ltd.
has the green light from the state Public Utilities Commission to buy hydroelectric energy from a small plant in Lahaina.
As part of the agreement, Makila Hydro LLC will refurbish the more-than-75-year-old hydro facility on the slopes of Kauaula Ridge above Lahaina, as well as own and operate it.
"We welcome the PUC's approval of this purchase power agreement," said Ed Reinhardt, president of MECO. "While the 500 kilowatts that we will be able to purchase from this renewable plant may not appear significant, it affirms our commitment that when it comes to renewable energy to offset our use of imported fossil fuels, every bit counts."
NATION
Delphi offers buyouts to all workers
DETROIT » The
Delphi Corp.
, the auto parts supplier, reached an agreement yesterday with the United Automobile Workers union and
General Motors
that offered buyouts to all of its 24,000 workers and lessened the possibility of a crippling strike.
The plan, which GM will finance, expands a plan announced in March that covered 13,000 Delphi workers, and comes on the eve of the union's leadership convention, which will begin Monday in Las Vegas.
Agreement on the buyouts allows the two companies and the union to focus negotiations on other crucial issues, such as the level of wage and benefit cuts at Delphi, the amount GM is willing to pay for buyouts and to subsidize workers' wages, and the number of workers who will be left at Delphi, once the cuts are made.
The situation also needs to be settled, analysts say, for GM to proceed with its own restructuring.
Vonage investors get more time
NEW YORK »
Vonage Holdings Corp.
's underwriters are giving investors more time to pay for the initial public offering shares they ordered, now worth 30 percent less than the price they pledged to pay.
Underwriters Smith Barney, a unit of Citigroup Inc., Deutsche Bank AG and UBS AG are giving investors until Tuesday to pay for the stock they ordered, according to Karina Byrne, a spokeswoman for UBS.
Vonage's May 23 IPO was the worst this year. The shares were sold for $17 each. They closed Friday at $11.88 Friday on the New York Stock Exchange, up 9 cents on the day.
Companies subpoenaed in options investigation
Questions about improperly dated options widened yesterday as companies including
McAfee Inc.
and
Intuit Inc.
announced federal inquiries, another canceled options for its former chief executive officer and the nation's biggest pension fund called on 25 companies to investigate themselves.
McAfee, the second-biggest maker of anti-virus software, said that it received a subpoena for documents and that it would cooperate with the Securities and Exchange Commission. Spokeswoman Siobhan MacDermott declined to comment further. The company, based in Santa Clara, Calif., fired its general counsel May 30 after finding improperly granted options.
Intuit, which makes TurboTax software, said the SEC began an informal inquiry into its stock-option practices. The company, based in Mountain View, Calif., said it was contacted after forming a special directors committee to review options grants.
"We have not found anything material to date," Intuit spokesman Harry Pforzheimer said. The company believes its stock-option practices are "sound," he said.
About 40 companies in three countries have disclosed federal or internal inquiries into options grants. Fifteen people have resigned or been fired, and more than 50 lawsuits are pending at more than 20 companies.
Delta Air will recall up to 70 pilots on layoff
Delta Air Lines Inc.
said it will recall as many as 70 pilots, or about 15 percent of those on layoff, as the bankrupt carrier adds international routes and flies to more U.S. cities.
The pilots will begin training later this month and start flying in "late summer," Delta said in a statement yesterday. The carrier has about 6,000 active pilots and 475 on layoff, according to their union. Their contract gives those on furlough the right to be recalled before new pilots are hired.
Delta, the third-largest U.S. carrier, sought bankruptcy protection Sept. 14. The Atlanta-based carrier has said it's making progress toward eliminating 9,000 jobs by the end of 2007 as part of its restructuring.
Delta has said it expects to increase international flights to 35 percent of its capacity from 22 percent by the end of the third quarter, requiring more pilots. The carrier also is adding service between more U.S. cities and its primary airports to connect with international flights.
WORLD
Cathay Pacific will donate $23M to charities
Cathay Pacific Airways Ltd.
, Hong Kong's largest airline, said yesterday it will donate $23.3 million from its stake in an Air China subsidiary to charities.
Cathay made the disclosure on the same day it agreed to pay $1.58 billion to buy Hong Kong Dragon Airlines Ltd. and double its stake in Air China Ltd., adding 21 routes in the world's second-largest aviation market.
Cathay owns 1.95 percent of the shares in China National Aviation Co., the Hong Kong airline said in a newspaper notice, while Air China owns 69 percent of the company. After Cathay's donation, Air China may offer to buy the shares in CNAC and take the company private.
CORRECTION
Wednesday, June 14, 2006
» About 90 percent of the 42 homes in the first phase of the Residences at Kapalua have been sold. A brief on Page C1 Saturday incorrectly indicated that 90 percent of the entire 84-home project had been sold.