Gemini yields supernova detail
The telescope on Mauna Kea helps reveal details about the early universe
HILO » Astronomers using the Gemini North telescope on Mauna Kea and two space telescopes have figured out how supernovas produced space dust in the early universe.
The early dust provided the building blocks for later stars and planets and perhaps even life on early faraway planets, said Jean Rene Roy, of Gemini.
The discovery of the source of the dust by a team led by Ben Sugerman of the Space Telescope Science Institute in Baltimore was published yesterday in ScienceExpress, the electronic version of Science magazine.
BEFORE | AFTER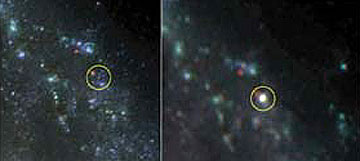 GALAXY M74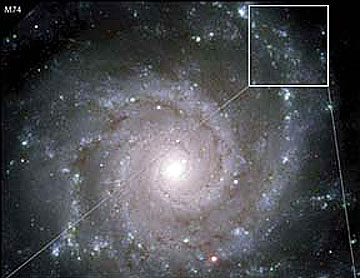 A supernova is a flash of light seen when a star blows up. Astronomers have long known that a white dwarf star sucking in matter from a bigger companion can blow itself apart, scattering atoms which later clump together into dust.
But such a Type I supernova takes a long time to develop, said Roy.
A second type of supernova occurs with the explosion of a huge star, much bigger than the sun.
These Type II supernovas build up and blow up quickly, but astronomers believed such enormous explosions were too powerful for atoms scattered by the explosion to clump together to form dust, Roy said. In fact, astronomers saw little or no dust after Type II supernovas.
That changed in 2004 when Sugerman's team took a second look at a 2003 supernova seen in a galaxy 30 million light-years away called M74 or NGC628.
Dust could be detected around the 2003 supernova when they looked 499 days after the stellar explosion and again 678 days afterward, they report. Calculating backward, they think the dust had clumped together as early as 250 days after the supernova.
"Seeing" the dust meant putting together observations and calculations from Gemini plus the Hubble and Spitzer space telescopes, previously impossible because the combination of instruments did not exist.
The light from the 2003 supernova took 30 million years to reach Earth, just the flick of an eyelash compared with the 13 billion-year age of the universe.
But astronomers have also seen Type II supernovas out on the edge of the young universe. And they see a lot of dust when the universe was just 700 million years old, Sugerman wrote. Now they believe that supernovas are what made it.