---
FAST FACTS HAWAII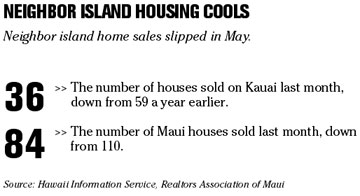 ---
[HAWAII INC.]
PROMOTIONS
»
Touchstone Properties Ltd.
has appointed
James "Jim" M. Merrell
president and
Keven Whalen
vice president and secretary.
» D.R. Horton -- Schuler Division has promoted Bob Bruhl and Tracy Nagata to vice presidents of development. Bruhl will head the Oahu Group. Nagata will lead the Neighbor Island Group.
ON THE BOARD
» The Farrington Alumni & Community Foundation has elected the following officers:
David Jeong
, president;
Karen Osaka
, first vice president;
Steve Takekawa
, second vice president; Neal Ikeda, recording secretary;
Violet Kagawa
, corresponding secretary; and
Grace Lee
, treasurer.
» The Sheet Metal Contractors Association has installed Clark "Skip" Morgan as president for the 2006-2008 biennial term. He works for Alakai Mechanical Corp.
» Get2Hawaii, a Honolulu-based software company, has appointed Paul Casey and Carnet Williams to its board of directors. Casey previously served as Hawaiian Airlines' president and CEO from 1997 to 2002. Williams is executive director of the Hawaii Business and Entrepreneur Acceleration Mentors and formerly served as chief information officer at Stanford Law School.
» The Hawaii Business Education Association has installed the following officers for the 2006-2007 year: Jan Ikeda, president; Deenie Musick, president-elect; Frances Kwock, vice president; Kathy Hill, secretary; Tina Lee, treasurer.
NATION
Intel will slash chip prices to recover
Customers of
Intel Corp.
said the world's biggest computer-chip maker plans to reduce prices on Pentium processors by as much as 60 percent to reclaim market share from
Advanced Micro Devices Inc.
Executives at Micro-Star International Co. and Gigabyte Technology Co., two of Taiwan's biggest makers of circuit boards for computers, said Intel officials told them the price cuts will start July 23. Tom Beermann, a spokesman for Santa Clara, Calif.-based Intel, declined to comment.
Advanced Micro last quarter increased its share of the $35 billion computer chip market to more than 20 percent for the first time in more than four years. Intel Chief Executive Paul Otellini forecast the company's first annual sales decline in five years and Dell Inc. decided last month to buy some Advanced Micro chips for the first time.
Intel said it would reduce prices of faster dual-core chips by about 15 percent, according to Alex Lin, a product marketing manager at Micro-Star, Taiwan's third-largest maker of motherboards, which connect electronic parts in computers. Intel also told him that it plans to lower Pentium prices by 60 percent.
Feds may go after Fannie bonuses
WASHINGTON » The government will pursue some
Fannie Mae
executives to recover bonus money they reaped in an accounting scheme -- if the mortgage giant itself fails to do so.
At his confirmation hearing yesterday to become permanent director of the Office of Federal Housing Enterprise Oversight, James B. Lockhart also assured senators he would maintain his independence as the chief regulator of embattled Fannie Mae and its smaller government-sponsored sibling, Freddie Mac.
Lockhart, a longtime friend of President Bush, is now acting director of OFHEO.
Cisco's CEO to be chairman also
SAN JOSE, Calif. » Bucking a corporate trend of splitting the chief executive and chairman roles, network equipment maker
Cisco Systems Inc.
said yesterday its longtime CEO John T. Chambers will take on the duties of chairman.
Chambers will succeed current Chairman John P. Morgridge when he steps aside on Nov. 15, the company said. Morgridge, 72, who will become chairman emeritus, said in 2005 he would not stand for re-election this year.
Mortgage rates fall as stock prices tank
WASHINGTON » Mortgage rates fell this week as a weaker-than-expected employment report eased concerns about inflation.
Freddie Mac, the mortgage company, reported yesterday that rates on 30-year, fixed-rate mortgages averaged 6.62 percent, down from 6.67 percent last week, which had been the highest level in nearly four years.
Rates on 15-year, fixed-rate mortgages, a popular choice for refinancing a home mortgage, fell this week to 6.23 percent, down from 6.26 percent last week.
Rates on one-year adjustable rate mortgages were also down for the week, falling to 5.63 percent. They had been 5.68 percent last week, the highest level since one-year ARMs averaged 5.71 percent in mid-August 2001. Rates on five-year adjustable-rate mortgages also fell, dropping to 6.20 percent compared to 6.26 percent last week.
Stephens to buy 5 papers in Arkansas
LAS VEGAS >>
Stephens Media Group
, the owner of the Big Island's two major daily newspapers, has announced the purchase of five central Arkansas newspapers from
Magie Enterprises
, a family-owned publishing company that has been operating for more than 50 years.
The newspapers are the weekly Cabot Star-Herald, Carlisle Independent, Lonoke Democrat and Sherwood Voice, plus the twice-weekly Jacksonville Patriot.
Also included in the sale is the Weekend Edition, a total-market-coverage publication.
Financial terms of the sale weren't disclosed.
WORLD
Blackberrys coming to Japan
Research In Motion Ltd.
will start selling its Blackberry e-mail device in Japan later this year after reaching a distribution agreement with
NTT DoCoMo Inc.
Research In Motion and NTT DoCoMo, the world's second- largest mobile-phone-service company, will initially focus on Japanese and multinational companies that already use Blackberrys outside the country, said Co-Chief Executive Officer Jim Balsillie.
The company, based in Waterloo, Ontario, is expanding into new markets to spur demand after reaching an agreement in March to settle a patent lawsuit that threatened to shut down the service in the United States.