| | |
| --- | --- |
| | Newswatch |
---
Kauai bridge studied for traffic capacity
WAILUA, Kauai » A construction company is scheduled to load-test a former cane haul bridge in hopes that it can be expanded to handle more traffic over the Wailua River.
The bridge now handles one lane of traffic and is about 50 feet from a two-lane bridge. County officials hope to add a second lane for vehicles and a bicycle lane to the former cane haul bridge.
For the next three weekends, the bridge will be closed from 7 a.m. Saturday to 8 p.m. Sunday. Workers are scheduled to incrementally put 10 tons at a time in three different locations on the cane haul bridge, officials said.
Kauai Mayor Bryan Baptiste said that the two-lane bridge is part of the $17 million project to alleviate traffic on the Garden Isle, particularly through the normally congested Kapaa/Wailua corridor.
If the cane haul pilings can hold the weight of another lane, an Acro-type bridge and a bike lane will be constructed, with the project scheduled to be completed in 2007, Baptiste said.
State moves to avoid more Ala Wai flooding
Structures to reduce flooding and sediment runoff in the Ala Wai Watershed will be designed over the coming year in a joint state-federal project, Gov. Linda Lingle's administration announced yesterday.
The state will provide $400,000 for design of storm-water retention ponds, vegetative cover and other erosion prevention in Manoa Valley, a news release from the governor said. Federal Emergency Management Agency funds of up to $1.6 million will be used for construction.
"As we saw recently during the heavy rains, the Ala Wai Canal is prone to flooding and poses a risk to the surrounding area," Lingle said in the release. "Improvements to the Ala Wai Watershed are critical for the health and safety of the community."
State funds released by Lingle will be used to conduct topographic surveys for the intended improvements. Design work is expected to be complete by June 2007.
Reducing sediment going into the Ala Wai Canal would also reduce the frequency of canal dredging, state officials said.
OVERTURNED TRAILER SPILLS FUEL ON H-3 FREEWAY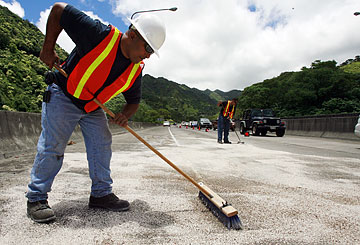 ---
TAKING NOTICE
Isle landowners win conservation grants
U.S. Fish and Wildlife Service
has awarded $538,317 to Hawaii landowners to help conserve and restore habitat for a wide range of species, from endangered Hawaiian plants and birds on Oahu and Maui to hawksbill sea turtles on the Big Island, the agency announced recently.
Hawaii recipients of Private Stewardship Grants this year are:
» Big Island: $73,250 to improve hawksbill sea turtle nesting areas by removing predators, invasive plants and human activity. Green sea turtles and Hawaiian monk seals will also benefit.
» Kualoa Ranch, Oahu: $111,035 to establish new populations of four endangered plant species and one candidate species inside of a 10-acre fenced habitat.
» Haiku Uka, Maui: $82,500 to control invasive plant species that compete for the habitat of 12 listed and four proposed plant and animal species, and to control wild hoofed animals that reduce habitat for at-risk species.
Kauai Independent Daycare Services Inc., a nonprofit preschool in Kapaa, Kauai, has received a grant of $2,500 from the First Hawaiian Bank Foundation.
---
"Taking Notice" also runs on Tuesdays and Saturdays.
| | |
| --- | --- |
| | Police, Fire, Courts |
---
WINDWARD OAHU
Homeless man arrested for robbery
A 26-year-old homeless man was arrested yesterday on suspicion of robbery in Kaneohe after he allegedly sold a used sport utility vehicle to a 47-year-old woman and then tried to take the keys back.
Police said the man had transfer papers for a 1990 Nissan Pathfinder, although he had not yet taken title to the vehicle. The woman paid $250 in exchange for a bill of sale and the keys to the Pathfinder, police said.
The man then allegedly assaulted the woman and tried to take the keys back, police said. Witnesses separated the two and police were called.
Officers arrested the man for investigation of second-degree robbery and for an outstanding temporary restraining order.
WEST OAHU
Ewa Beach man arrested in sex assault
Police are seeking charges against a 43-year-old registered sex offender who allegedly kidnapped and sexually assaulted a 23-year-old woman in Ewa Beach.
Police said the Ewa Beach man allegedly sexually assaulted the woman May 25 and held her against her will.
Police said the suspect, who was arrested Tuesday, violated his sex offender registration requirements.
The man faces charges of three counts of second-degree sexual assault and two counts of fourth-degree sexual assault.
CENTRAL OAHU
Police seek woman in alleged assault
Police were seeking a 45-year-old woman wanted for attempted murder last night for allegedly hitting her ex-boyfriend with a car in Wahiawa.
Police said the man was in front of his home at 292-A Lehua St. when he got into an argument with the woman.
The woman was in a 1990 Infiniti sedan and drove toward the man, allegedly bumping him and causing him to stumble into the brush, police said.
The man and his 11-year-old son started to walk up the driveway when the woman reversed on Lehua Street at a high rate of speed from about 50 feet away from the victim, police said.
The car struck the man and grazed the boy, but both were in good condition, police said. The woman fled in the car, a 1990 four-door gray Infiniti.
HONOLULU
Man charged for allegedly flashing girls
Police charged a 22-year-old man Tuesday with exposing himself to three girls near a Kalihi school.
Brandon F. Merry was charged with three counts of fourth-degree sexual assault. He was being held in lieu of $6,000 bail.
Police said Merry was arrested as part of an investigation that involved a similar offense on May 18 during which he allegedly exposed himself in the Salt Lake area.
NEIGHBOR ISLANDS
New Zealand girl dies in crash on Molokai
WAILUKU » A New Zealand teenage girl died and two Molokai residents were in critical condition yesterday following a one-car crash.
Teri Waimarie Maxwell, 17, of New Zealand was riding in the back seat when the car went out of control and crashed into two utility poles in central Molokai, police said.
Another passenger, Dane S. Dudoit, 20, was taken to Molokai General Hospital in critical condition and eventually flown to the Queen's Medical Center, authorities said.
The driver, Baron H. Okimoto Jr., 19, was in critical condition when flown yesterday to Maui Memorial Medical Center.
Police received a call at about 12:18 a.m. yesterday saying a car that was traveling west on Maunaloa Highway near Kalai Highway had crashed. Police were investigating whether speed or alcohol were factors in the crash.
Maxwell's death was the eighth traffic fatality in Maui County, compared with four for the same period last year.