| | |
| --- | --- |
| | Newswatch |
---
Medical supplies needed
Volunteers at the free homeless health clinic in Kakaako are seeking medical supplies, from bandages to testing equipment. Some supplies have been donated or purchased, thanks to fundraisers, but more would be helpful. The clinic is run every Tuesday from 7 to 10 p.m. by
students at the University of Hawaii John A. Burns School of Medicine
. For information, visit the Homeless Outreach and Medical Education Project at
www.hawaiihomeproject.org
.
BOATING MISHAP ENDS HAPPILY
Two sailors are rescued after swimming four hours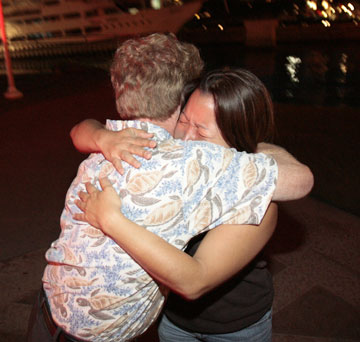 CORRECTION
Thursday, June 8, 2006
» Neal Kido is 20 years old, and his brother Niles is 14. On Page A3 yesterday, a photo caption about their rescue off Diamond Head Tuesday incorrectly switched their ages.
| | |
| --- | --- |
| | Police, Fire, Courts |
---
NEIGHBOR ISLANDS
Hana Highway crash kills California woman
WAILUKU » A California visitor died Monday when the van she was riding in crashed into a rocky embankment along the Hana Highway on Maui.
Maui police identified the victim as Lo Chiu Pun Ma, 83, of San Diego. The accident happened near Keanae at about 6:30 p.m., police said.
Injured in the accident were Ma's daughter, Christina Ma Yao, and Yao's husband, Sammy C.S. Yao, both of Hong Kong.
Sammy Yao, the driver, was treated and released from Maui Memorial Medical Center, while Christina Yao was listed in stable condition, police said.
This is the seventh traffic fatality this year on Maui, compared with four last year.
Fisherman found floating offshore ID'd
The 71-year-old fisherman who died Monday at South Point was identified as John Gali of Naalehu, a victim of cardiac arrest, according to an autopsy report released yesterday.
Witnesses saw the man enter the water wearing a wet suit about 10:45 a.m., the Fire Department said. Another witness reported seeing the man lying face down in the water about 11:30 a.m. off a shoreline cliff.
Gali was transported to Kona Community Hospital, where he was pronounced dead.
WINDWARD OAHU
Woman found dead had hanged herself
Homicide investigators have determined that a 34-year-old woman whose body was found Thursday in Kahuku had hanged herself.
The case was under investigation after the woman's boyfriend, a 32-year-old man, had left the body for police to find instead of meeting officers to show them where it was.
The woman's body also had additional bruises besides the marks from the hanging, according to the Honolulu Medical Examiner's Office.
Police arrested the woman's boyfriend Friday for driving without a license and for outstanding warrants and also questioned him about the body.
Investigators said the man's explanation matched the evidence and that no foul play was involved.
LEEWARD OAHU
Island drive allegedly involves an assault
Police arrested a 34-year-old man who allegedly attacked and threatened his ex-girlfriend while driving her around the island in April.
Police said that about 2:30 p.m. April 24, the man confronted the woman, 25, outside her Ewa home, forced her into his car and threatened her with a knife.
While the man drove around, he assaulted and threatened her, according to police. Police found the man Monday and arrested him for investigation of kidnapping, first-degree terroristic threatening, and third-degree assault.
CENTRAL OAHU
Man allegedly rams vehicle with stolen car
Honolulu police arrested a 33-year-old man who allegedly damaged a woman's vehicle by hitting it with a stolen car he was driving.
Police said the man fled after the incident at 12:55 a.m. Monday in Wahiawa. Officers later found him and learned that the vehicle he had been driving was stolen last Wednesday.
Police arrested the man for investigation of first-degree criminal property damage and auto theft.
HONOLULU
Purchasers of iPod ambushed before sale
Two men who arranged to meet a third man to buy an iPod were ambushed and robbed early Sunday, police said.,
Police said the victims, ages 36 and 34, had agreed to meet the other man, 22, in Kalihi at about 12:30 a.m. When they got there they were approached from behind by two other men who were each holding a handgun, police said.
The armed men demanded the victims' wallets and then punched them after the wallets were handed over.
Police said the gunmen then fled in separate cars, one of them driven by the man selling the iPod.
The victims chased the suspects in their own vehicle but lost them, and then called police.
Officers found the iPod seller and one of the gunmen and arrested them for investigation of two counts of first-degree robbery. They were later released pending investigation.