---
FAST FACTS HAWAII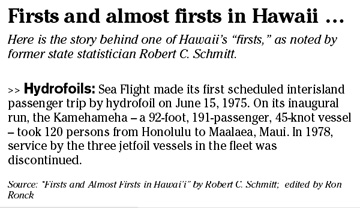 ---
NATION
Most workers plan vacations this year
Most employees are scheduling some much-needed R&R this year, according to one survey.
Three quarters of employees surveyed are planning a vacation this year, with 27 percent heading to the beach. Fifteen percent will travel overseas, while fourteen percent will stay home or visit relatives.
Of those opting out of vacation time, more than half say they can't afford a vacation, while 34 percent are job-hunting. One of out five reported not taking a vacation in the last three or more years.
When applying for a position, 91 percent say that the amount of vacation time offered is somewhat to very important. Seven out of ten believe that three to four weeks is a reasonable amount of vacation time.
The survey, which polled 400 employees in April, was conducted by TrueCareers.
June conventions bust out all over
Those dreaming of a last-minute big-city vacation might have a rude awakening this weekend: Convention-goers have taken up many of the hotel rooms. And with average hotel occupancy at a nine-year high, the crunch is sending room rates up sharply.
Thanks to 20,000 visitors to a technology convention in Chicago, the average Windy City room rate jumped to $440 over the weekend, from $198 a week earlier. In Los Angeles, conventions include the Home Remodeling and Decorating show, and room rates have risen to $249, up $50 from the previous week. Stamp collectors, franchisers and doctors are converging on Washington, where rates average $339 a night, compared with last week's $271.
All numbers are from the Dow Jones Travel Index, based on available-room rates at 10 hotel chains in each city.
U.S. workers feeling more secure
In just six months, American workers are showing more confidence in their job security, according to a survey.
More than 80 percent of workers believe there's little to no chance they could lose their job in the coming year, an increase of five percent in six months, according to a survey by Right Management.
"The slow-moving economic recovery finally seems to be taking root in workers' minds," said Eileen Javers of Right Management. "Six months ago, when we last conducted this national survey, Americans were reeling from the devastating news about Hurricane Katrina. That concern resulted in worker pessimism."
Only three out of ten expect unemployment to rise this year, down from 45 percent half a year ago. More than half think they may advance at their current company.
Right Management surveyed more than 1,000 full-time American workers.