HECO: More blackouts a certainty
As demand for power increases, there are not enough resources to meet ideal reserves
It's not a question of if, but when another power failure like the one on Thursday happens again, a spokesman for Hawaiian Electric Co. said yesterday.
HECO customers can file claims
Businesses and homeowners affected by Thursday's power failure have 30 days to file a claim with Hawaiian Electric Co.

HECO spokesman Jose Dizon said the claims will be evaluated on a case-by-case basis. For more information or to request a claim form, call HECO's claims line at 543-4624.
With demand for electricity increasing and no significant increase in its generating capacity since 1992, HECO's power reserves have fallen below the 30 percent margin that the utility said it needs to be able to maintain its aging generators without the risk of outages.
"We expect it to happen again," said Jose Dizon, company spokesman. "Our margins are getting tight."
Since November there have been two "close calls" when the utility asked customers to conserve electricity to avoid a blackout, Dizon said.
"This time, we had to actually shed load," Dizon said, referring to Thursday's outage that left about 37,000 customers from Waimanalo to Ewa without power for up to four hours.
Yesterday, the utility called for conservation again as a 104-megawatt generator at the independent Kalaeloa Partners plant remained off-line. The other generator at Kalaeloa is also off-line because of scheduled maintenance.
The Kalaeloa Partners plant is expected to resume producing electricity this weekend, Dizon said.
The Kalaeloa generator shut down Thursday after an unidentified problem. The loss of power put a strain on Oahu's electrical system that led to the shutdown of two generators at HECO's Waiau plant, Dizon said. HECO then shut off power to several substations to avoid the risk of overloading the entire system.
Four of the utility's generators were already off-line Thursday because of scheduled maintenance, although one of the four returned to service yesterday.
There are 16 HECO and independent power generation units on Oahu, Dizon said. In addition to normal maintenance, the units must be overhauled every three years, which puts them off-line for up to three months.
The age of HECO's generators and how hard they are run also contribute to unplanned shutdowns, Dizon said.
---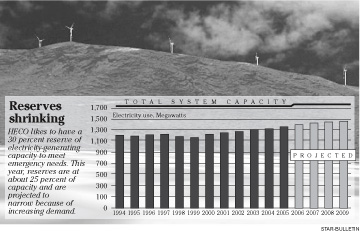 ---
In the last year, HECO has been able to add 43 megawatts of power generation because of increased capacity from the Kalaeloa Partners plant and three small 5-megawatt generators that the utility has installed at some of its substations and other facilities.
HECO is also seeking Public Utilities Commission approval for a new $130 million, 100-megawatt plant that will burn naphtha, a cleaner-burning fuel product, and would be able to burn ethanol.
The utility is also looking at building a wind farm in Kahuku after the city objected to plans to put up electricity-generating wind turbines on the ridge behind the Kahe power plant.
Dizon said HECO is also trying to reduce demand by promoting the use of solar water heaters and energy-efficient appliances and light bulbs; by working with large customers to become more efficient; and building "co-generation" plants that would generate electricity and be able to provide hot water or air conditioning.
Unless HECO's energy-reduction strategies work and demand decreases, the new 100-megawatt power plant, if it comes on as scheduled in 2009, will still be about 40 megawatts short of the ideal reserve margins, Dizon said.
Henry Curtis of the environmental group Life of the Land agrees that HECO's reserve margins are thin. But he said the utility is not doing enough to reduce electricity use and promote alternatives to relying on a large oil-burning power plant.
Curtis said he believes the utility can reach its power goals by moving more aggressively to reduce demand and by building more smaller co-generation and renewable energy plants, instead of one large generating plant.
The impact of Thursday's outage is still being assessed.
Gregg Takayama, a spokesman for the University of Hawaii-Manoa medical school, said emergency generators kicked in at the biomedical building on the campus when the power went out. But not all of the offices in the building were connected to the emergency power.
As of yesterday afternoon, HECO had received about 10 claims from consumers seeking compensation for Thursday's outage, Dizon said. Damage reported was mostly minor, ranging from computer routers to a sprinkler system control box, he said.