---
FAST FACTS HAWAII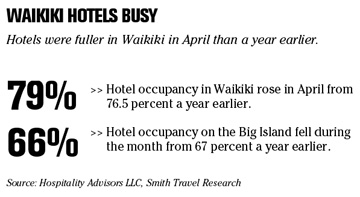 ---
NATION
Job creation lagged in May
Job creation slowed to a crawl in May and hourly wages failed to keep up with inflation, the Labor Department said in a report suggesting that high energy prices and higher interest rates are starting to crimp U.S. economic growth.
The nation's employers added 75,000 jobs in May, less than half what most forecasters had expected. It was the third consecutive month of slower job growth.
Kidnapping report boosts oil prices
WASHINGTON » Oil prices jumped by almost $2 a barrel yesterday after it was reported that eight foreigners working on a drilling rig off the coast of Nigeria had been kidnapped. Even though no output was affected, the news reignited concerns about the stability of supplies in the oil-rich African nation.
Analysts said anxiety over Iran's nuclear ambitions also supported crude futures. U.S. data showing gasoline demand on the rise at the start of the summer driving season and a refinery snag in Texas underpinned a rally in gasoline futures.
Light sweet crude for July delivery rose $1.99 to settle at $72.33 a barrel on the New York Mercantile Exchange, where gasoline futures gained more than 7 cents to close at $2.1975 a gallon.
Nationwide, the average retail price of gasoline is $2.85 a gallon.
Analysts downplayed yesterday's rally, saying trading volume wasn't especially heavy.
Nissan halts Altima, Sentra sales
Nissan Motor Co.
, Japan's second-largest automaker, halted North American sales of some 2006 Altima sedans and Sentra small cars while the company investigates complaints of engines using too much oil.
The suspension covers about 100,000 four-cylinder Altimas and Sentra SE-R compacts in the United States, Canada and Mexico. Nissan has had 215 reports, mostly from rental-car fleets, of excessive oil use and 17 reports of engine fires, the company said yesterday in a statement. There was one "minor injury," Nissan said.
"We have not fully determined the cause" of the oil use, said Fred Standish, a spokesman for Tokyo-based Nissan's U.S. unit. Nissan will decide the length of the sales suspension as it learns more, Standish said.
Judge approves KPMG settlement
NEWARK, N.J. » A federal judge gave final approval yesterday to a $153.9 million settlement that a law firm and accounting giant
KPMG LLP
have reached with about 200 former clients who used its tax shelters.
Turning aside objectors who questioned if lawyers who negotiated the class-action deal violated ethical standards, U.S. District Judge Dennis M. Cavanaugh ruled the agreement was "fair, reasonable, and adequate."
Lawyers for objectors did not immediately return messages seeking comment.
Cavanaugh had granted preliminary approval Oct. 31 to the deal between the tax shelter clients and the accounting firm over many of the same objections that were raised a week earlier during a hearing in Newark.
The KPMG shelters, sold from 1996 to 2002, were later found "abusive" by the Internal Revenue Service, and even lawyers in the case describe them as "mind-numbingly complicated."
Mesaba Air says it will face a 'cash crisis' later this year
MINNEAPOLIS » Without an infusion of outside money,
Mesaba Airlines
will face a "cash crisis" by the end of summer, company President John Spanjers said yesterday.
That reality is prompting Spanjers to move swiftly to try to secure debtor-in-possession financing and to focus on slashing labor costs.
"The company's future is at stake," Spanjers said in an interview at the airline's Eagan headquarters. "My overall responsibility is to make sure this company survives this bankruptcy."
The regional carrier was thrown into financial turmoil after Northwest Airlines filed for Chapter 11 bankruptcy in September, skipped some payments Mesaba was due for operating regional flights and decided to cut the carrier's fleet in half.
Spanjers wanted lower labor rates in place by April 1, but management and negotiators for pilots, flight attendants and mechanics have been unable to reach deals. Consequently, Spanjers said, monthly labor costs have been higher than budgeted.
And, he said, its cash position has been "degraded significantly," but he declined to disclose the airline's cash balance.
Firm to pay for Columbia River pollution study
WASHINGTON » The government announced an agreement yesterday with a Canadian company that is the world's largest zinc producer on paying for a study of heavy-metal pollution in the Pacific Northwest's Columbia River.
Teck Cominco Ltd. of Vancouver, British Columbia, agreed to put up an initial $20 million for assessing the impact of decades of upstream pollution in the river running from Canada into the United States. The Environmental Protection Agency said it will monitor the study, which could eventually cost $30 million but would be paid for by the mining company.
The agreement was reached after two years of negotiations between EPA and Teck Cominco and followed a suit by the Colville Confederated Tribes of Eastern Washington and the state of Washington. Teck Cominco has agreed to spend another $1.1 million to help involve the tribes and state.
The mining company had argued that the lawsuit should be thrown out because the United States could not impose rules on Canadian companies operating on Canadian soil.
But in 2004, U.S. District Judge Alan McDonald disagreed, saying U.S. environmental laws are intended to clean up pollution inside the United States, regardless of its origin.
WORLD
Delta confirms it will seek to end pilots' pension plan
PARIS »
Delta Air Lines Inc.
will file a request to terminate its pilots' defined-benefit pension plan "fairly soon," Chief Executive Gerald Grinstein said in an interview yesterday.
Grinstein, in Paris for a meeting with other executives, told the Associated Press that the Atlanta-based airline is in talks with the United States' pension insurer about the pilots' pension.
Asked when the company planned to seek termination of the pension, Grinstein said, "It'll be probably fairly soon."
He said the third-largest U.S. airline is keeping the pilots' union informed about the discussions with the Pension Benefit Guaranty Corp. It was the first time a Delta executive has said for sure that the airline plans to terminate the pilots' pension. In the past, the company has said only that it would likely seek termination.
Australian dollar drops for third straight week
Australia's dollar fell for a third successive week as prices of metals plunged, worsening the outlook for the nation's export earnings.
The currency fell to a five-week low yesterday as nickel slid the most in eight months and gold dropped to its lowest in five weeks. Metals prices influence the currency because raw materials account for 60 percent of all overseas shipments.
The currency traded at 75.22 U.S. cents in late New York yesterday compared with 75.76 cents a week ago.
The currency reached 74.42 on June 2, the lowest since April 26.