CULTURE
Beyond the bells and the shimmies
Dazzling costumes, camels, snake charmers, sword dancers and an Egyptian caravan are all to be expected at this weekend's belly dance performance at Paliku Theatre. But the students of the Amara Kismet Near & Middle East Dance Ensemble have learned a lot more than how to entertain.
'Belly Dance & Beyond II'
"Jasmina & the Jansher":

» Place: Paliku Theatre, Windward Community College

» On stage: 2 and 7:30 p.m. Saturday

» Tickets: $15 in advance; $12 children, military and seniors. At the door: $18

» Call: 235-7433
Each student embarks on an educational mission, according to Shamira, director and producer of the show. "We provide a theater realm for people who want to study the culture."
The production weaves dancing, music, magic, fog, running water and 6-foot tall camel puppets (maneuvered by two individuals inside the costume) into a performance that comprises a cast of 80 adults and children. "We break all of the rules," she said.
"Working closely as a team, each dancer learns to develop faith in his or her ability to open themselves to new possibilities, to stretch their physical and mental capacity and to showcase their new-found understandings of the traditions and values available through studies of culture other than their own."
Leslie Wood, who took her first belly dance lesson in 1998, was first enticed by the elaborate costumes. "Dancing in silks, chiffons and velvets embellished with jewels was an immediate draw," she said.
But exposure to the culture has provided a much deeper experience. "When you continue with the dance long enough, the true pleasure and enjoyment is derived from the discipline required to master a movement, to isolate that movement to one part of the body and to mesmerize your audience."
Wood plays a Persian dancer, genteel and reserved, with dance movements that show off her jewels and fabrics.
Donna Arakawa, who plays one of four Syrian dancers, has learned about the personalities, movements and gestures of that specific culture. "As a Syrian, we are considered graceful, elegant and sophisticated (but not snobby). Family is very important to us," she said. The Syrian costumes are adorned with glitter, beads, gemstones and pearls, including matching shoes and hats.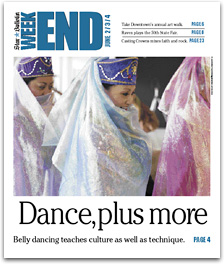 "Besides culture, I've also learned that patience and crafting go together," Arakawa said. "It still awes me that I can make a hat."
Shamira believes that sharing the culture of the Near and Middle East bridges a gap locally. "The Far East is better represented here."
She lived and worked in the region as a professional dancer for several years, coming to understand the value of celebrating similarities and differences among cultures.
The Near and Middle East cultures are ancient, with customs retold in their songs and dance, Shamira explained. Just as hula studies encompass the Hawaiian language, it is important for belly dancing students to understand the meaning behind the words. But resources are limited in the islands.
"I was extremely fortunate to have learned the belly-dance craft in homes of Egyptians, Syrians, Tunisians, Turks, Armenians, Lebanese, Greeks and many more."
She wants her students to have a similar experience. "My classes are based on opening the minds and hearts of dancers to consider their studies well beyond just the moves."
Wood added, "The more experienced students will tell you of the many levels they have gone through with their dance, from the surface things (costuming) to the deeper bonds of sisterhood and friendship when dancing with other women."