---
FAST FACTS HAWAII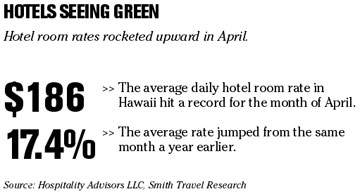 ---
HAWAII
Douglas Chang elected authority's chairman
The Hawaii Tourism Authority unanimously elected Douglas Kahikina Chang to chairman of its board yesterday.
Chang, who has worked in the visitor industry for about 30 years and is general manager of the Hotel Hana Maui, had been serving as vice chairman of the state authority. He replaces current Chairman John Toner, who is executive vice president at Ko Olina Resort and will continue to serve on the HTA board.
Several other HTA board changes will take place next month when terms expire for Nadine Nakamura, a principal at NKN Project Planning; Lorrie Lee Stone, a local attorney; and Lawrence Johnson, retired Bank of Hawaii chairman.
The vacant board seats will be filled by Kelvin Bloom, president of ResortQuest Hawaii; Patricia Ewing, owner of Kong Lung Co.; and Mike Kobayashi, president of Polynesian Hospitality. The new board members will each serve four-year terms through June 30, 2010.
Interisland fare deals extended
Mesa Air Group
's go!,
Hawaiian Airlines
and
Aloha Airlines
all have extended their $39 interisland fare sale through Thursday.
The flights, which are good for travel between Honolulu and Lihue, Kahului, Hilo and Kona, are subject to seat availability and are for travel from next Friday through Sept. 30.
---
[HAWAII INC.]
NEW JOBS
» The USS Missouri Memorial Association Inc. has appointed
Louise Funai
development vice president. She will be responsible for fundraising, overseeing the development staff and budget, and maintaining donor records and recognition. She has more than 15 years of experience in consulting, development and fundraising.
» America's Mattress has hired NoeLani Gaylord as bookkeeper and Alexander Lau as controller. Gaylord will be responsible for processing accounts, recording receivables, and registering daily sales. Lau will be responsible for all financial aspects including banking, profit and loss statements, balance sheets, payroll, accounts payables, accounts receivables, collections, cost accounting and inventory valuation.
» Gary Mano has been appointed general manager for the Fairfield Hawaii at Waikiki Beach Walk. He most recently served as general manager of the Fairfield Kona Hawaiian Village Resort on the Big Island. He has over 20 years of experience in the hotel industry.
» The Kahala Hotel & Resort has hired Rowena Anecito as senior sales manager-western region. She will be based in Southern California. She most recently worked for the Fairmont Kea Lani Maui.
» First Insurance Company of Hawaii Ltd. has hired David Doehm as sales and marketing manager. He most recently served as vice president of the Fairmont Specialty Group in Honolulu. He has more than 20 years of experience in underwriting and marketing management.
PROMOTIONS
»
Wal-Mart Stores Inc.
has appointed
Brian Halsey
market manager for the Hawaii region. He will be responsible for overseeing the operations of all eight of the company's stores in the islands. He began his career with the company in 1988.
» McNeil Wilson Communications Inc. has promoted Danielle Douglass to assistant account executive of its corporate/public affairs division. She has worked for the company since September 2004 and previously served as an account coordinator.
» Hawaiian Airlines has promoted Rick Peterson to vice president of e-commerce. He previously served as senior director of e-business and marketing programs. He joined the company in 1987 as financial analysis director.
» Sheraton Kauai Resorts has appointed Tia Graham sales and marketing director. She began her career with Starwood Hotels & Resorts Hawaii as a sales and marketing intern for the Sheraton Hotels in Waikiki.
» Hawaii Medical Service Association has promoted Gina Marting to vice president of finance and Wendell Oda to vice president of underwriting. Marting will be responsible for the financial management and reporting of several HMSA health plans. She most recently served as assistant vice president of the insurer's HMO and government reporting and facility reimbursement. Oda will be responsible for internal financial reporting and analysis, and calculation of plan rates. He most recently served as assistant vice president of underwriting.
---
NATION
Vonage has to buy back shares?
Vonage Holdings Corp.
customers who want to back out of last week's initial public offering by the Internet phone company may have a legal basis for doing so.
The company issued a statement yesterday demanding that customers who signed up for the IPO complete their purchases at the initial price of $17 a share. The statement follows a 32 percent decline in Vonage shares since the May 23 offering, the worst stock debut this year. The stock hit a new low of $11.52 yesterday in New York composite trading.
Amid the clamor over whether customers will pay, Vonage has said little about notices that the company sent out before the IPO that may have violated federal securities laws. These technical errors, outlined on page 140 of the offering documents one day before the IPO, may give customers the right to force Vonage to buy back their shares, according to Vonage's own documents.
Investor squeezes Heinz Co.
H.J. Heinz Co.
, responding to pressure from billionaire investor Nelson Peltz, will eliminate 2,700 jobs and sell or close 15 factories as part of a plan by the world's largest ketchup maker to revive profit growth.
Heinz said in a statement it will reduce spending by $355 million, raise its dividend and buy back $1 billion in shares over the next two years. Pittsburgh-based Heinz last week rejected proposals by Peltz's Trian Fund Management LP to cut annual costs by $575 million and sell assets.
Hollinger exec asks to skip court
CHICAGO » Federal prosecutors accused a former executive of the
Hollinger
newspaper empire of failing to grasp the seriousness of fraud charges against him after he requested court permission to skip a court hearing to attend a holiday party at his country club.
Former Hollinger executive John Boultbee had requested court permission to remain at his home in Victoria, British Columbia, on June 30 to attend a Canada Day celebration at his country club rather than attend a hearing on charges against ousted newspaper magnate Conrad Black, Boultbee and others. Canada Day is July 1.
Black, Boultbee and two other former executives are charged with using their positions to plunder millions of dollars from Chicago-based newspaper holding company Hollinger International. They have pleaded not guilty.