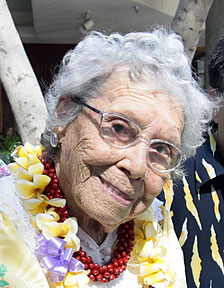 Maria Soledad Sarabia Lagareta:
She passed the test of citizenship without hesitation
Centenarian put off U.S. citizenship for 79 years
The Mexican living in Manoa wants to vote before she dies
Dressed in a brightly colored muumuu and sunflower hat, 100-year-old Maria Soledad Sarabia Lagareta held her cane in her left hand and raised her right hand as she took an oath to become a U.S. citizen in federal court yesterday.
"I was born in Mexico but I am an American," Lagareta's 61-year-old son Roland translated for her after the naturalization ceremony. "I wanted to be able to vote (in this country) before I die."
Soledad, as she is fondly called by family members, has been in the United States for 79 years. She was born on Mexico's west coast in Mazatlan, Sinaloa, in 1906. Orphaned at age 12 when her father died in the 1918 influenza pandemic, she moved with her two sisters to Los Angeles to stay with a relative in 1927.
Although both of her sisters became U.S. citizens many years ago, Soledad did not.
"She has always had an allegiance to America. ... It was just never official," said Roland, one of a handful of family members who witnessed the event.
"She wanted to (become a U.S. citizen) for a number of years. It just always never seemed to happen," he said.
At the request of his mother, Roland, chairman of the East-West Center Board of Governors, started researching the naturalization process earlier this month. He mailed her completed 12-page citizenship application on May 8 and received notice of acceptance by May 30.
Roland noted that the process was especially fast because his mother had all of the appropriate documents and had lived in the United States for more than 70 years.
"Her situation allowed us to bypass some of the regulations that were an issue for her in the past," Roland said, noting that her inability to speak English had been a "big issue."
As part of the naturalization process, Soledad had to answer at least six questions about the United States correctly. Roland, who translated for her during the test, said she answered the first six questions correctly without hesitation.
"I think she follows politics more closely than most people in America," said daughter-in-law Kitty Lagareta, who noted that Soledad watches the television news and reads the newspaper every day.
Through Roland, she said the first thing she was going to do as an American was "go home and watch TV and see what this looks like," referring to coverage of her ceremony.
Soledad worked as a seamstress in Hollywood before moving to Hawaii in 1976 to be closer to her sons, Roland and Bruce, who had moved to the islands seven years earlier. Her husband, Robert, died in the 1960s.
For almost 20 years, Soledad rode the bus to her favorite Mexican grocery stores and cooked lunch for her two sons, Bruce said, adding that she loves to eat and prepare Mexican food.
Currently she lives in the Manoa Gardens Elderly Housing Complex.
"I've always liked living alone," she said through her son. "It gives me a sense of independence and control of my life."
Soledad has a caretaker who visits in the mornings and afternoons to help her with daily tasks such as preparing meals and walking around the complex.
"She's still very youthful," said Kitty Lagareta, chief executive officer of Communications Pacific and chairwoman of the University Board of Regents. "At her birthday party a couple of days ago, she bent over and touched her toes."
THE TEST
These are the six questions that Maria Lagareta was asked to answer correctly to gain U.S. citizenship, according to her son Roland Lagareta, who translated the test for her.
1. Who is the current president?
2. Who was the first president?
3. Where is the capital of the United States?
4. Who can vote for U.S. congressmen?
5. What is the minimum age for voting in a federal election?
6. What was the nationality of the first people to land on the moon?
---
Answers: 1. George W. Bush; 2. George Washington; 3. Washington, D.C.; 4. American citizens; 5. 18; 6. American