---
Eddie Griffin coming to Hawaii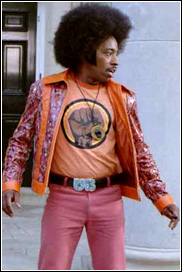 Eddie Griffin brings his stand-up comedy to the Blaisdell Concert Hall on July 7. Tickets are $40 to $50 and go on sale next Monday at the Blaisdell Box Office and Ticketmaster outlets. Charge-by-phone at 877-750-4400 or connect to www.ticketmaster.com. Griffin's filmography includes "Undercover Brother," "Deuce Bigalow: Male Gigolo" and "Scary Movie 3." He was also nominated for an NAACP award for his TV series "Malcolm & Eddie."
Lecture series begins
The Shunzo Sakamaki lecture series at the University of Hawaii-Manoa is a summer exploration of the work of scholars, authors and photographers.
The free lectures will be held at 7 p.m. Wednesdays beginning this week in the Yukiyoshi Room in Krauss Hall.
This week's kickoff lecture will be "Through Our Eyes: A Photographic View of Hong Kong by Its Youth," focusing on a collection of images taken by more than 170 students. The Robert H.N. Ho Family Foundation provided digital cameras for the week-long October project which resulted in 65,000 images. The project's educational coordinator, David Ulrich, presents some of these images.
For details, visit www.outreach.hawaii.edu/summer or call 956-8246.
Upcoming lectures:
"An Up Close and Personal Perspective on Local News": KGMB's Jade Moon discusses her 20 years of experience as a news reporter and anchor and answers questions about the current state of local news; June 7.
"Trials and Tribulations": Retired state Judge Milks, the first Asian woman appointed to the Hawaii State Judiciary, discusses her trailblazing career; June 14.
"On the Road to Energy Self-Sufficiency": Bob and Kelly King of Pacific Biodiesel discuss biodiesel fuel -- processed from used cooking oil and grease -- and plans to create a new energy industry in Hawaii; June 21.
Short films sought
"'Ohina: The Short Film Showcase" is seeking entries for its annual event, to be held Aug. 4 and 5 at the Honolulu Academy of Arts' Doris Duke Theatre.
Deadline for submissions is Friday.
Entries are sought in categories including fiction, nonfiction, drama, documentary, animation, experimental, educational, musical, comedy and action. All entries should include a Hawaii connection (Hawaii as location or a local cast or crew member). Preferred running time is five to 10 minutes.
All entries must be submitted on VHS tape.
Films are received from students, amateurs and professionals across the nation. Call Jason Suapaia at 428-0100 or visit www.ohinashowcase.org.
Hawaii Kai dog walk
East Oahu Dog Lovers and Hui'ilio Hawaii present their second annual dog walk from 8 to 11:30 a.m. Sunday, beginning at the end of the Hawaii Kai Park and Ride on Keahole Street.
Check-in starts at 7 a.m.
The event will include a photo booth and a Hawaiian Humane Society station offering information on microchips, dog licensing and more. The event is meant to solicit community support for a Hawaii Kai Dog Park, to be built on city land adjacent to the park-and-ride.
Registration fee is $15. E-mail huiilio@hawaii.rr.com or visit www.hui-ilio.org.
100 years of song
The Filipino Centennial Celebration Commission has launched a songwriting contest with the theme "Filipinos in Hawaii: 100 Years and Beyond."
"HIMIG Sandaan (Melody of the 100th)" is a statewide search for a song that "creatively expresses the story, thoughts, ideas and sentiments of the Filipino American in Hawaii through contemporary popular music."
The contest is open to Hawaii songwriters and composers 18 and older. Entries must be original and must not have been entered in any previous competition or been commercially published, recorded or distributed in Hawaii or abroad.
Submission deadline is 6 p.m. June 15. Ten finalists will be announced on July 15, with 10 performers interpreting the songs during a "Finals Night" event on Aug. 20.
Grand prize is $1,000 cash, with $500 and $300 going to second- and third-place finishers.
Mail entries to Contest Management Committee, Filipino Centennial Celebration Commission, 1617 Palama St., Honolulu 96817.
For contest rules, visit the Web site www.filipinosinhawaii100.org. Call 845-3100 or e-mail Larawan8@aol.com.
A study in animation
La Pietra Hawaii School for Girls is offering summer computer animation classes for students entering grades five to eight.
Students will use Apple computers, Macromedia Flash, iMovie and SoundTrack software to create animated shorts.
Classes will be held from 8 to 11 a.m. June 12 to July 21. Tuition is $400 for the six-week course, "Animation Fascination." No previous experience is required.
Call 922-2744.
COMING UP
Kid pirates onstage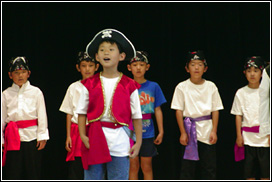 Third-graders at Momilani Elementary School take the stage in a production of "Pirates of Penzance" in two performances Thursday in the school cafeteria.
The students learned the classic Gilbert and Sullivan swashbuckler in a Hawaii Opera Theatre residency program, studying under professional music instructors and wig and makeup artists. A similar program at Aina Haina Elementary resulted in performances last week.
The Momilani shows -- featuring HOT singers Rosanna Perch and Kawika McGuire -- are at 5:30 and 7:30 p.m. Tickets are available through the school, 453-6444.