Isle visitor arrivals rise 10% in April
A boom fueled by mainland tourists brings $895 million
Hawaii's visitor industry had a better than 10 percent rise in arrivals and a nearly 15 percent increase in spending last month, when the timing of spring break and Easter brought tourists in droves.
A total of 588,215 visitors, mostly from the mainland, came to the state in April and spent $895 million, bringing total spending in the first four months of this year to about $2.4 billion, according to information released yesterday by the state Department of Business, Economic Development and Tourism.
International arrivals, which were hit by a 5.2 percent drop in visitors from Japan, remained relatively flat. Overall spending from Japan was down 1.1 percent because of the drop in visitors. The 100,483 Japanese visitors who came to Hawaii last month spent $269.50 per day -- far and away above the totals for any other visitor group.
While Hawaii's total visitor arrivals last month did not set a record, the tourists that came stayed longer, thereby setting an April record for total visitor days spent here, said State Tourism Liaison Marsha Wienert.
"It was a good month." Wienert said. "Both our leisure and business markets were solid, and we increased length of stay and spending, which has really been our goal."
While Sheraton and Westin resorts in Hawaii posted growth in April, the overall performance was not as earth-shattering as the year-on-year statistics show, said Keith Vieira, senior vice president of Starwood Hotels & Resorts Worldwide Inc. for Hawaii and French Polynesia.
"Basically April 2005 was a relatively lousy month, so in comparison last month had to be good," Vieira said. "Since April is usually a little down, what's going to make or break us for the year is the summer."
While summer bookings are not quite at the level Vieira said he would like to see, it is too soon to determine the overall strength of that market, he said.
The state's visitor industry, which economists and industry experts have said is nearly at full capacity, has had about 2.1 percent growth in total arrivals for the year, due in part to April's strong performance.
"We were a little concerned with the dip in visitor arrivals for March, but having Easter fall in April really helped offset last month's visitor industry performance," Wienert said.
A 23.9 percent increase in the meetings, convention and incentive market also boosted arrivals, she said.
"We had a pretty good month with two good-size conventions," said Randy Tanaka, director of product development for the Hawai'i Convention Center.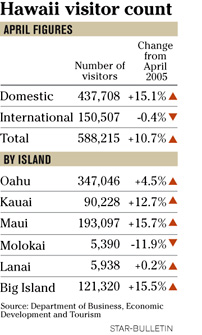 The Risk and Insurance Management Society brought 9,000 delegates to Hawaii last month, and the American Academy of Endodontists brought 3,500 people, he said.
"The numbers of attendees are continuing to stay strong and (are) increasing," Tanaka said. The Hawai'i Convention Center has upped meeting attendance by pulling in delegates from Asia to participate in U.S. meetings.
Wienert said that she is "cautiously optimistic" that 2007 will finish ahead of 2006, the record year for Hawaii's visitor industry.
"So far we're ahead, but it's only been four months into the year," she said.
Statewide hotel occupancy rose to 76.4 percent last month from 75.2 percent a year earlier, according to Hospitality Advisors LLC.
The loss of hotel rooms in Hawaii's market is part of the reason rooms are fuller, said Joseph Toy, president of Hospitality Advisors. Outrigger Enterprises closed several hotels as part of its Beach Walk redevelopment in Waikiki, and several other hotels have been converted to condominiums, he said.
However, it is more notable that the average daily room rate for Hawaii's hotels increased 17.4 percent last month, to $186.29 from $158.70 a year earlier, Toy said.
"It's a very strong market, and we are still running at a pace ahead of last year," Toy said.
The dramatic growth in hotel room rates shows that Hawaii's visitor industry is enjoying robust growth despite the fact that it is running out of vacant hotel rooms, he said.
"Our occupancies have been high, so the plan was to push room rates this year, and the hotels have very aggressively done that," Toy said.
Rates at Outrigger's beachfront hotels have finally surpassed the level they were at in 2001, before Sept. 11 caused the market to collapse and room rates went spiraling, said David Carey, president and chief executive officer of Outrigger Hotels and Resorts.
"It's been a great year. We can't complain," Carey said.
Visitor arrivals last month were up on all islands but Molokai, which dropped 11.9 percent. Oahu's visitor count climbed 4.5 percent, while Kauai was up 12.7 percent, Maui rose 16.2 percent, the Big Island increased 15.5 percent and Lanai remained relatively unchanged.