---
FAST FACTS HAWAII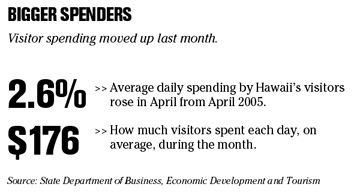 ---
NATION
Inflation eats gains in consumer spending
WASHINGTON » Consumers spent at a strong pace in April but much of their money went to fill up their gas tanks. Soaring gas prices sent consumer confidence plunging while an inflation gauge closely watched by the Federal Reserve rose by the largest amount in 13 months.
The newest economic data released yesterday depicted an economy slowing from the sizzling growth of the first three months of the year but one that was also being buffeted by rising inflation pressures.
The Commerce Department reported that consumer spending jumped 0.6 percent last month, the biggest increase since a 0.8 percent rise in January.
However, when inflation -- reflecting $3 and more for a gallon of gas -- was removed, the increase in spending was a much smaller 0.1 percent.
Valence accuses studios of spying
LOS ANGELES »
Valence Media
, a company accused of aiding online movie pirates, says the group that represents Hollywood studios hired a computer hacker to spy on it.
Valence Media, which operates the Web site www.torrentspy.com, was sued in February by several movie studios for allegedly helping people locate and download pirated copies of films.
On Wednesday, the company sued the Motion Picture Association of America, saying the trade group paid a hacker $15,000 to break into Valence Media's computers and obtain private information, including e-mails, financial information and trade secrets.
The lawsuit, filed in U.S. District Court in Los Angeles, claims an MPAA employee approached an unnamed hacker, who was not an employee of Valence, and asked him to collect information on the company and its three principals. The MPAA employees offered the hacker $15,000 if the information proved useful and said, "We don't care how you get it," according to the lawsuit.
The MPAA denied the accusations Thursday.
Stern regains control of radio tapes
NEW YORK » Shock jock Howard Stern regained control of the master tapes from the last 20 years of his terrestrial radio program in a settlement yesterday of the contentious lawsuit brought by his former bosses at CBS Radio.
Stern's new employer, Sirius Satellite Radio Inc., agreed to pay $2 million to CBS Radio, CBS Corp.'s large radio subsidiary, in return for the rights to the classic recordings, according to a statement released by both sides.
The remaining details of the settlement remained confidential, according to the statement.
CBS Radio sued Stern in February, the latest salvo in an escalating battle between the corporation and its former star employee. The company claimed Stern had violated his contract by improperly using his airtime on CBS stations to promote his January 2006 move to Sirius.
Comair president resigns amid union negotiations
CINCINNATI » The president of
Delta Air Lines Inc.
subsidiary Comair resigned yesterday as the regional airline struggles to reach a deal with flight attendants over contract concessions that it says it needs to emerge from bankruptcy.
But Delta said the decision by Fred Buttrell, Comair's president since January 2005, to step down does not mean changes in its operations or its stance on negotiations with the flight attendants' union. Don Bornhorst, a Comair veteran with 15 years of airline industry experience who became chief financial officer last year, will succeed Buttrell.
Joe Kolshak, Delta's executive vice president of operations, said he chose Bornhorst to replace Buttrell in part because of his familiarity with Comair and the negotiations with the union.
Bornhorst has worked in most areas of Comair's operations and is a native of Erlanger, Ky., near the Cincinnati/Northern Kentucky International Airport that is the carrier's primary hub.
Kolshak said he hopes his attempt to maintain stability with Bornhorst's selection signals the company's desire to reach a deal that works for Comair and its unions.
Comair has said it must have concessions from the flight attendants as part of a plan to cut $42 million in annual costs.
Earthlink to build New Orleans wireless network
ATLANTA »
EarthLink
has won a deal that will let the company build a wireless Internet network in New Orleans.
Though EarthLink has signed a handful of such agreements with other cities, New Orleans is a bit different. The city remains largely devastated because of Hurricane Katrina, but EarthLink is betting its investment will pay off when more businesses and residents return.
Wireless service has been controversial in New Orleans because the city's government has operated a small system since the hurricane, with hopes of keeping free service running even after emergency conditions ease. That proposal raised the ire of BellSouth and Cox Communications, the major for-profit players in Internet service in the city.
In making a deal with EarthLink, New Orleans leaders have found a way to expand Wi-Fi availability while avoiding legal troubles. Louisiana law limits what kind of services government can provide in competition with businesses.
Alaska Air workers agree to new contracts
Alaska Airlines Inc., the 10th-most boarded U.S. airline in 2005, and the union representing its ground handlers and customer service agents agreed on tentative four-year contracts yesterday.
Clerical workers and ramp workers will be covered by separate contracts, the Seattle-based unit of Alaska Air Group Inc. said in a statement.
Terms weren't released pending a ratification vote by union members, a process that will begin within two weeks, company spokesman Paul McElroy said in a telephone interview.
WORLD
Michelin CEO dies in boat accident
PARIS » Edouard Michelin, the chief executive officer of
Michelin & Cie.
, the world's largest tiremaker, died yesterday in a boating accident off the west coast of France.
He was 43 and the grandson of the company's founder. The Clermont Ferrand, France-based company said in a statement that co-CEO and former chief financial officer, Michel Rollier, 62, would "assure the continuity of the company's management."
All-news television station LCI said Michelin was fishing for sea bass off the island of Sein, on the extreme west coast of Brittany with the head of the local fishermen's association when their boat inexplicably sank. The sea was calm with a thick fog that persisted until midday, Jean-Marie Figue, spokesman for the maritime prefecture of Brest, a port in Brittany, told LCI.