---
FAST FACTS HAWAII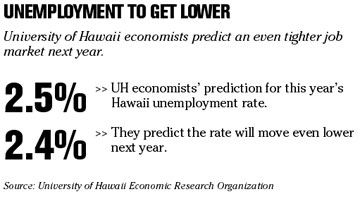 ---
[ HAWAII INC. ]
NEW JOBS
» Hilton Waikoloa Village has appointed
Angie Toailoa
events director. She will be responsible for all communications between catering, event managers and their respective customers along with revenue maximization and control of expenses. She previously worked for Hilton in Salt Lake City.
» American Savings Bank has hired John Woodruff as a financial consultant. He will be responsible for assisting customers with investments, insurance, estate planning and college savings. He has nearly 40 years of experience in finance and banking in Hawaii.
» The Gas Co. has hired Henry Lacar as customer service supervisor. He will be responsible for supervising a team of service technicians, investigating high bill complaints and administrative duties. He previously served as Turtle Bay Resort's property operations director.
» Outrigger Enterprises Inc. has appointed two senior-level executives. Donna Leong has been appointed senior vice president and chief legal officer. She will be responsible for overseeing the company's legal affairs. Ruthann Yamanaka has been appointed senior vice president of human resources and planning. She will be responsible for leading the company's human resources department.
>> P.F. Chang's China Bistro has appointed Bob Crowley operations director. He will be responsible for overseeing all aspects of developing the Hawaii market. He previously was the owner/president of Stars restaurant.
PROMOTIONS
» Hawaii Theatre has promoted Jude Lampitelli to production manager. He has worked for the theater since 1998.
» It's All About Kids LLC has promoted Jeanjean Bower to operations director. She will be responsible for the performances of all department functions including supplemental education services, retail operations, direct sales programs and customer service. She joined the company in 2005 as community affairs vice president.
>> KY International Inc. has promoted Vivyan L. Chang, Carole Ueki and Phillip Yi Le Deng to associate. They will be responsible for assisting the partners with office administration and promotion of the firm as well as continuing their professional design duties.
» Central Pacific Bank has announced the following promotions and hires: Diane S.J. Chong has been promoted to vice president and trust services officer; Donna Y. Kawano has been hired as vice president and policy administrator; Corazon Subia has been promoted to vice president and product management manager; Stacey K. Suzui has been promoted to vice president and lease marketing officer for the bank's lease and financing department; Theresa S. Hookano has been promoted to assistant vice president and facilities manager; and Sharon M. Kakesako has been hired as assistant vice president and portfolio reports analyst.
---
NATION
Corporate antivirus software suffers flaw
WASHINGTON »
Symantec Corp.
's leading antivirus software, which protects some of the world's largest corporations and U.S. government agencies, suffers from a flaw that lets hackers seize control of computers to steal sensitive data, delete files or implant malicious programs, researchers said yesterday.
Symantec said it was investigating the issue but could not corroborate the vulnerability.
Researchers from eEye Digital Security Inc. of Aliso Viejo, Calif., discovered the vulnerability and provided evidence to Symantec engineers this week, said eEye's chief hacking officer, Marc Maiffret.
eEye said it appeared consumer versions of Symantec's Norton Antivirus software -- sold at retail outlets around the country -- were not vulnerable to the flaw, although consumers who are provided Symantec's corporate edition antivirus software by their employers for use at home may be affected.
Mortgage rates near 4-year high
WASHINGTON » Rates on 30-year mortgages climbed this week for the eighth time in the past nine weeks, hitting the highest level in nearly four years.
Freddie Mac, the mortgage company, reported yesterday that rates on 30-year, fixed-rate mortgages averaged 6.62 percent, up from 6.60 percent last week.
This week's rate was the highest since the week ending June 20, 2002, when 30-year mortgages were at 6.63 percent.
Treasury official may soon quit
WASHINGTON » John W. Snow has signaled his readiness to step down as treasury secretary, possibly by the end next month, or as soon as the White House has a candidate to succeed him, say Republicans with ties to the administration.
Snow, a congenial former railroad executive who took over the Treasury Department three years ago, has made it clear he did not expect to stay in the job beyond the midterm elections in November.
WORLD
Japan's prices rise a sixth month
TOKYO » Japan's consumer prices rose for a sixth month, supporting the central bank's case for raising interest rates for the first time since August 2000.
Core consumer prices, which exclude fresh food, increased 0.5 percent in April from a year earlier, matching the rate in the first three months. Preliminary figures for May show inflation in the capital city accelerated, the statistics bureau said today in Tokyo. The sixth-month gain was the longest winning streak since 1998.