---
FAST FACTS HAWAII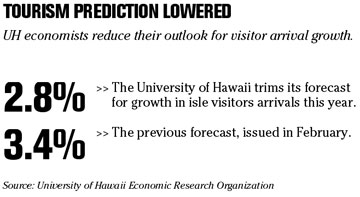 ---
NATION
ACLU asks states to investigate the major phone companies
The American Civil Liberties Union said yesterday that it was asking utility commissions in 21 states to investigate whether the country's largest phone companies handed over their customer records to the National Security Agency without warrants.
The ACLU is approaching the state commissions because they often monitor the privacy and abuse of customer data. The group said it also hoped to clarify whether local as well as long-distance calls had been monitored. Hawaii is not among the states that are involved.
The civil liberties union also created a Web site and bought advertisements in newspapers to encourage the public to join complaints being sent to state regulators and the Federal Communications Commission.
Studios, networks sue over DVR
LOS ANGELES » Hollywood studios and TV networks are asking a federal court to stop a video-on-demand service that
Cablevision Systems Corp.
planned to start offering next month.
The companies sued Cablevision, the nation's sixth-largest cable TV provider, in U.S. District Court in New York yesterday, saying the service, known as a "network DVR," violated the companies' copyrights.
Cablevision announced in March that it would offer subscribers a way to retrieve recorded shows from the cable company's system, rather than from a hard drive installed on a special set-top cable box.
TiVo's loss widens in quarter
SAN JOSE, Calif. »
TiVo Inc.
, a provider of digital video recorders, posted a wider first-quarter loss yesterday, citing legal costs, aggressive pricing and stock option expenses.
In the three months ending April 30, the DVR pioneer said it lost $10.7 million, or 13 cents per share, compared to a loss of $857,000, or 1 cent per share, in the year-ago period.
Revenue rose 38 percent to $55.1 million from $40 million a year ago.
Analysts, on average, were expecting a loss of 19 cents per share on sales of $50.6 million, according to a poll by Thomson Financial.
Hasbro drops plans for Pussycat Dolls
PAWTUCKET, R.I. »
Hasbro Inc.
shelved plans yesterday to release a line of dolls based on the Pussycat Dolls, an all-female music group known for risque lyrics and skimpy outfits.
Hasbro, the nation's second biggest toy maker, said it decided the dolls were "inappropriate" for the company to market and that the pop group catered to a more mature audience.
The move comes amid criticism from a national advocacy group, Dads & Daughters, that had campaigned against the doll line.
The company had reached a deal with Interscope Records, the group's label, to release dolls modeled after the popular sextet -- whose songs include the hit single, "Don't Cha." But it released a statement yesterday saying it had abandoned plans for the doll line.
WORLD
Saudi prince to invest in China
Saudi Prince Alwaleed bin Talal is seeking to buy $2 billion of shares in
Bank of China Ltd.
, the first investment in a Chinese company by the world's eighth-richest man.
Bank of China, the country's second-largest lender, raised $9.73 billion yesterday in the world's biggest initial public offering in six years, according to three bankers involved in the deal. Based on the sale price yesterday, the Beijing-based lender has a market value of $92.6 billion
The investment probably will be "one of many to come," Alwaleed, who is also the biggest shareholder of Citigroup Inc., said in a statement yesterday. The prince, 51, made billions of dollars investing in Citigroup in 1991, when the U.S. bank was struggling with losses in Latin America and a collapse in property prices at home.
China to get Paramount, Nickelodeon theme park
» China has approved the construction of a $623 million theme park in Tianjin in Northern China using licensed characters from
Viacom Inc.
's Paramount Pictures films and Nickelodeon children's network.