JOHN WISNOSKY / 1940-2006
UH art chairman inspired many
The prolific artist has works in collections internationally
John Wisnosky, who combined an artist's creativity and ideals with administrative aplomb as 15-year chairman of the University of Hawaii at Manoa Department of Art, died May 14 of complications from liver cancer. He was 66 years old.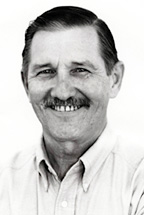 As chairman for 15 years, Wisnosky played a major role in shaping the department, which he joined in 1966. He taught drawing and painting, and inspired many students to become teachers and practicing artists.
A prolific artist himself, Wisnosky has work in collections statewide, nationally and internationally, from Japan to France. His works can be seen at the Hawaii State Museum, Honolulu International Airport and the Kahala Hotel & Resort, and a large mural, "For the Adventurers," featuring seafarers in voyaging canoes, graces the Hawai'i Convention Center. Among his Hawaii commissions were those for the late Clare Boothe Luce.
In the 1980s, Wisnosky was a co-designer of the exhibition space at the Onizuka Center for International Astronomy on Mauna Kea.
Tom Klobe, who retired this month as a professor of art and UH Art Gallery director, said he looked to Wisnosky as much as a teacher as a colleague.
"He was tremendously influenced by the light of this place and the landscape," Klobe said. "He was as influenced by the light and atmosphere of Hawaii as Turner was by the light and fog of England."
Following Wisnosky's eye for detail and suggestion that he study the lights in the ceiling of the Physical Science Building on campus proved inspiring, Klobe said.
"He was fascinated by their spatial illusion. ... This led to my light paintings and sculpture and ultimately to my investigations of space within exhibitions, which has been the focal point of my career.
"It's funny how a seemingly casual suggestion by someone can change your life. ... He had a way of not telling you what to do, but offering a suggestion so you could move on."
WISNOSKY WAS BORN March 21, 1940, in Springfield, Ill., and earned his bachelor's and master's degrees in fine arts from the University of Illinois-Urbana. His early work as an abstract expressionist painter and printmaker gained awards from the Society of American Graphic Artists, New York; the Boston Printmakers; and the Mint Museum, North Carolina, among others.
After moving to Hawaii in 1966, he won recognition for rendering ocean, cloud forms and landscapes reflecting a nostalgia for an old Hawaii untouched by man.
His objective was to draw people in, so they could find something in a piece "that reflected back onto oneself," said his wife, MiMi Wisnosky, a dance instructor at the university. They would have celebrated their 40th wedding anniversary in June. "It was about being in the moment, and somehow his work would get us to do that -- to be in the moment."
In his late 50s, he adopted the alter ego SAM redspoon, which came about, he told the Star-Bulletin in an interview at that time, while he was trying to mix red paint with a plastic spoon. Not getting the result he wanted, he flung the spoon at a closed window and it stuck. "It looked quite beautiful there, so I left it," he said.
His studio became known as the redspoon studio, and the family cat, Such a Mess, provided the inspiration for SAM.
The name change coincided with experiments in painting from snapshots taken by family and friends. Where he had been known for ethereal land-, ocean- and cloudscapes, his snapshot-based paintings took on a cartoonish, lighthearted and distorted dimension.
"He heard the whisperings of James Campbell and Buddha in terms of following his bliss and heart with a passion," said Ron Kowalke, who retired from the UH art department in 2001.
"John was sick in November, going through all these tests, but he still showed up at the university. He just didn't give up.
"He was a fantastic juggler of six different things. He was also in the community, an artist who also had to balance the needs of family, faculty, students and administration, and he did it very well," Kowalke said. "We're going to miss him."
Services will be private and a retrospective of Wisnosky's life and career is being planned for January 2007.
Wisnosky is survived by wife MiMi, daughter Mimi E. Wisnosky-Chang and son-in-law Rick Chang, brother August P. Wisnosky and grandson Sky Chang.