Police seek suspect after purse grab at Hau Tree Lanai
Police are asking for help tracking down a thief who grabbed a woman's purse at the Hau Tree Lanai Restaurant in Waikiki and pulled a knife on another patron who chased him into Kapiolani Park.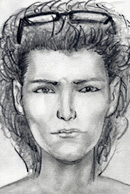 The police department released a sketch yesterday of the suspect, described as a Polynesian man in his 20s, 5 foot 10 inches, and 160 pounds, with a tan complexion. He stole the woman's purse, which was draped over the back of her chair, at about 2:30 p.m. on May 5. At the time he was wearing no shirt, baggy long blue denim pants and pink boxer shorts.
A tourist who was also eating in the restaurant ran after the thief, catching up with him in the middle of Kapiolani Park, according to Sgt. Kim Capllonch, CrimeStoppers coordinator. But the culprit got away after brandishing a large knife and a collapsible baton and threatening to kill the witness.
Capllonch advised women not to hang their purses on the back of their chairs in public places.
"A message for all the women out there is to try to keep your purse on your lap or in front of your feet," she said. "Hanging it on the back of a chair makes it easy for someone to grab it, and you're not going to be able to give chase."
Anyone with information about the robbery suspect is asked to call CrimeStoppers at 955-8300, or *CRIME on your cellular phone.