The Hunt for Reef Ordnance
State and U.S. agencies will try to find and identify sunken chemical munitions
Beginning Sunday, the National Oceanic and Atmospheric Administration will spend two weeks surveying a nearly 6-square-mile area of Pokai Bay searching for chemical munitions believed to have been dumped there after World War II.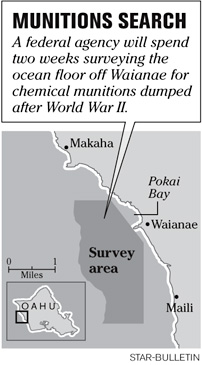 More than 8,000 tons of chemical weapons are believed to have been dumped by the Army between 1944 and 1946 at undisclosed locations off Oahu. The Army has said that, with exception of the blister agent Lewisite, the chemicals would have broken down into nontoxic compounds had their containers been broken. Lewisite, if released into the ocean, could elevate the levels of arsenic in both the water and the ocean bottom, according to Army officials.
Michael Overfield, chief NOAA scientist for the survey, said in a phone interview from his headquarters in Silver Spring, Md., that the mapping is being done at the request of the Pentagon and that NOAA will be assisted by the state Department of Land and Natural Resources and the University of Hawaii.
Overfield said no attempt will be made to either recover or remove munitions from an area known locally as Ordnance Reef.
"The purpose of the survey is to see where the munitions are actually located," Overfield added.
He said that four years ago the Army Corps of Engineers sent divers into the area to do a similar search, but the divers were limited by visibility and the depth of the water. "They did find munitions," he added.
An Army report then identified more than 2,000 munitions in waters ranging from 15 to 240 feet.
Overfield said the 42-foot NOAA research vessel Manacat, which is normally used to conduct whale counts, will comb the area off Pokai Bay using seafloor mapping and imaging equipment "to determine the quantity and distribution of the munitions."
Overfield said then a remotely controlled vehicle and scuba divers will examine any items of interest.
The divers also will collect water, fish and sediment for analysis by the UH and two independent laboratories.
The survey will start as close to the beach as possible, Overfield said, and extend as far out as 300 feet from shore. He estimated that depth of the survey area will run from 33 feet to 230 feet.
Military explosive ordnance disposal experts will be on the Manacat to identify any munitions found, but there are no plans to recover or destroy any munitions during the survey.
If needed after the survey, NOAA will update its nautical charts of the area to warn mariners about the munition disposal site.
Next week's underwater munitions survey is being done as Congress has pending legislation authored by both Rep. Neil Abercrombie and Sen. Daniel Akaka authorizing the Pentagon to do a complete underwater survey of all dumping sites.
Abercrombie was able to insert that language in the 2007 National Defense Authorization Act that passed the U.S. House two weeks ago and goes to the Senate.
"No one knows exactly where these weapons are, how many tons are out there, what impact they're having on health and the environment, or what we can do about it," said Abercrombie.
Three Hawaii sea munitions sites were listed in a 2001 report that outlined where chemical weapons were dumped after World War II.
More than 4,220 tons of hydrogen cyanide were dumped in 1944 off Pearl Harbor. In that same year, 16,000 100-pound mustard bombs were dumped somewhere five miles off of Oahu in accordance with existing government guidelines.
A year later, off of Waianae, the Army dumped seven tons of 1,000-pound hydrogen cyanide bombs, 461 tons of 1,000-pound cyanogen chloride bombs, 28 tons of 500-pound cyanogen chloride bombs, 800 tons of 114-pound mustard bombs, 510 tons of 4.2-inch mustard mortar shells, 1,817 tons of one-ton mustard containers and 300 tons of one-ton Lewisite containers.