Contaminated-water signs at Kualoa park are removed
Just in time for Memorial Day weekend beach-goers, the state removed contaminated-water postings yesterday at Kualoa Regional Park and expects to take down warnings near surf spots at the mouth of Ala Wai Boat Harbor on Friday.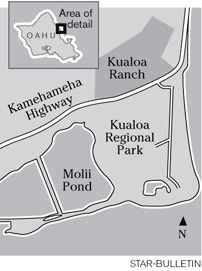 At both locations, water formerly contaminated by sewage has tested much better in recent weeks, said Watson Okubo, head of water quality monitoring for the state Department of Health.
At Kualoa, the suspected culprit of high bacteria readings was the outdated cesspool serving the parks' restrooms. The park had been posted with sewage contamination signs since December.
Okubo said that heavy March and April rains appear to have flushed the area, bringing bacteria levels within state health standards.
"That's outstanding news for our beach-goers, because it's such a beautiful park," city parks director Lester Chang said yesterday on hearing the news about Kualoa.
Sewage contamination signs have been posted at the old heliport parking lot makai of the Ala Wai Boat Harbor since the first day of a sewage spill into the Ala Wai Canal on March 24. Surfers park there to paddle out to nearby surf sites.
That spill poured 48 million gallons of sewage into the canal over six days, leading to closure of several Waikiki beaches for up to a week. It also displaced canoe paddlers who normally use the canal as a practice area.
Water quality at surf sites Rockpile, Inbetweens and Kaisers improved earlier this month, but Okubo left the signs up because Ala Moana Bowl continued to test higher than state standards.
Bacteria levels in the Ala Wai Canal remain unacceptable for recreational waters and the state will post permanent metal signs Friday that warn against swimming or fishing in the canal, Okubo said. Because most of the contamination in the Ala Wai is now from runoff pollution from the Manoa and Palolo valleys, the signs will not mention sewage, he said.
Although most canoe clubs said they will stay away from the Ala Wai Canal the remainder of the year, they could return when the sewage signs come down, Okubo said.
The Koa Kai Canoe Club, which used to paddle from the canoe ramp in Ala Moana Beach Park, may return there after the sewage signs are lifted Friday, said member Tambry Young, who also is president of the Hui Wa'a association of paddling clubs. Her club, like many others, has been paddling at Keehi Lagoon, and "we want to come home," she said.
Enterococcus bacteria levels at the ramp have been tested since the March sewage spill and have been above state standards, Okubo said. However, the state has determined that recent readings don't indicate sewage, but runoff from the park's freshwater showers, he said.
Meanwhile, the city has decided that all canoe clubs that used to paddle in the Ala Wai will be allowed to stay at their new practice sites through the summer regatta season, which ends Aug. 7, Chang said. That includes Kaimana Beach, where Chang formerly had said three canoe clubs would have to leave in May or June.
"We're trying to bend over backwards," he said yesterday, adding that no additional canoes will be allowed at the popular swimming beach.
Hannie Anderson, president of the Oahu Hawaiian Canoe Racing Association, said the clubs are "very pleased with that, to stay there until Aug. 7."
At Kualoa, the city will continue pumping sewage out of Kualoa Park's cesspools daily until a permanent new $1.3 million wastewater system is in place, Chang said. Until the new system is installed, two years from now, camping at the park will be limited, he said.
---