Molokai Ranch land deal goes out for public hearings
The landowner wants to use Laau Point for a luxury subdivision
Molokai Ranch, the Friendly Isle's largest landowner and employer, is seeking state and county approval for a development plan that would turn 500 acres of Laau Point into an upscale subdivision, refurbish the long-closed Kaluakoi resort and give back more than 50,000 acres to the community.
It's a move that can either be interpreted as a cease-fire in a 30-year-old war between Molo- kai residents and the island's primary developer -- or as the starting shot of a development battle the likes of which have never been seen before.
Endorsed by the Molokai Enterprise Community and the state Office of Hawaiian Affairs, the Community-Based Master Land Use Plan for Molokai Ranch was developed by more than 1,000 residents who took part in about 150 meetings over a three-year-period, said Peter Nicholas, chief executive officer of Molokai Properties Ltd. and a resident of Hawaii's Friendly isle.
"This is not a dastardly plan by Molokai Ranch," Nicholas said. "It was conceived and planned and designed by the community."
Now, the company is ready for a more public phase of the 15- to 18-month regulatory process, beginning with a series of hearings from May 31 through June 7.
The plan, which has been some three decades in the making, is seen by Molokai Ranch and supporters as a way of uniting the island's rural past with a more sustainable future, Nicholas said.
"I love the place, the people and the lifestyle and I enjoy what the island has to offer," Nicholas said. "We're friendly with many people who don't want to see Molokai change and those people believe that this is a good plan and it's the best option for the island on a number of fronts."
---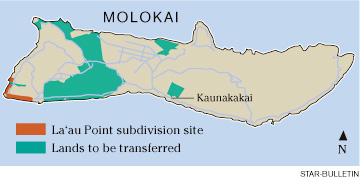 ---
To survive and to fund improvements to the Kaluakoi hotel and golf course, Molokai Ranch needs capital from the sale of Laau Point lands on the southeastern side of the island, he said. The ranch is undercapitalized by about $3.5 million, and is losing $300,000 a year on the golf course, Nicholas said.
It will take about $30 million to fund improvements to the 152-room hotel and golf course, which Molokai Ranch bought in 2001, he said. Capital for the hotel project is expected to come from the sale of 200 parcels in Laau Point, which will cost about $80 million to develop and subdivide, Nicholas said.
"We are currently seeking investment partners for the Laau Point development," he said.
In exchange for the rights to develop Laau Point, Molo-kai Ranch will return most of their privately held lands to the people, he said.
Returning the bulk of Molokai's privately owned lands to the community will help conserve the island's culture and environment, while redeveloping the Kaluakoi resort and its adjacent Ted Robinson-designed golf course with funding from the Laau Point subdivision will create about 200 jobs, Nicholas said.
It's thought that reopening of the Kaluakoi Hotel could serve as an economic engine for Molokai's economy if the community works with Molokai Properties to promote increased visitor arrivals and activities, wrote Davianna Pomaikai McGregor of the University of Hawaii's Ethnic Studies Department, who has prepared a community-based visitor plan for Molokai.
But rising above the varied tourism issues on Molokai are the sales of Molokai properties at escalated prices, McGregor said.
Stacy Crivello, president of the Molokai Enterprise Community, said she supports the proposed land use plan because it protects an incredible amount of island acreage.
"About 78 percent of their land will come back to the community," Crivello said. "It's not the private land owner that will say if they will develop the lands. It will be governed by us, the community, and we'll be completely in control."
Other residents of Molokai, such as Hawaiian activist Walter Ritte, view Molokai Ranch's proposed development plan as the death knell for the island's host culture.
"The developers are offering all this candy to everyone in exchange for the heart and soul of Molokai," Ritte said. "Laau Point is the most pristine fishing area in all of Hawaii -- it's how we feed our families. We can't let them give it to 200 millionaires."
Ritte and others who don't want to see Laau Point exchanged for other lands have formed Save Laau Point, which kicks off tonight with a 6 p.m. meeting at the Mitchell Pauole Center.
"We'd rather keep Laau Point and give them back those other lands," Ritte said.
As a Molokai resident, Nicholas said he has empathy for those who harbor fears about development.
"There are those that don't want any development at all," Nicholas said. "That's fine. But I have a responsibility to the 150 members of my staff that I take very seriously. I want to see them have a future."