---
FAST FACTS HAWAII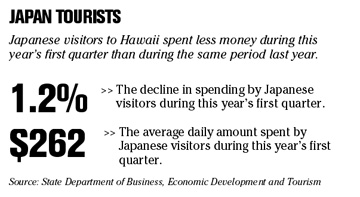 ---
HAWAII
Mesa Air eases fare rules for military
Mesa Air Group Inc.'
s new interisland carrier, go!, is offering special fares to military personnel, their spouses and dependents, with some restrictions.
Go!, which plans to start service June 9, said the new military fares will be $55 one way between Honolulu and Hilo, Kona, Lihue and Kahului. Fares will be $74 one way from Hilo to Lihue and Kahului, Kona to Lihue and Kahului, and Lihue to Kahului.
The airline's previously announced $39 one-way fares, and $59 round-trip Monday through Friday fares are for travel from June 9 through Sept. 30.
The military fares, which are good beginning June 9 and extending beyond Sept. 30, don't include a charge for changing tickets. The military rates must be booked through a toll-free reservation number at 1-888IFLYGO2.
Maui Soda wins state safety award
Maui Soda & Ice Works Ltd.
won a Safety and Health Achievement Recognition Program Award at the Governor's 2006 Pacific Rim Safety and Health Conference earlier this month.
The award is presented to businesses that most effectively implement Occupational Safety and Health Administration programs, keep updated safety manuals and maintain a low record of workplace injuries.
"We have always strived to maintain a safe and healthy environment for all employees," said Michael Nobriga, president.
"Our monthly safety meetings are really a tradition now 'cause my father, Buddy Nobriga, still cooks lunch for everyone." The family patriarch will turn 80 this year and works at both Maui Soda Works and his Kahakuloa cattle ranch.
Established in 1888, the company, owned and operated by the Nobriga family, manufactures Maui's Own Roselani Ice Cream and is one of the few remaining independent Coca-Cola franchises in the country.
NATION
Locals to buy Philly newspapers
PHILADELPHIA »
McClatchy Co.
announced yesterday that it had agreed to sell the Philadelphia Inquirer and its sister paper, the Daily News, to a group of local business executives and investors for $562 million.
The new owners said they would keep publishing the Daily News, a tabloid with a declining circulation whose future has periodically been in doubt. And they pledged not to interfere in the running of the newspapers, addressing concerns that the papers might cater to their business interests.
The new owners, a group led by advertising executive Brian Tierney and Bruce Toll, co-founder of luxury home builder Toll Brothers Inc., paid homage to the history of the Inquirer, one of the country's oldest newspapers, which won 18 Pulitzer Prizes in the 1970s and '80s.
They said they had agreed to leave much of the current newsroom management in place and honor union contracts.
WORLD
Ex-Livedoor chief denies charges
TOKYO » The disgraced former president of the Japanese Internet portal
Livedoor Co.
, Takafumi Horie, has denied any wrongdoing in a statement to the media.
Horie, 33, and three former colleagues were arrested in January and have been indicted on charges of using stock swaps and stock splits to artificially inflate share prices.
Horie rose to fame in Japan in recent years because of his charismatic appeal and defiance of tradition. But the successes began to unravel in January when prosecutors raided its Tokyo headquarters on suspicion that its executives had violated securities exchange laws.
HAWAII INC
New jobs
»
Griffith Construction Consultants Inc.
has hired
Tim Cornell
as a senior project manager. He will be responsible for providing project management oversight for the Keola Lai condominium project. He has more than 30 years experience in the building industry.
» Shriners Hospitals for Children Honolulu has hired Dr. Jonathan Pellett as orthopedic staff surgeon. He will be responsible for all aspects of patient care, including surgeries, inpatient, outpatient and outreach clinics. He previously served as assistant professor of orthopedic surgery at the Medical College of Georgia.
» Avalon Development Company LLC has hired Steven Kothenbeutel as development associate and financial analyst. He will be coordinating real estate development projects and overseeing research and financial analysis for in-house and client accounts. He previously served as a market analyst for Coldwell Banker Commercial Pacific Properties.
» The Molokai Enterprise Community has hired Abbey Mayer as executive director. He previously served as the Molokai Livestock Cooperative executive director.
» Hilton Hawaiian Village Beach Resort & Spa has appointed Jaelene Kaaa assistant finance director and Mark Kessler assistant food and beverage director. Kaaa will be responsible for reviewing monthly financial statements and completing monthly reconciliations for the hotel. Kessler will oversee the hotel's beverage outlets.