Sharks bring alerts along North Shore
City lifeguards say some surfers simply ignored warnings
Lifeguards warned surfers and swimmers to stay out of the water at two popular North Shore surfing beaches after sharks were spotted yesterday.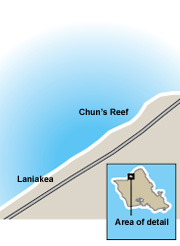 Four sharks were reported offshore at Chun's Reef at 1:30 p.m. Two were described as about 13 feet long, and the others, 6 to 8 feet, said Bryan Cheplic, spokesman for the city Emergency Services Department.
Lifeguards used bullhorns to warn about 10 people surfing offshore, but "about half decided to stay in," Cheplic said.
The Ocean Safety Division posted warning signs there and at Laniakea, where a second sighting of an undetermined number of sharks was reported at 3:30 p.m.
"We sent a ski out to warn people at Laniakea, and most of them came in," Cheplic. "We do not have the authority to order people out of the water."
There were no reports of injuries or close encounters, he said. The warning signs remain posted and will be reassessed today.