Bicyclist dies in hit-and-run crash in Nanakuli
Police seize the vehicle allegedly involved
A 44-year-old Leeward Oahu man died yesterday in an early morning hit-and-run collision between a bicycle and a pickup truck in Nanakuli.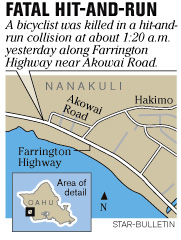 It was the fourth fatality resulting from a hit-and-run crash this year in Hawaii.
The collision happened at about 1:20 a.m. on Farrington Highway near Akowai Road. Police arrested a 20-year-old woman nearly six hours later but released her without charges pending further investigation. They also seized the vehicle that allegedly was involved in the collision.
The victim's name has not been released pending positive identification by the Honolulu medical examiner.
The man was riding a bicycle toward Waianae on Farrington Highway when a dark-colored pickup truck heading in the same direction swerved onto the shoulder and hit him, police said. They said the victim was thrown from his bicycle upon impact and landed in a grassy area near the shoulder of the highway. He was pronounced dead at the scene.
Police arrested the woman at a Maili address at 7:05 a.m. under suspicion of leaving the scene of an accident involving death or serious bodily injury. The charge is a Class B felony punishable by up to 10 years in prison and a $25,000 fine.
Anyone who witnessed or has information about the crash is asked to call officer Lisa Reed of the Honolulu Police Department Traffic Division at 529-3499.
Yesterday's death was the 42nd traffic fatality on Oahu compared with 31 at this time last year.
The other three fatalities from hit-and-run collisions were:
» Ramika Roy, 63, whose body was found at 4:43 a.m. Jan. 14, lying on the sidewalk near Farrington Highway and Maaloa Street. Police said skid marks near the scene indicate some sort of vehicle collision.
» Betty Santiago, 86, who was killed by a car while in a crosswalk on Nimitz Highway near the Iwilei Kmart on Jan 17. The driver fled the scene but later turned himself in after police issued a plea.
» Erwin Lauronal, 19, of Kailua-Kona, who was killed May 4 by a hit-and-run driver while talking to his mother along the side of Queen Kaahumanu Highway on the Big Island.