---
Jay Mohr Blaisdell show canceled
Comedian Jay Mohr's July 7 performance at the Neal Blaisdell Concert Hall has been canceled. The promoter, Laugh Factory Hawaii, did not give a reason for the cancelation except to say it was "due to circumstances out of our control." Ticket refunds will be made through the outlet from which they were purchased.
MOVIE PREVIEW
Opening Friday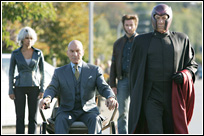 "X-Men: The Last Stand":
Change is at the core of the third "X-Men" movie, this time directed by Brett Ratner, taking over for Bryan Singer, who's gone on to do "Superman Returns." When a cure for the genetic aberrations that grant the mutants their powers is discovered, the embattled X-Men must choose between remaining as they are or become normal human beings. Hugh Jackman, Halle Berry, Patrick Stewart, Ian McKellan, Famke Janssen, Anna Paquin, Rebecca Romjin, James Marsden and Shawn Ashmore reprise their mutant roles, with additional featured X-Men played by Kelsey Grammer, Ellen Page and Ben Foster.
DOWNLOADS
Top iTunes
The most downloaded songs of the week, as listed by
www.apple.com/itunes
:
1. "Promiscuous" Nelly Furtado featuring Timbaland
2. "SOS" Rihanna
3. "Bad Day" Daniel Powter
4. "Me& U" Cassie
5. "Over My Head" The Fray
6. "Ridin' " Chamillionaire & Krayzie Bone
7. "Unfaithful" Rihanna
8. "Where'd You Go" Fort Minor featuring Holly Brook and Jonah Matranga
9. "Sanp Yo Fingers" Lil Jon featuring E-40 and Sean Paul
10. "Dani California" Red Hot Chili Peppers