---
FAST FACTS HAWAII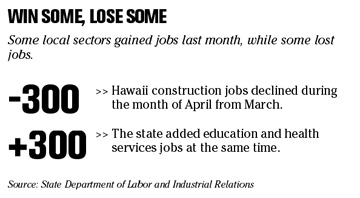 ---
HAWAII
Embassy Suites planned for Waikiki wins award
Outrigger Hotels and Resorts
' planned Embassy Suites Hotel-Waikiki Beach Walk on Lewers Street, which is part of the company's $700 million Waikiki Beach Walk redevelopment project, has been awarded a "best conversion" award.
Hilton Hotels Corp., which manages the Embassy Suites Hotel brand, recently recognized Outrigger for its conversion of the former Ohana Waikiki Village and Ohana Waikiki Tower hotels. Both towers were shut down last year, with work commencing in April 2005. During renovation, the 880 standard hotel rooms are being converted into 421 suites.
The new Embassy Suites Hotel, which will cater to Hawaii's growing family market, is an integral part of Outrigger Enterprises' Waikiki Beach Walk project, the largest and most comprehensive development in Waikiki's history. Embassy Suites will be among the first Waikiki Beach Walk sites to open.
NATION
Fannie may be fined up to $500M
WASHINGTON » Embattled mortgage giant
Fannie Mae
is expected to be fined between $300 million and $500 million over the alleged manipulation of accounting so that executives could collect millions in bonuses, in a settlement to be announced today.
The deal with the Office of Federal Housing Enterprise Oversight and the Securities and Exchange Commission comes as the government-sponsored company struggles to emerge from an $11 billion accounting scandal. The housing oversight agency is scheduled today to issue the results of its extensive investigation of Fannie Mae, an assessment that is widely expected to be sharply critical and to touch on areas not addressed in a previous report ordered by the company's board of directors.
Software piracy declines slightly
WASHINGTON » Makers of computer software report that piracy rates, while still high, declined slightly in both China and Russia last year, but that global losses from the use of illegal computer software rose to $34 billion.
The Business Software Alliance said in a new report that 35 percent of the packaged software installed on personal computers worldwide in 2005 was illegal, the same percentage of pirated software found in 2004.
However, the group said losses from that illegal software rose to $34 billion, an increase of $1.6 billion from 2004, reflecting an expanding level of sales around the world. The new report was being released today but a copy was obtained early by the Associated Press.
WORLD
Wal-Mart ditches South Korea
SEOUL »
Wal-Mart Stores
followed a French rival,
Carrefour
, in withdrawing from South Korea yesterday, becoming the latest global brand to flounder in an economy with some of the most demanding consumers.
Wal-Mart said that it had agreed to sell all 16 of its South Korean outlets to Shinsegae, a local retailer, for $882 million.
With the announcement, Wal-Mart added its name to a list of multinationals, like Nokia, Nestle and Google, that have failed to adjust to the tastes of South Korean consumers.
"Wal-Mart is a typical example of a global giant who has failed to localize its operations in South Korea," Na Hong-seok, an analyst at Good Morning Shinhan Securities in Seoul, said. "It failed to read what South Korean housewives want when they go shopping."