---
FAST FACTS HAWAII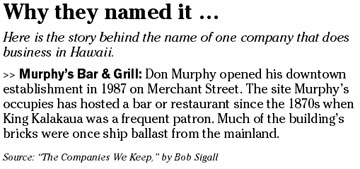 ---
NATION
Rising energy costs dampen optimism
Small-business owners are showing less optimism than a year ago, according to one survey, and higher energy costs are contributing to their dampening spirits.
Sixty-eight percent of small business owners see growth opportunities over the next six months, down from 85 percent from one year ago. More than eight out of 10 plan to emphasize customer service to encourage growth, while more than half intend to cut business expenses. To curb rising energy costs, 42 percent have cut down their energy use, while 29 percent of business owners have passed higher costs on to customers.
Despite the challenges of rising energy prices, seven out of 10 small business owners would still recommend going into business to a friend or family member.
The survey was conducted by OPEN from American Express, which surveyed 618 small business owners and managers of companies with fewer than 100 employees during April.
SUNY nanotech school rated tops
ALBANY, N.Y » Students and faculty at the State University of New York at Albany's College of Nanoscale Science and Engineering can now claim something that their counterparts at Cornell University, the University of Michigan and even Stanford University cannot. They're No. 1.
The college was ranked the best school in the United States for micro and nanotechnology by Small Times, a trade publication based in Ann Arbor, Mich.
The school was started in 2004 and has just 125 graduate students and 35 faculty members.
"We're delighted," said Alain Kaloyeros, the college's chief administrative officer. "We absolutely feel privileged and honored."
Annual sales of products and services that use nanotechnology are expected to hit $2.5 trillion by 2015, according to Lux Research Inc. of New York City.
Administrative assistants appreciated
This office member knows how to fix the copy machine, handle disgruntled customers and arrange a 50-person conference call. A recent survey shows that the myriad abilities of an administrative assistant don't go unnoticed by the rest of the office.
More than three out of four office workers believe that the administrative assistant's role is either essential, very important or important to the office. But the administrative assistant's main responsibility varies widely by office.
More than 75 percent of respondents felt that keeping the office environment functioning well is an administrative assistant's main responsibility, while six out of ten thought facilitating communication flow among different levels is the top priority.
Other important tasks included managing client calls smoothly, putting together meetings and events and keeping schedules and travel arrangements.
The survey was conducted by Swingline, which surveyed online 2,302 adults in March.