Church effort aids homeless
A project in Waianae gains momentum from the cooperation of island churches
On the third Saturday of each month, more than 130 homeless people gather at the Waianae Boat Harbor for a hot meal, bags of donated clothes and a little religiously themed entertainment.
New Hope Leeward chapel started the service in 2004, with just 30 homeless people, and had been running it alone since. But earlier this year, with more homeless people getting in line for a meal, the church asked the Hawaii Coalition of Christian Churches for help.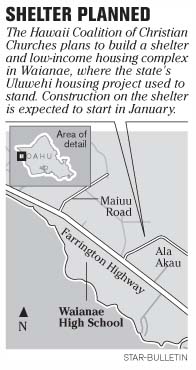 Now, coordination of the monthly meals and donations will be divvied up among some 40 churches islandwide.
A ceremony yesterday with the homeless at Waianae Boat Harbor commemorated the partnership, which officials hope will also help the coalition identify applicants for a new $15 million homeless shelter and housing complex set to start construction in January.
"One church by itself is just not cutting it," said New Hope Leeward Pastor Rich Wilbur, adding that he hopes the alliance will help bring light to the Leeward Coast's homeless population.
"This is our backyard. Let's everybody get together to help."
Pastor Boo Soares, chairman of the coalition, said homeless who attend monthly meal service at the Waianae Boat Harbor will register so the coalition can include them as applicants for the complex, which could be completed as early as 2009. Registration started yesterday.
The state awarded the coalition a contract last year to build on the former site of the Uluwehi housing project, which was demolished.
On Monday, Gov. Linda Lingle announced $5 million in state funds would go to the 72-unit shelter and housing complex. Soares said he has already collected about $4 million in grants and donations.
About 2 p.m. yesterday, homeless people started to arrive at the Waianae Boat Harbor from nearby parks. Before their meal, they formed a circle to pray with pastors and volunteers from several churches.
"We need everybody's help," Soares said, while talking with other pastors and volunteers before the gathering. He noted how the number of tents at Maili Beach Park have increased in recent months, where some 100 homeless are believed to be living.
"The homeless population is not about to get out of control," Soares told the pastors. "It is out of control."
Later in the day, Soares performed for attendees with a band of volunteers on a makeshift stage, singing "Swing Low, Sweet Chariot" and other gospels. Theresa Kaio stood at the far end of the gathering, swaying slowly with the beat of music.
Her 2-year-old grandson, Ua, sat on her shoulders, watching the musicians and crowd intently.
Kaio and her grandson have lived at Maili Beach Park for nearly seven months, since they were evicted from an apartment in Kalihi. The 42-year-old is optimistic that her homelessness is temporary.
But she has no income and doesn't want to burden family members, who are already having trouble making ends meet.
She's hoping the coalition can help her get a home.
"Nobody chooses to be homeless," Kaio said, holding her grandson's hands above her head. "It hurts your pride."
Stanley Maka, 54, also lives at Maili Beach Park, and says the coalition gives him hope for finding a place.
"I cannot wait to get out of the park," Maka said, as he sipped on a soda.