Oil spill recovery halted
Tesoro says more than 1,000 gallons of light crude are dissipating
The sun, trade winds and currents combined to help dissipate 1,000 to 2,000 gallons of light crude oil spilled when a hose separated from a ship during unloading at Tesoro Hawaii's mooring off Barbers Point on Friday night, officials said.
Currents took the oil in a southwesterly direction, away from Oahu's coast, after the incident at about midnight Friday, they said.
Frank Clouse, vice president of Tesoro's refinery, said recovery operations were stopped after a helicopter flyover yesterday morning showed 6- to 8-foot waves and 25-knot winds were helping to dissipate the oil. The very thin, light crude oil also evaporated in the sun, Clouse said.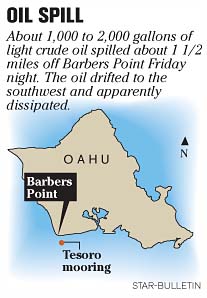 No sheening was seen on the ocean surface from the oil during a third helicopter flyover about 3 p.m. yesterday, said Tesoro spokesman Nathan Hokama. "We're attributing that to the cleanup effort, as well as the sun ... and the winds and sea currents, all working in favor of cleaning up the oil."
Clouse, U.S. Coast Guard Lt. Cdr. Todd Offutt and Curtis Martin, state Department of Health emergency response coordinator, described the spill and recovery operation at a news conference yesterday afternoon at the Hawaii Oil Spill Response Center.
Oil was being transferred from the vessel Front Sunda through Tesoro's Single Point Mooring about 1 1/2 miles off Barbers Point to the refinery on shore when the hose line separated from the ship, the officials said.
The operation was halted immediately, and Tesoro notified the Coast Guard, health department, Clean Islands Council and Marine Spill Response Corp., they said.
The response tug Nene was on site for the unloading operation and deployed floating barriers to contain the oil.
Seven ships sent to the area by the council and response corporation also deployed floating containers, or booms, to corral the oil and absorb or skim it from the ocean.
Todd said a sheen was seen spread across 100 to 200 yards of ocean in an 8 a.m. flyover yesterday, but gradually dissipated. Currents had taken it about 2 1/2 to 4 miles from the mooring.
There was no apparent impact on birds, turtles or other wildlife, but the U.S. Fish and Wildlife Service will inspect nesting areas as a precaution to determine if there were any effects, Hokama said.
Another flyover was planned this morning to make sure the oil was cleaned up to the satisfaction of the Coast Guard and Department of Health, Hokama added.
The Front Sunda was carrying about 42 million gallons of oil and had been unloading about 20 minutes when the line broke, Clause said, adding that the operation could resume today.
Todd said an investigation will be conducted and the Coast Guard will look at the ship and mooring to make sure they are safe to operate again.
Tesoro had two previous spills when a hose separated while oil was being transferred from a tanker.
Tar balls turned up on some Kauai beaches after an estimated spill of as much as 117 barrels of oil on Aug. 24, 1998. Twenty-four seabirds were captured or injured, and 11 died.
About 660 gallons of crude oil was spilled Jan. 28, 2001, with winds and currents taking it out to sea in a southwesterly direction. No effects on wildlife were reported.