| | |
| --- | --- |
| | Crossword of the Pacific |
---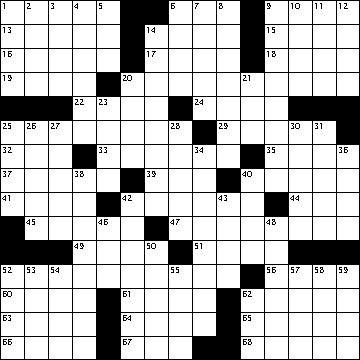 ACROSS

1. Family
6. First aid know-how
9. Na makuahine
13. With child
14. Two: Hawaiian
15. All: Hawaiian
16. Sardine spec
17. Geek
18. Erdman
19. Org.
20. Hanauma sights
22. Court promise
24. Carbonated drink
25. The Merrie Monarch
29. Memento
32. Diminutive suffix
33. Without shoes
35. Kanten
37. Cabbage salads
39. Moray
40. Vinegar dish
41. Mail enclosure
42. Thumb-twiddlers
44. Uncle: Spanish
45. Boat rear
47. Certain Asians
49. Marina or Head
51. A'ole, in Berlin
52. Makani
56. Oops: hyph.
60. Auana
61. Do it, or __!
62. Tropical fruit
63. Keiki game
64. King __
65. Talkative manu
66. Loch __ monster
67. Laie church
68. Certain ducks


DOWN

1. Hardwood
2. Star Wars' Solo
3. Chinese grandmas
4. Navigator Thompson
5. Be sick
6. Actress DuVall
7. Popoki sounds
8. Leeward high school
9. Plate lunch item
10. Moonfish
11. Bean: Japanese
12. Has kaukau
14. Excited
20. Sheriff
21. Chemical suffix
23. Hal Lewis'
25. Honi
26. Book of maps
27. Fewest
28. An inferno
30. Have __ deal for you
31. Wooden home
34. Highway shrub
36. Joeys
38. Mondays through Fridays
40. Italian sparkling wine
42. Sumi need
43. Tarako and ikura
46. ___ v. Wade
48. Senior Senator
50. Lubricated
52. Not momona
53. Stratagem
54. Swiss mountains
55. Clandestine org.'s
57. Maui town
58. Elongated circle
59. Harrumphs
62. Universal time

---
DOWNLOAD
Solve the puzzle on your computer
Download the .puz file for this week's puzzle to your desktop. Use a crossword-solving program, like Literate Software Systems' Across Lite, to solve the puzzle.
» Download Across Lite (Most platforms, Free)
» Download MacXword (Mac OS X, $15)
ORDER THE BOOK
'Crossword of the Pacific,' Volume I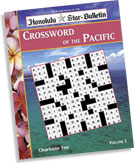 Charlotte Yee
(Bess Press) $9.95
ISBN: 1-57306-234-0
Crossword puzzle fans will welcome this collection that includes challenging puzzles with clues related to Hawai'i and the Pacific. It represents what is truly special about the island - it's culture, it's language, it's people and of course, it's food. Crossword of the Pacific has been a weekly feature in the Honolulu Star-Bulletin since 1996.
» More info / Buy now (Amazon.com)
» More info / Buy now (Bess Press)