[ ALOHA FESTIVALS ]
---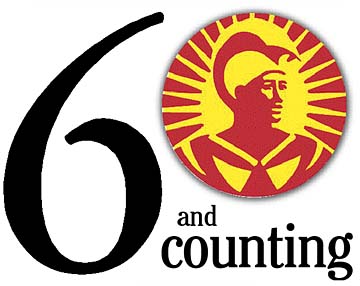 The annual event has overcome some lean years to keep alive the islands' culture for kamaaina and visitors
The Aloha Festivals, conceived six decades ago as a way to boost visitor industry revenue during the soft season, has taken on a value far beyond its financial impact.
Like the cowboys of old Hawaii that it is honoring this year, the Aloha Festivals is an expression of the islands' cultural fusion, celebrating the Pacific, Asian and Western influences with events ranging from the Japanese Bon Dance to the traditional Hawaiian hula.
It has taken true paniolo grit to grow the festival from its beginning in 1947 as a weeklong festival of music, dance, games and feasting into the far more ambitious two-month-long, islandwide celebration it has become. Last year, events at the Aloha Festivals generated $500,000 in taxes and approximately $5.09 million in visitor spending.
"It's really quite phenomenal what they have done considering that it is an almost all-volunteer effort," said Debbie Nakanelua-Richards, who serves as second vice president for the Aloha Festivals and works in the government and community relations department of Hawaiian Airlines, which sponsors the event.
"These are sharp, savvy business people who really care about this place and the host culture and want to ensure that it will be here for generations to come," Nakanelua-Richards said.
The event, celebrating its 60th anniversary as the only statewide festival in the country, is both a throwback to old Hawaii and a modern-day champion preserving the future of island culture by promoting the past.
"We're here because of the legacy of folks that have come before us," said Mark Polivka, Aloha Festivals president, who moved from Nebraska to the islands in the 1970s for a short-term lark.
But like many others who have found their way to the islands, Polivka's plans changed. He fell in the love with the islands, married a Hawaiian girl, Nani, and never left.
"When you get up and see the beauty that is around you, it becomes a spiritual thing -- not that you aren't grateful in other places, but around here there is an awful lot to be grateful for," said Polivka, who got involved with the Aloha Festivals as a way to learn more about the host culture of his chosen home.
While each island features a block party and a parade, the Aloha Festivals also showcases events that are unique to each island such as the Ms. Aloha Nui Contest on the Big Island, which pays homage to the island's largest women.
From the ceremonious investiture of the Aloha Festivals royal court in the lava fields of Pele to the infamous falsetto contest, that recalls a time when Hawaiian women were forbidden to sing and male performers took their place at the top of the musical scale, the celebration brings to life the spirit and culture of Hawaii's people and sets the destination apart from other sun-and-sand locations.
"People actually plan trips around the Aloha Festivals," Polivka said. "This is a celebration that stays with people. Once they've experienced it, they want to come back and participate in it again."
The Aloha Festivals, which will begin on Aug. 25 and include about 300 events, requires the support of about 6,000 to 8,000 volunteers, a paid staff and close to $1 million in contributions, said Charlian Wright, who took over as Aloha Festivals executive director in 2004.
"This is truly a momentous year for Aloha Festivals," Wright said. "We plan on pulling out all the stops for our 60th anniversary."
The Hawaii Tourism Authority contributes about $300,000 a year to the festivals and title sponsor Hawaiian Airlines gives about $100,000 in cash, $50,000 in advertising and promotions, and $25,000 in seats and cargo. About 30 to 50 businesses sponsor specific events or offer in-kind donations, Wright said. Other costs are met through the sale of Aloha Festivals ribbons and merchandise, as well as additional corporate and private donations, she said.
"About 75 to 80 percent of our contributions are visitor-industry based, but we're trying to branch out so there will be more community-based support as well," Wright said.
Aloha Festivals, which only generates about $80,000 a year from ribbon sales, has become much savvier in its efforts to raise money with Wright as the executive director, said Nakanelua-Richards.
"I think they are more self-sustaining, and that's important from a sponsor's perspective," she said. "It's important that we know that there are people who are business savvy that are looking at our contributions and spending them well."
Wright has diversified the efforts and is trying to raise funds through grants, merchandising, and events sponsorship. The recent keiki art contest and Hawaiian language competition held at Pearlridge Center has helped Aloha Festivals get increased community involvement and garner more support from local businesses outside of the visitor industry, Wright said.
Adding events for local keiki increases the Aloha Festivals relevance for young people and encourages them to participate when they become adults, said Polivka.
"We want our kids to be proud of who they are and where they came from and to share that pride with others," Polivka said.
Getting the funding to support so many cultural events for kamaaina and visitors hasn't always been easy, Polivka said. In 2004, the Aloha Festivals faced what it called "possibly the most difficult year in our history," after sponsorship contracts with the Bank of Hawaii and American Express expired. During their three-year commitments, the two companies saved the Aloha Festivals by donating about $450,000 to make up for several years of slow sales for the festivals ribbons and merchandise.
Hawaiian Airlines, which is still determining the level of sponsorship it will take in 2007, stepped in to save the Aloha Festivals in 2004 because of the event's importance both to tourism and to the carrier's corporate culture, Nakanelua-Richards said.
"A large part of our sustainability at Hawaiian Airlines comes from tourism and we just think the Aloha Festivals is a perfect match for us," she said. "It's an event that promotes tourism, which impacts our bottom line, and it's something that makes our employees happy and proud."