| | |
| --- | --- |
| | Newswatch |
---
Student places third in poetry contest
Mid-Pacific Institute senior Kelli Anae, Hawaii's Poetry Out Loud state champion, took third place in the national competition this week in Washington, D.C., winning a $5,000 scholarship.
Anae began attending Mid-Pacific after she was displaced from her Louisiana home by Hurricane Katrina and moved to Hawaii where she had relatives.
Poetry Out Loud is the first national poetry recitation contest, and it capitalizes on the trend toward poetry performance, encouraging students to memorize and perform great poems. It is sponsored by the National Endowment for the Arts and the Poetry Foundation.
Jackson Hille of Columbus, Ohio, received a $20,000 scholarship as the Poetry Out Loud national champion.
Teal Van Dyke, a senior at Bow High School in New Hampshire, took second place and earned a $10,000 scholarship.
---
HONORS FOR TEACHERS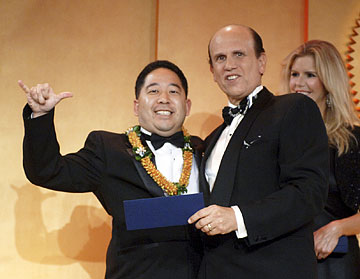 State housing director to retire by December
The state's housing director announced her retirement Thursday at a board meeting of the Housing and Community Development Corporation of Hawaii.
HCDCH Executive Director Stephanie Aveiro will leave her post, to which she was appointed by Gov. Linda Lingle in December 2003.
Her departure coincides with the split of HCDCH into two agencies, the Public Housing Authority and the Hawaii Finance and Development Corp.
Aveiro will remain until a successor has been found or until December, the release said.
A written news release from the Governor's Office said "the agency has improved its standing with the federal Department of Housing and Urban Development" while Aveiro served as its executive director.
"It significantly increased the number of housing projects funded through the state's rental housing trust fund, and placed new emphasis on turning around vacant units and being part of the solution to homelessness in Hawaii," the news release said.
UH regents appoint 3 administrators
The University of Hawaii Board of Regents confirmed the appointments of two top administrators and a new dean for the UH-Manoa College of Engineering at its monthly meeting Thursday, university officials have announced.
Peter Quigley, who had been interim Leeward Community College chancellor since June, is now the permanent chancellor under a three-year contract that pays $148,248 annually, according to the UH.
Linda Johnsrud, former interim academic vice president for policy and planning, is now the permanent vice president through July 31, 2009. Her position pays $264,840 a year. Johnsrud is also president-elect of the Association for the Study of Higher Education.
The board also approved the hiring of a vice provost and dean of the Arizona State University engineering school to be the new dean of the UH-Manoa College of Engineering.
John Crouch will start July 1 and has a three-year contract starting at $280,008. Crouch replaces interim dean Wai-Fah Chen, who previously announced his intent to return to the faculty and focus on research and mentoring doctoral students.
Strides in mental health recognized
The Mental Health Association in Hawaii recognized the following individuals and programs at its Mental Health Awards Luncheon for improving mental health services and reducing the stigma of mental illness:

» Outstanding Executive: Joanne Lundstrom, executive director, Mental Health Kokua, which serves 1,344 recovering mentally ill clients statewide with transitional living, crisis intervention services, respite care, case management and supportive living services.

» Outstanding Individual: Geary Krueger, University of Hawaii-Hilo student and Arc of Hilo personal assistant, a tireless volunteer and advocate for improved mental health services on the Big Island.

» Outstanding Agency: Helping Hands Hawaii, which has provided specialized services for mental health clients since 1974.

» Outstanding Business Leaders: Lyle Kobashigawa, assistant vice president of food service at Big Save/Kauai Kookie in Hanapepe, and Judy Carper, human resource manager, Huggo's Restaurant & Huggo's on the Rocks in Kailua-Kona. Kobashigawa has been part of the Transitional Employment Program of Friendship House, working with members to give them successful work experiences. Carper works with Kona Paradise Club members who are in recovery from mental illness.

» Outstanding Government Program/Agency: Med-QUEST Carve-Out for Severely Emotionally Disturbed Children and Seriously Mentally Ill Adults, State Department of Human Services. The programs recognize adults, children and adolescents who need specialized care.
---
[ TAKING NOTICE ]
Foundation awards $88,000 to students
The Mamoru and Aiko Takitani Foundation has awarded $88,000 in scholarships to 59 seniors.
Chihui Yuan of Kalani High School received the Mamoru Takitani Distinguished Student Award of $10,000; Yang (Allison) Xie of Kalaheo High School, the Aiko Takitani Distinguished Student Award of $10,000; and Pamela Kumiko Mizuno of Kapolei, the Karen Uno Outstanding Student Award of $5,000.
Students who received $2,000 were Xiaomeng Hu of Moanalua High School, Jay Morse Chow Jr. of Keaau High School, Caine Jette of Maui High School, Lynnell Wright of Waimea High School, Karynna Asao of Iolani School, Michael Wu of Punahou School and Valerie So of Sacred Hearts Academy.
Recipients of $1,000 scholarships include Bao-Yen Nguyen, Farrington High School; Michelle Nguyen, Kaimuki High School; Jaime Yoshino, Kaiser High School; Jane Park, McKinley High School; Kimberly Heu, Roosevelt High School; Krystal Zheng, the Education Lab School; Jennifer Lam, Aiea High School; Ruth Gerola, Leilehua High School; Lori Higashi, Mililani High School; Lilah Akin, Waialua High School; Jaimie-Lynn Ventura, Campbell High School; Sarah Matsumura, Nanakuli High School; Marnelli Joy Basilio, Pearl City High School; Tanya-Lei Chee, Waianae High School; Rachelle Joy Raposas, Waipahu High School; Laine Higa, Castle High School; Noelle Spring, Kahuku High School; Cyd Kimura, Kailua High School; Alana Kansaku-Sarmiento, Hilo High School; Jordan Miyasaki, Honokaa High School; Kelcie Camba, Kau High School; Kamon Steindamm, Kealakehe High School; Joshua Hawley, Kohala High School; Kimberly Manago, Konawaena High School; Malia Phillips, Laupahoehoe High School; Jacqueline Ganiron, Pahoa High School; Jonathan Yu, Waiakea High School; Jenna Curammeng, Baldwin High School; Daniele Comeaux, Hana High School; Liana Takamine, King Kekaulike High School; Mei Lan Clark, Lahainaluna High School; Tiffany Kaniho, Lanai High School; Mia Langer, Molokai High School; Jason Orbe-Smith, Kapaa High School; Nicolas Hasegawa, Kauai High School; Jeremy Carino, Hanalani School; Edward Saito, Hawaii Baptist Academy; Shane Patao, Kamehameha Schools on Maui; Carolyne Kama, Kamehameha Schools on Oahu; Ke Chen, La Pietra-Hawaii School for Girls; Gregory Andres, Lutheran High School; Cheryl Sun, Mid-Pacific Institute; Jessica Neel, Parker School; Myles Crandall, Seabury Hall; Yulee Kim, St. Andrew's Priory; Arthur Rabago, Damien Memorial School; Arlene Parubrub, St. Francis School; Brandon Low, Saint Louis School; and Christiane Cardoza, St. Anthony School.
» The Bank of Hawaii Charitable Foundation has awarded Hawaii Canines for Independence (HCI) a $15,000 grant to help build a training facility in Upcountry Maui for service dogs that help people with physical disabilities.
HCI, which provides the assistance dogs free of charge, specializes in training service dogs to assist people with spinal cord injuries, cerebral palsy, muscular dystrophy and other conditions that limit mobility. It also trains therapy dogs for children with special needs and for hospitals and nursing homes.
For more information, visit www.hawaiicanines.com or call 250-5799.
---
"Taking Notice" also runs on Tuesdays and Thursdays.
| | |
| --- | --- |
| | Police, Fire, Courts |
---
EAST OAHU
Officer hangs onto car as woman drives away
A 47-year-old Hawaii Kai woman was arrested early yesterday after she allegedly drove her car with a police officer hanging onto her window.
The woman had ignored police instructions closing Hawaii Kai Drive at the 6500 block for a traffic accident investigation.
The police officer stopped the woman and allegedly detected alcohol on her breath, police said, adding that she refused to get out of her car to participate in a field sobriety test.
The woman started her car and drove off as the officer reached inside the car to open the door. She drove home on nearby Opihikao Way with the officer hanging from the car window, police said.
The woman was arrested at about 12:50 a.m. yesterday on suspicion of first-degree assault on a law enforcement officer, operating a vehicle under the influence of an intoxicant, and refusing to stop.
Pair riding motorcycle is injured in accident
A motorcyclist was critically injured in Hawaii Kai on Thursday night and his female passenger injured when he apparently lost control of the motorcycle, police said.
The 45-year-old Hawaii Kai man was heading south on Hawaii Kai Drive near Opihikao Place when he lost control of his 1999 Harley-Davidson and struck a parked, unoccupied Lexus.
The man was taken to the Queen's Medical Center in critical condition. The 20-year-old Hawaii Kai woman riding with him was taken to Queen's and was in fair to good condition, police said.
The accident occurred sometime before 11:20 p.m. Thursday.
Police said speed and alcohol were factors in the collision.
Neither the man nor the woman was wearing a helmet.
WINDWARD OAHU
Homeless man on bus allegedly abuses girl
Police were seeking charges last night against a 44-year-old homeless man after he allegedly exposed himself on a city bus in Kaneohe and made sexual contact with a girl.
Police said the man had exposed his genitals to other passengers on the bus. He then engaged in inappropriate sexual contact with the 15-year-old girl. Police arrested him at 3:30 p.m. yesterday on suspicion of third- and fourth-degree sexual assault.
HONOLULU
Suspect in Macy's thefts is caught
Police arrested a 30-year-old woman Thursday who is believed to be one of three women suspected of stealing merchandise from Macy's department stores in three malls.
The woman was arrested on outstanding warrants, but not on the theft, police said.
In a CrimeStoppers bulletin issued earlier this week, police said they were looking for three women who appeared to be working together to steal clothing. About $700 worth of merchandise was stolen from the Kahala Mall Macy's on May 3, police said.
Store security cameras recorded images of the suspects at the Macy's stores in Kahala and Windward Mall in Kaneohe and possibly Pearlridge Center, said CrimeStoppers coordinator Kim Capllonch.
Police will interview the woman who was arrested and the other two suspects this weekend.