---
FAST FACTS HAWAII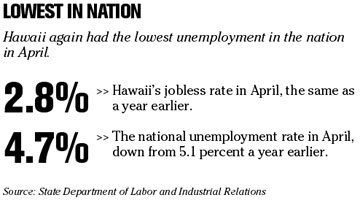 ---
HAWAII
Hotel union talks getting under way
The hotel workers union Local 5 has begun the first of a series of contract talks that will take place this summer as labor agreements expire for some 6,500 employees at island hotels.
Cade Watanabe, a spokesman for Unite Here Local 5, said yesterday the union exchanged preliminary proposals on Wednesday with Sheraton hotels in Waikiki, including the Royal Hawaiian Hotel, the Sheraton Moana Surfrider, the Sheraton Waikiki and the Sheraton Princess Kaiulani
Talks are slated to resume later this month, Watanabe said. A Sheraton hotel representative could not be reached for comment.
The contract between Local 5 and the Ala Moana Hotel expires first, on May 31, with nine other contracts to follow on June 30, Watanabe said.
Still awaiting the negotiations with Local 5 is the Laulima Council, which communicates for the Hilton Hawaiian Village, the Hyatt Regency Waikiki and the Waikiki Beach Marriott.
NATION
Ethanol may rise to 10% of fuel
Efforts by
General Motors Corp.
and other U.S. automakers to sell more vehicles that run on fuel made mostly from ethanol may reduce U.S. gasoline consumption by 10 billion gallons a year, GM's top policy adviser said.
Ethanol may account for 10 percent of automobile fuel within five years, compared with about 3 percent now, Beth Lowery, GM's vice president of energy and environment, said in an interview. The U.S. government must offer incentives for service stations to install more pumps that dispense a blend of ethanol and 15 percent gasoline, and it must encourage the fuel's use, she said.
Some analysts say ethanol isn't practical without government incentives. "Without subsidies to lower its cost and mandates to require its use, the economic viability of ethanol is unclear even with today's elevated gasoline prices," JP Morgan analyst Jennifer Rowland wrote in a report.
Ford says it's prepared for strike at Delphi
DETROIT »
Ford Motor Co.
has made preparations for a strike by auto supplier
Delphi Corp.
, but Ford Chairman and Chief Executive Bill Ford said he's been encouraged by reports of progress in negotiations that could avoid a strike.
Ford also said he supports President Bush's effort to let the administration -- not Congress -- set new fuel economy standards for cars, saying that would ensure the rules are dictated by science instead of politics. But he said he was hurt earlier this year when Bush implied that the Big Three automakers are not making relevant products.
"If we haven't done a good job of demonstrating that relevance, then I guess that's partly our fault and I hope today starts to re-establish that," Ford said in an interview with Washington-based reporters Thursday after meeting with members of Congress.
Amazon.com offers printed books on demand
Amazon.com Inc.
, the world's biggest online retailer, has started a program with publishers that allows out-of-print titles and lower-volume books to be printed and shipped on demand when consumers place orders.
Amazon.com's BookSurge LLC unit introduced the program that will enable books to be published as they are ordered, the Seattle-based retailer said yesterday in a statement.
Amazon.com is helping publishers cut costs by eliminating the need for inventory. The Internet retailer acquired BookSurge in April 2005 to enter the print-on-demand book business. BookSurge has more than 10,000 titles, many of them out of print. Amazon.com is investing in companies to boost profit, which has fallen for five straight quarters.
Hilton sells Pittsburgh hotel for $28 million
Hilton Hotels Corp.
, the third-largest U.S. hotel company, sold the Hilton Pittsburgh to
Shubh Hotels Pittsburgh LLC
for $28 million.
The 713-room hotel will keep operating as a Hilton-brand property under a 20-year agreement, the Beverly Hills, Calif.-based company said in a statement.
This is Hilton's third hotel sale this year, according to data complied by Bloomberg. In March, the company sold Pointe Tapatio Cliffs Resort in Phoenix for $85 million, and Hilton Minneapolis for $92 million.
Tropicana casino owner accepts rival bid
LAS VEGAS » Tropicana hotel-casino owner
Aztar Corp.
ended a bidding war yesterday by breaking with suitor
Pinnacle Entertainment Inc.
and accepting a rival buyout bid of $54 per share from
Columbia Sussex Corp.
Phoenix-based Aztar said it paid Las Vegas-based Pinnacle a $78 million breakup fee to accept the cash bid from Columbia Sussex casino subsidiary Columbia Entertainment, the business name for Fort Mitchell Ky.-based Wimar Tahoe Corp.
The agreement must be approved by Aztar shareholders and gambling regulators, Aztar said. No date was immediately set for a shareholder vote, Aztar company spokesman Joe Cole said. The deal is not subject to financing.
WORLD
Marianas' Japanese tourism dives
SAIPAN, Northern Mariana Islands » The Marianas Visitors Authority estimates the number of Japanese tourists coming to this U.S. commonwealth could drop by one-third during the current fiscal year.
The prediction worries the islands' tourist industry, because Japan accounts for 64 percent of tourists visiting the Marianas. South Korea is second at 17 percent, followed by China at 10 percent.
The drop-off in Japanese tourists is largely attributed to Japan Airlines pulling out of the Saipan route in October. The move drastically reduced the number of available airline seats from Japan.
Mittal increases bid for Arcelor
LONDON »
Mittal Steel
made a last-minute effort to seal the industry's largest merger ever yesterday, increasing its bid for
Arcelor
by a third, to $32.9 billion, and making a crucial pledge to cede family control if a deal is cemented.
The founder and chief executive of Mittal, Lakshmi N. Mittal, unexpectedly announced the increased bid a day after an offer for Arcelor was officially tendered to shareholders. The move was aimed at wooing Arcelor management into friendly talks, after a period of wrangling that at one point turned into a corporate clash of civilizations.
Mittal said the increased offer "shows the Mittal family is willing to change."
"I hope Arcelor's management is also willing to change," he said.