| | |
| --- | --- |
| | Newswatch |
---
PERSISTENCE PAYS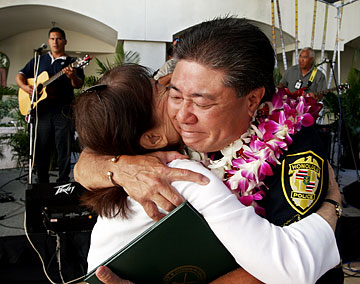 Coqui is officially a pest
After years of being hunted, vilified and killed, the coqui frog has been officially designated as a "pest." Gov. Linda Lingle signed into law yesterday a bill that gives the designation to the little frog with the big chirp. The measure gives the Department of Agriculture the authority to enter private property without permission to control coqui frogs. State lawmakers noted that some residents are trying hard to get rid of the noisy frogs while their neighbors are not.
Former UH president to retire in 2007
Former University of Hawaii President Albert Simone announced his retirement as the eighth president of the Rochester Institute of Technology in New York state.
Simone will retire in mid-2007, according to a university news release Wednesday.
Simone's career in higher education has spanned nearly 50 years. He has served as an economics professor, a business school dean and president of two universities. He joined RIT in 1992 after leaving UH.
The RIT board of trustees is appointing a search committee to find Simone's replacement.
The institute has 15,200 students from all 50 states and more than 90 foreign countries, 2,800 faculty and staff, an annual operating budget of more than $492 million and an endowment of more than $570 million.
Simone plans to remain active in the Rochester community. He also hopes to work on several books related to leadership in higher education.
'Sunset on the Beach' returns this weekend
Hawaiian Telcom presents "Sunset on the Beach" this weekend with free showings of "What a Girl Wants" and "Yours, Mine and Ours."
"What a Girl Wants" will be screened tomorrow at about 7:15 p.m. The comedy follows a free-spirited American teenager who searches for her British father. It features Amanda Bynes, Colin Firth, Jonathan Pryce and Kelly Preston.
Preston, a Punahou School alumna, will present a video and talk about drug prevention before the movie.
On Sunday, "Yours, Mine and Ours" will show at about 7:15 p.m.
Food booths open at 4 p.m. on both days, featuring Ba Le French Sandwich & Restaurant, K Restaurant, Leo's Taverna, M & N's Treats, Royal Hawaiian Hot Dog and World's Greatest Funnel Cake.
The Hawaii Bone Marrow Donor Registry will also hold drives both days. Donors must be between 18 and 60 years old and in good health.
---
What's inside your Star-Bulletin this weekend:
SUNDAY
TODAY SECTION
'Lost' finds Diamond Head
"Lost" finds a new home at the revamped Hawaii Film Studio. As the made-in-Hawaii drama winds down to its season finale Wednesday, the cast and crew prepare for the move to Diamond Head. A producer and local film officials review the show's successes and challenges.
Couple creates for children
He writes the words; she draws the pictures. The marriage and partnership of Terry and Joanna Carolan has yielded three books that capitalize on her watercolor imagery and his ability to talk to kids.
SPORTS SECTION
Teaming up with Ching
Hawaii's Brian Ching starts a weekly diary of his adventure and experience as a member of the U.S. soccer team vying for the World Cup in June.
| | |
| --- | --- |
| | Police, Fire, Courts |
---
NEIGHBOR ISLANDS
Body found in burning car identified
Kauai police identified yesterday the woman found dead in a burning car Monday in Hanapepe Valley as 52-year-old Elizabeth Rose Davis.
Police said she died of smoke inhalation, but are not classifying it as an accident, suicide or homicide.
WEST OAHU
Man sought in aborted bank robbery attempt
Police are looking for a man who allegedly attempted to rob American Savings Bank in Pearl City yesterday afternoon.
Police said the suspect brandished a stun gun and demanded money from the teller at about 3:40 p.m. A customer intervened, and the suspect fled without taking any money.
WINDWARD OAHU
Leg, part of arm lost in backhoe accident
A 36-year-old man lost his left foot and a portion of his right arm during an industrial accident involving a backhoe yesterday at about 10:30 a.m. at Kualoa Ranch, officials said.
Emergency Medical Services personnel controlled the bleeding and recovered the severed foot.
A helicopter transported the victim from Kualoa Beach Park to the Queen's Medical Center in critical condition.
WAIKIKI
Man held in alleged rape of male captive
Police charged 42-year-old James Grishaw yesterday with first-degree sexual assault for allegedly raping a 22-year-old man and holding him captive in a Waikiki hotel room early yesterday morning.
Police said Grishaw met the victim at a bar, escorted him back to his hotel and allegedly raped him between 4:20 and 4:25 a.m.
Grishaw is being held in lieu of $50,000 bail.
HONOLULU
Injured hiker airlifted from Pauoa Valley
Fire Department rescuers rappelled down an embankment yesterday afternoon to reach an injured hiker on the Kalawahine trail at the edge of Pauoa Valley.
The Fire Department helicopter lifted the man, who had fallen and injured his hip and leg, from the trail.
He was taken to the St. Francis Medical Center in stable condition yesterday afternoon.
Man charged in abuse of his estranged wife
Police charged 25-year-old Matthew Kalauawa-Haupu yesterday with three counts of abuse for allegedly beating his estranged wife and taking her and their 4-month-old son from a home Tuesday night.
Police said the suspect forced his wife and son to leave her father's home in Kapahulu at about 8 p.m.
The woman briefly escaped when they stopped at Wal-Mart to buy food for their son, but a witness said the suspect caught and beat her.
Kalauwa-Haupu is being held in lieu of $6,000 bail.
Man, 30, charged in Makiki break-in
Police charged 30-year-old Frank Chin yesterday with first-degree burglary and terroristic threatening in connection with a Makiki break-in in March.
Police said Chin kicked down the locked door of a couple's apartment and threatened them with a baton while they were in bed.
Chin is being held in lieu of $75,000 bail.